24-year-old man stabs brother to death for being stingy
The police have arrested a 24-year-old man, Ebenezer Olorunleke, for allegedly conspiring with three others to kill his brother and steal his motorcycle and other items.
The State Police Commissioner, Mr Asuquo Amba, who paraded the suspect, said the Kogi-born Olorunleke stabbed his brother with a knife and long screwdriver on August 29, 2019 and fled.
The commissioner said the suspect and three others invaded his brother's home at Abe Cocoa area of Okeila and stabbed him to death and stole his red coloured Bajaj motorbike with registration number ADK 100 UJ.
Recovered from the suspect, whose accomplices are still at large are a long screwdriver, knife and Bajaj motorcycle.
"They hit him in the stomach and pierced his intestine when his wife and children were not at home. He had confessed to have committed the offence, he said.
Another police source revealed that the attackers allegedly drove a long nail into the deceased's skull while struggling to rob him.
Recounting how his brother was killed, Olorunleke said what his friends who allegedly killed his brother wanted to do was to help him collect money from him, describing his brother as a stingy individual.
"I did not follow them inside the room, but upon realising that my brother had been stabbed and was shouting, I rushed in and wanted to rescue him but he bit me and chopped off my finger.

"The guys later came to my house to attack me. They wanted to sell the machine, I resisted it. I was thinking of coming to the police to report when I was arrested with the machine", he said
Police intercept container filled with tramadol, codeine in Lagos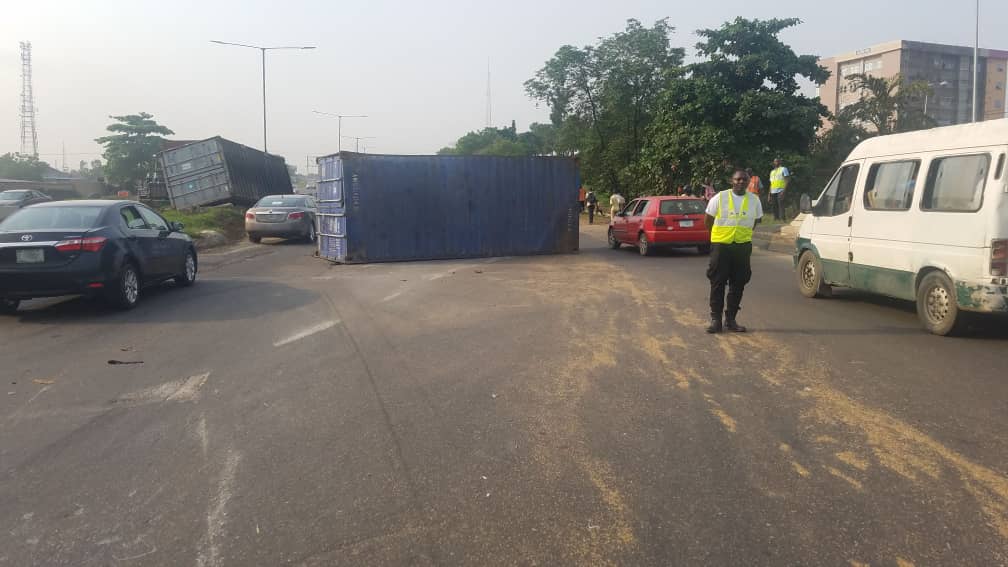 The police in Apapa Area Command of Lagos State have intercepted a 40-foot container laden with drugs suspected to be Tramadol and codeine.
The container was intercepted on water and taken to a bonded terminal in Apapa.
A team of officers from Customs and the National Drug Law Enforcement Agency (NDLEA) joined the Area B Commander, Olasoji Akinbayo, on Thursday for inspection.
The Area B Commander has recently intercepted similar imports and has transferred the case and two suspects to government prosecutors.
Details later…
JUST IN: Gunmen kill 22 in fresh attack on four Kaduna villages
No fewer than 22 people have been reported killed in fresh attacks on communities in four villages of Zangon Kataf Local Government Area of Kaduna State by yet to be identified gunmen.
The gunmen launched what sources described as coordinated attacks on Apyia'Shyim, A'Piako, Atak'Mawei, and Kibori villages, all in Atyap Chiefdom of Zangon Kataf.
Zango-Kataf is one of the recently troubled local government areas in the southern part of Kaduna State.
The situation had forced the state government to impose a 24-hour curfew since June 11.
A source told our correspondent that, the attackers operated unchallenged, having taken advantage of the all-night rain.
According to the source:
"It rained all through the night in the area and the attackers had unchallenged operations from around 10 pm Wednesday which entered early hours of Thursday.

"By the time they were done, 22 corpses have so far recovered at about 12pm today (Thursday) while the search is still on. They also burnt several houses," the source said.
A resident of Atak'mawei village in Zamandabo ward, Irimiya Gandu, said no fewer than 13 persons have been killed and many houses were burnt down in his community.
According to him:
"Around 1:00am, I was already asleep when I heard the sound of gunshots. I stepped out from our compound we could hear the sound of gunshots from Apia'akum Community and far Kibori village were already under attack. I rushed into my house and brought out my families and ran to a safer place.

"So far, 13 persons are killed mostly Children and women. We are still looking for more. Many houses were burnt also," he said.
Also, a survivor from Apia'ahko village, Samson Alat said, an aged man, a little child and youth were killed when armed men invaded the village.
"They burnt the house of late Col. Bobai and five important houses and stole from the village," he said.
According to him, "soldiers came on motor bikes and an armoured tank, but they could not stop these wicked people. We were hiding inside maize farm and we saw them. This was around 1am last night. We are still looking for more missing people."
A resident in Apiashyim, Jonathan Ishaya said six persons were killed during the attack in his community and the village almost entirely razed.
He said the armed men invaded the Community heavily armed at around 11:00pm of Wednesday, shooting sporadically.
Secretary, Atyap Traditional Council, Mr Stephen Akut, also confirmed the development to journalists that, "the attackers were said to be in large numbers and that the casualty figures are still sketchy. Security operatives have been mobilize to the affected communities."
Chairman of Zango Kataf Local Government Area, Dr Elias Manza on his part, confirmed that three corpses were recovered in Kurmin Masara, six in Apyia Shyam (Asha a Wuce) and 10 in Takmawai where the destruction of property was massive.
Meanwhile, several calls put across to the Police Public Relations Officer for Kaduna State Police Command, ASP Muhammad Jalige, were not responded to as at the time of filing this report.
Monarch arrested for allegedly defiling daughter in Ogun
A traditional ruler in Ogun Rasheed Sholabi has been arrested for allegedly defiling his 15 -year- old daughter.
Sholabi, who is Baale of Oose Agbedu Ajibawo in Owode-Yewa area, was arrested after the daughter reported at the Owode Egbado Police station he has been having sex with her since she was 11.
She told the Police the sexual affairs with the father have affected her private part, making it difficult to control her urinary system.
The girl also told the police she lost her mother when she was barely two and the father did not allow her to know her maternal relations, explaining she was left with the option than to live with him.
She told the Police the unfortunate situation gave the father an unhindered opportunity to sexually abuse her routinely until her incontinence condition developed and had to report him to the Police.
Ogun Police Public Relations Officer, Abimbola Oyeyemi, disclosed this in a statement on Thursday.
Abimbola, a Deputy Superintendent of Police (DSP), stated the Divisional Police Officer for Owode-Egbado, Olabisi Elebute, led detectives to the traditional ruler's Palace and arrested him.
The Baale, who initially denied the allegation, fainted later when confronted by the victim and one of his ex-wife, who corroborated the victim's ordeal.
He was taken to the hospital where he was resuscitated.
His ex-wife informed the police she caught him while in the act, explaining it was why she walked out of the union.
The victim has been taken to the Stella Obasanjo motherless baby home, Abeokuta, for safety.
Commissioner of Police Edward Ajogun has ordered transfer of the suspect to anti-human trafficking and child labour unit of the State Criminal Investigation and Intelligence Department (SCIID) for further investigation and diligent prosecution.