Banditry, Kidnappings: Buhari urges security agencies, communities to be more vigilant
President Muhammadu Buhari has called on security agencies and communities under threats of banditry and kidnappings to be more vigilant, in the light of the latest incidents in Enugu, Zamfara, Adamawa, Katsina and Kaduna states.
A statement by the President's Senior Special Assistant on Media and Publicity, Malam Garba Shehu, in Abuja on Thursday, stated that Buhari was reacting to the recent reports of heightened acts of violence and kidnappings after a period of relative calm.
The president observed that "in view of the unpredictability of the security situation, our security forces and the communities affected should be ever more alert because these murderous and remorseless criminals will take advantage of your complacency and strike again."
According to him, the bandits should, under no circumstance, be allowed to hold the country into ransom on account of security loopholes, which they seek to exploit to attack their victims.
"The criminals always look for loopholes in our security system in order to remain in business and active, but we shouldn't give them the space to achieve this diabolical objective by pre-empting them," he said.
Buhari added that "complacency is a hidden or unnoticed enemy that we shouldn't take for granted because doing so could weaken our strategies."
He, however, noted that the affected communities also have the responsibility to help the security agencies with the critically important human intelligence, in order to stop the bandits.
He said: "The bandits maintain networks of informants among the communities they attack.

"By identifying and reporting these informants to the authorities, it will be by far easier to foil the bandits before they reach their intended targets."
While commending the security agencies for their dedication and sacrifices, the president directed them to redouble their efforts and make life uncomfortable for the bandits.
"You should spare no effort in breaking the backbone of these savage mass killers, and don't hesitate to attack them with merciless intensity until they are crushed and ultimately defeated," he said.
Blasphemy: CSOs demand Kano singer's release
Civil society organisations on Friday described as alien to modern society, the conviction and death sentencing of a young Nigerian gospel singer, Yahaya Sharif, for allegedly insulting the Prophet Muhammad in a song he published.
The groups in a joint statement titled, 'Joint Civil Society Statement On The Conviction And Sentencing Of Nigerian Singer Yahaya Sharif Aminu,' said they were deeply concerned that Sharif's conviction and subsequent sentencing were in violation of Nigeria's regional and international obligations to respect, protect and promote freedom of expression, opinion and belief.
The statement was signed by the Committee for Relevant Art, African Defenders, Arterial Network Nigeria, PEN Nigeria, Artistes at Risk Connection, Culture Advocates Caucus, Human Right Forum of Lead Africa International, Intro Afrika, Freemuse and African Human Rights Network.
The statement indicated:
"The sentencing to death of Mr Sharif amounts to a cruel and inhumane practice, which has no place in a modern society."
On August 10, 2020, an Upper Shari'a Court sitting at Hausawa Filin Hockey in Kano State, sentenced the singer to death by hanging.
He was accused of one count of insulting the religious creed, contrary to Section 382 (6) of the Kano State Sharia Penal Code Law of 2000, for a song which became public knowledge in March after he allegedly circulated it on WhatsApp in February 2020.
The song is said to have "praised an imam from the Tijaniya Muslim brotherhood to the extent it elevated him above the Prophet Muhammad."
According to the groups, it has been reported that while Sharif was legally represented during the trial, the proceedings were closed to the public which raised fair trial rights concerns.
It stated:
"The right to a public trial which is guaranteed under Nigeria's constitution and the International Covenant on Civil and Political Rights and the African Charter on Human and Peoples' Rights, both of which Nigeria is a signatory to, ensure transparency and guard an accused against secretive, corrupt or unfair proceedings.

"We are further concerned that since his conviction, it has been reported that Mr Sharif is being held incommunicado in detention with no access to legal representation and to his immediate family. This is a further violation of his due process rights and potentially jeopardises his right to an appeal for which he has 30 days from the date of sentencing.

"The case of Mr Sharif is not in isolation as there have been several other artistes in Nigeria who have been arrested and criminally charged in relation to their artistic works.

"For over a year, Nigerian singer and activist, Mohammad Yusuf Yakasai, popularly known as A.G.Y, was imprisoned at Goron Dutse Correctional Centre following his conviction on June 19, 2019, for a song that criticised Governor Abdullahi Ganduje of Kano State.

"In June 2020, a Federal High Court ordered the remand of poet and broadcast journalist, Rotimi Jolayeumi a.k.a Oba Akewi, after he was arrested for sending a poem to a WhatsApp group which was highly critical of Nigerian Minister of Information and Culture, Alhaji Lai Mohammed.

"In December 2019, eight musicians from Kebbi State were physically assaulted for a song critical of Governor Atiku Badugu.

"In September 2019, famous Kano singer, Nazir Ahmad, popularly called Sarkin Wakan Kano, was arrested for allegedly releasing two uncensored musical albums and operating an illegal studio. The albums reportedly criticised the state governor, Abdullahi Ganduje."

The groups further stated that no one should be arbitrarily detained or arrested for peacefully expressing their opinion, thought and conscience.
They added:
"The United Nations Special Rapporteur on Freedom of Religion or Belief has called on all states with blasphemy laws on their statute books to repeal the same in order to increase freedom of religion or belief, as well as encourage a healthy dialogue about religion.

"Furthermore, artistic expressions which are also guaranteed under international law, open space for citizens to "reflect upon society, express their fears and grievances in a non-violent manner, develop resilience after violent or traumatic experiences, including human rights violations. And imagine the future they want for themselves."

"We, therefore, call on the Nigerian authorities to immediately and unconditionally overturn Mr Sharif's conviction and that he be immediately released. Pending his release, he must be guaranteed access to his lawyers and his family while in detention. We also call on the Nigerian government to urgently repeal all blasphemy laws, and to ensure that all individuals under its jurisdiction are afforded the right to freedom of religion, expression and opinion including through art and culture," the groups concluded.
Strong earthquake hits off-shore near Dar-Es-Salaam in Tanzania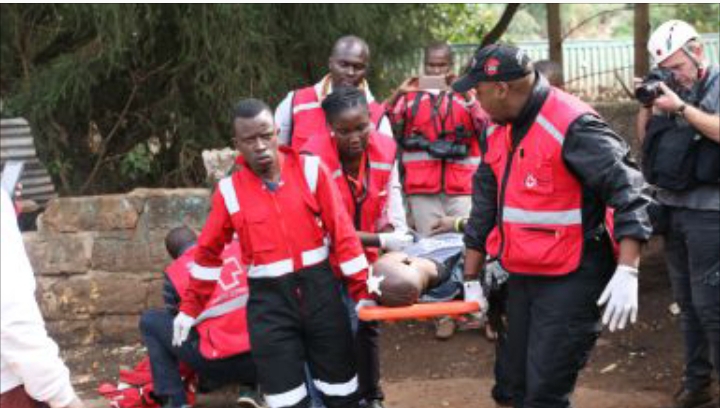 Tension in Tanzania as a strong and shallow earthquake registered by the USGS as M6.0 hit near the coast of Dar es Salaam, Tanzania at 17:13 UTC on August 12, 2020.
Newsmen learnt that the earthquake which struck at 8:13 p.m. local time on Wednesday was widely felt but there were no immediate reports of injuries or serious damage.
According to local reports, the quake was centred in the ocean about 34 kilometres east of Kuruti Island, and struck just 15 kilometres below the seafloor, making it a very shallow earthquake.
The U.S. Geological Survey (USGS) said the earthquake had a preliminary magnitude of 6.0.
The report said 8.9 million people may have felt the earthquake, including 59,000 people at a "moderate" intensity.
Many people across the region including in Dar es Salaam, Mafia Island, Zanzibar, and Mombasa in Kenya, reported feeling the earthquake.
This was the strongest earthquake in the region since September 2016, when a 5.9-magnitude earthquake hit northwest Tanzania, killing at least 17 people and injuring more than 400.
I'll have a mental breakdown if Trump wins election – Cardi B (Video)
During an interview with SiriusXM's Swaggy Sie on Friday (August 7), rapper Cardi B disclosed that she will have 'a mental breakdown' if Donald Trump wins the election and becomes president of the United States for another four years.
"You know what, I was so f–king mad because it's like people, when he dropped, people was like 'oh what do you mean?' Why? Because of y'all! Because you know how this new generation is. We be loving something but we just be lazy to do it, it's like motherf–kers was just lazy to vote for him," she said of Bernie Sanders dropping out of the presidential race.

"I feel like it's important now because like, yo Trump is…I cannot, I'm telling you, if Trump goes for like another four years, I'm going to have a meltdown, Like I will have a mental breakdown. I cannot deal with this anymore…I do be scared of the state of the country…not only do I care about the people, but it's like I am afraid of the future," she went on to say.

"I don't want another war…the economy right now, it sucks, like people are not making money. Some people are getting money, and they are not supposed to be getting money. This coronavirus s–t, I want it to be over but I don't want people to lie to me…God forbid that my grandparents, somebody gets sick. I haven't seen my grandparents in a month and I'm dying to see them," she continued.