Basketmouth apologises for promoting rape in a 2014 joke
Following his disengagement as one of the EU influencers and advocates for Sexual and Gender-Based Violence [SGBV] over a joke he shared in 2014, Bright Okpocha, better known as Basketmouth, has tendered an apology.
The comedian had in 2014, while trying to compare dating experiences between white and black girls, had unwittingly promoted rape.
Fast-forward five years later, the 41-year-old was made an influencer to speak on issues affecting women, Nigerians notified the EU about Basketmouth's past jokes, and the comedian was dropped as an ambassador to sex and gender-based violence.
Now, the comedian has taken to Instagram to reaffirm his support for women and girls, and to apologize for the rape joke he made.
He wrote,
"Almost every morning in the blogs, on the news, there's a picture of a man sitting on the floor pleading, the caption is usually in the line of 'its the devil's handwork' and the topic is from underage defilement, rape or brutality against a woman or minor. I live in this same world with my most prized possessions my wife, my two daughters, my sisters and women who have built me into the man I am.

I was recently presented an opportunity to create awareness on the efforts of the EU to bring support to fighting this scourge, it was a no-brainer for me. I refused any compensation for it and volunteered to lend my voice because…. it's our fight, it's not for the EU…its for my girls' future.

Unfortunately, a few years ago I shared up a Facebook post that I thought was shedding light through humour to the entitled crude and very present behavioural patterns of some African men who equate spending to sexual favours, but I also realized then that women actually have to face this daily and its harrowing and I deeply apologized for it

I sincerely pray that this does not take away from the most important fight of our lives….the fight to secure our future…because the girl child is our future. I strongly appreciate the EU for this amazing platform to improve our lot, as long as the message reaches the ears of those who need it, then it's a win.

To every woman – our mothers, sisters, lovers, wives, crowns, supporters, prayer partners, foundation, life…. thank you for being who you are. So many times you sacrifice who you are for a man to become who he wants to be. It's time we all love and also support you like you do us….cos in your light, we all shine.

Bless".
Afrikaners are embracing and building what you are ashamed of — Brymo tells those fleeing from Africa
Nigerian singer, Brymo has shared his thoughts on relocation from Africa which has been embraced by a large number of Africans.
The singer noted that traveling is heaven, but added that Africans who feel the urge to dump the continent should remember that the "only people on the African continent called 'Afrikaners' are largely non-black South Africans who were originally Dutch. "
Brymo added that these Afrikaners are embracing and building what other Africans are ashamed of.
He tweeted;
TRAVELLING IS HEAVEN, BUT IF YOU FEEL THE URGE TO DITCH THIS SHITHOLE REMEMBER THAT THE ONLY PEOPLE ON THE AFRICAN CONTINENT CALLED 'AFRIKANERS' ARE LARGELY NONE BLACK SOUTH AFRICANS WHO WERE ORIGINALLY DUTCH!!..SOMEONE ELSE IS EMBRACING AND BUILDING WHAT YOU ARE ASHAMED OF.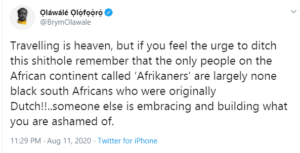 #BBNaija: Dorathy is a f*cking b**ch- Vee says
The tension in the house has heightened as Vee picked on Dorathy for disrespecting housemates including her.
According to Vee, Dorathy is a bit*h and is picking on Nengi, Brighto and her.
Vee, however, in a conversation with Neo added that she cannot be picked on because she is also a bi*ch and would show herself in the house.
Vee said:
" I think Dorathy is a bit*h. It's going to be somebody else soon.

"She wants to pick on Brighto for telling the truth on Sunday and for answering the question he was asked. She picked on Nengi and she's picking on me, but I can't be picked on, because I'm a f*king bit*h as well!"
Watch the video below:
Blackface blames past presidents for insurgency, praises Buhari
Nigerian singer, Blackface, has, in a two-in-one statement, praised President Muhammadu Buhari and once again called out Wizkid after the Ojuelegba star criticised Buhari and US President, Donald Trump.
According to Blackface, Wizkid was stupid for his statements against Buhari and that despite everybody having civil rights, nobody has the right to be stupid.
He said:
"Everybody has their civil rights but you don't have the right to be stupid. You don't have the right to be stupid and promote your stupidity to everybody because you have a platform."
Explaining further, Blackface wondered why a right-thinking person would describe Buhari as clueless.
Blackface who went further to list some qualities he believes makes Buhari a good leader, added that Nigeria's past leaders are the problem and not President Buhari.
The singer opened up in an interview with Legit.
Speaking on President Buhari's performance when compared to the tenure of past leaders, he replied that things are going to get better.
"Things are going to get better but you don't expect something that has been spoilt for so long to become good all of a sudden. It takes time."
Blackface also stated that Buhari has reduced the problem of insurgence in Nigeria.
"Remember when we were having the problem of insurgence in Nigeria, but the moment Buhari came, it started reducing abi? Didn't it reduce?" he said.