EFCC detains Instagram big boy Nwata Anayo Eze for $8.5m scam
The Economic and Financial Crimes Commission, EFCC has arraigned social media big boy, "Nwata Anayo Eze" over alleged $8.5 million scam.
The EFCC made the announcement via their official Instagram page today July 1, 2020.
According to EFCC, Nwata Anayo Eze whose real name is Onwuzuruike Ikenna Kingsley known by his friends as Jeff Sikora was picked up for suspected case of internet fraud.
He was also arraigned for conspiracy, impersonation, forgery, possession of proceeds and obtaining money by false pretence.
The social media big boy is known for displaying his wealth on Facebook.
Recently, he took to his Facebook page to reveal in a video that his enemies are making efforts to pull him down.
He is the self-acclaimed President/Chief Executive Officer of United States-based Prime Trust Credit Union Bank and several Oil/Gas and Real Estate businesses across the Southeastern part of Nigeria.
Read EFCC's report below;
"EFCC Arraigns Alleged Internet Fraud Kingpin For $8.5m Scam

"The Economic and Financial Crimes Commission, EFCC Port Harcourt's zonal office on Tuesday, June 30, 2020 arraigned one Onwuzuruike Ikenna Kingsley (aka Jeff Sikora), a self-styled President/ Chief Executive Officer of United States-based Prime Trust Credit Union Bank before Justice A.T. Mohammed of the Federal High Court sitting in Port Harcourt, Rivers State on an eight-count charge bordering on conspiracy, impersonation, forgery, possession of proceeds and obtaining money by false pretence to the tune of Eight Million, Five Hundred and Two Thousand Dollars ($8,502,000.00).

"The offence contravenes Section 1 (1) (a) of the Advance Fee Fraud and Other Fraud Related Offences Act, 2006 and punishable under Section 1 (3) of the same Act."
LAWMA arrests 13 cart pushers
Concerned by the growing trend of environmental degradation in some parts of the state which was occasioned by the activities of cart pushers, Lagos Waste Management Authority (LAWMA) has swung into action by clamping down on all forms of cart pushing, in a bid to return sanity to the affected areas.
In a statement released to the media on Saturday, the Authority said it had stepped up efforts to make Lagos cleaner and livable for all, by introducing novel waste management programme in the state, as well as supporting PSP operators to discharge their primary duties effectively.
The Authority, however, pointed out that the efforts to protect the environment was being hampered by the activities of cart pushers who engaged in the flagrant acts of indiscriminate waste disposal in such places as canals, road medians, undeveloped properties, etc.
"The menace of cart pushing in some parts of the state has led to the rise of indiscriminate waste disposal and exposure of residents to myriads of health hazards, especially during this period that the Lagos State Government is tackling the COVID-19 pandemic.

"We cannot fold our hands and watch few unscrupulous elements jeopardize efforts of the State to make the Lagos metropolis cleaner, healthier and livable for all. To this effect all forms of cart pushing remains banned and anyone caught contravening the Environmental Laws of the State will face the full wrath of the law," the statement read.
In the same vein, the Authority appealed to residents to imbibe the culture of bagging their wastes and giving them to their assigned PSP operators instead of patronizing cart-pushers or dumping them on the roads and other unauthorized locations.
At least, 13 cart pushers were arrested during the operation.
Siblings arrested for masterminding kidnap of their youngest brother so as to extort N7m from their grandfather (Photo)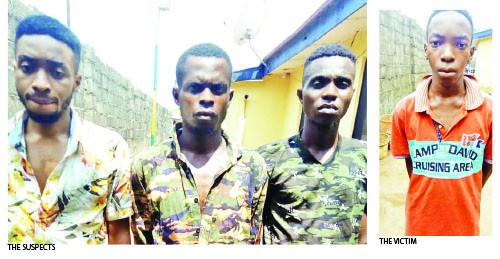 The police in Imo state have arrested two brothers for conniving with other members of a kidnap gang, to abduct their youngest brother, Confidence Osuji, 14, so as to extort N7 million from their grandfather.
The two brothers identified as Fortunate Osuji and Praise Osuji are 25 and 17 respectively.
The state Commissioner of Police, Isaac Akinmoyede, who disclosed this to newsmen, said the Osuji brothers lost their parents in 2009 and were taken in by their grandfather, Chief Chukwuma Osuji, who is said to be the traditional Prime Minister of his village, Emekuku in Owerri North local government area of the state.
The state Commissioner said on June 10, 2020, at 6:30 pm, the distraught grandfather visited the Anti-Kidnapping Squad in the state where he reported that one of his sons, Confidence Osuji, was kidnapped at Ezedibia Emekuku in Owerri North local government area of Imo State.
The police boss said the Squad's Commander, Linus Nwaiwu (Superintendent of Police) and his operatives, through technical intelligence device, was able to track the kidnappers to their location, Amaiyii-Amate Ikeduru L.G.A, Imo State, on June 11, 2020.
With the exception of their gang leader, Nelson Dike, from Obowo L.G.A but resident at St. Christiana Hospital Road, Egbu, Owerri North L.G.A and still at large, all the other gang members were arrested, besides Fortunate and his younger brother, Praise.
The members include: Bernard Ugo, native of Mbano L.G.A, Imo State but who is resident somewhere in Orji, Owerri North L.G.A. Bernard is said to be the one who threatened the grandfather to pay N7 million or else they would use Confidence for rituals.
In an interview with The Sun, the distraught grandfather expressed shock that his own grandchildren can hatch and execute such an evil plan.
"When I didn't see my grandson, Confidence, who was kidnapped I immediately reported the case to the Anti-Kidnapping Squad.

The kidnappers started calling me on my phone and demanding for N7 million. They threatened that if I refused to pay the ransom, they would use the victim for ritual. I quickly went and dropped N1 million without the consent of the police. I dropped the money at their camp at Upe in Ngor-Okpala local government area of Imo State.

I was surprised that immediately I paid the money, that evening my grandson was released. I was happy. But suddenly the police came and arrested the three children. I didn't understand until when they got into custody and Fortunate confessed that he masterminded the kidnapping with Praise. He confessed that they conspired to kidnap their younger brother with other five kidnappers. It came to me as a big shock. I didn't believe it myself." the distraight grandfather said.
When interrogated, the mastermind of the kidnap, Fortunate who is the eldest of the three brothers, said;
"I attended Foundation Nursery and Primary School, from where I proceeded to Domino International Secondary School. I studied Business Administration and Management at Abia State University and graduated on October 7, 2019. Right now, I am waiting for my NYSC posting.

My father, Elvis Osuji died in 2009 at Federal Medical Centre, Owerri, while my mother, Blessing Osuji died the same year in Abia State. We are three children – myself, Praise and Confidence. We have been living with our grandparents from 2009 till date. I was the one who masterminded the kidnapping of my younger brother. We started planning it in 2017 and I had to win the heart of my younger brother, Praise, to agree with me. I later contracted my five gang members of kidnappers to execute it on June 10, 2020. I gave Confidence N200 to wait for us at a particular junction leading to Nelson's house. I said we were going out for shopping. But it was a lie. Before that time, I had arranged with my friends. The moment he got to that junction they kidnapped him and kept him in their custody.

While my grandfather was looking for him, I feigned ignorance and played along and helped to look for him too.  Initially, the Anti-Kidnapping operatives suspected and arrested me but my grandfather vouched for me that I didn't know anything.  I was released that day. My gang members ordered my grandfather to pay N7 million. But he pleaded and later paid N1 million. Immediately, my younger brother was released. Our leader, Nelson, who is still at large transferred N450, 000, which is my share of the ransom to my bank account.

It was on June 18, 2020 that the operatives came to the house and arrested three of us and took us into their custody. I was interrogated and I confessed that I was the one who masterminded the kidnapping and that the N450,000 sent to my account as my share is still intact. My grandfather was good to us. But we needed money to set up a barber's  salon where we can make some personal money. I regret what I did and I want my grandfather to forgive us for what we have done."
Praise on his part, also said he regrets his actions and pleaded for forgiveness.
"I attended Foundation Primary School and went to Emekuku High School. I finished in 2019 and I am waiting for admission into the university. It was my senior brother Fortunate who masterminded the kidnapping of our younger brother, Confidence. He gave him N200 to take a transport and wait for him in one of the gang member's house, Nelson who he didn't know because he had not met him before. But as he was on his way, at the junction leading to the house, he was kidnapped. When police detectives arrested Fortunate, I was the one who quickly called Okechukwu on the phone to ask them to relocate to another place because the police detectives may soon catch them."Praise said
The victim, 14-year-old Confidence, described his abduction as a terrible thing to have been conspired by his own brothers.
"It was a terrible experience as my elder brother, Fortunate, deceived me that they want to take me out for shopping. He gave me N200 to go to his friend's house, Nelson, to wait for him. I didn't know him in person or what he looked like. But at a junction leading to his house I was kidnapped and kept in captivity for one week. They moved me from one primary school to a forest until I was later released. My elder brother, Fortunate, didn't tell me anything until the police came and arrested us. I attended Foundation Nursery and Primary School. I am a student of Emekuku High School. Right now, I am in SS1." Confidence said
Amotekun corps member, two others arrested over theft in Osun
A member of the Osun State Amotekun Corps identified as Lukas and two others have been arrested by men of the Nigeria Police, C Division, Aganhun over theft in Ife.
Newsmen learnt that suspected Lukas was arrested on Friday for allegedly stealing raw gold from Jioore mining site, Oke-Owenna, Ile-Ife, alongside one Sunday and a yet to be identified man from the northern part of the country.
Speaking on the incident, the district head in charge of the area, Chief Adebayo Akinola John revealed that he hired Sunday who used to work with Chinese miners to work on his cocoa farm before he (Sunday) began several suspicious moves.
"I have been noticing him especially his sudden keen friendship with Lukas and some other Amotekun guys.

"So one of my wives called me to inform me about Sunday's return from a mining site with the Amotekun guy, so I ordered them to search him before allowing him to enter the house which they did and did not find anything on him.

"In fact, they lured him into a room and lock him up, hoping to stop him from leaving the house till I return that day but he broke out. Shortly after my return, he walked in and I confronted him which he could not deny", the district head added.
Reacting to the development, the Investigative Police Officer (I.P.O) in charge of the case, Inspector Busola Joseph said that the suspects have been assisting with useful information, assuring that the law will take its place.
"Sunday, the prime suspect has helped with useful information which led to the arrest of the Amotekun guy and the Hausa man who has been buying the alleged stolen item from him." The Police officer noted.