Ekiti election: Fayemi, Olusola shun debate as candidates reel out promises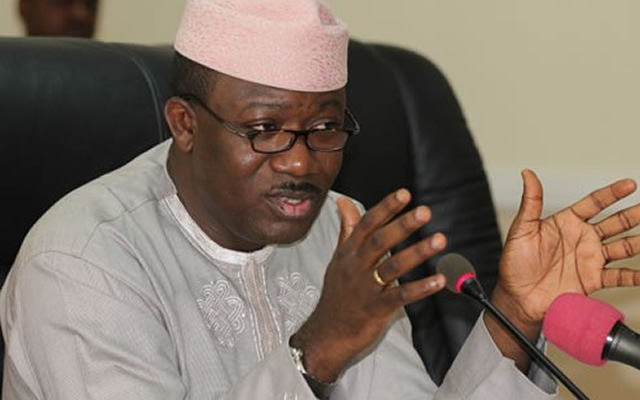 The candidate of the All Progressives Congress in the forthcoming Ekiti State governorship election, Dr Kayode Fayemi, and his counterpart in the Peoples Democratic Party, Prof. Kolapo Olusola-Eleka, on Thursday, were absent at a debate for candidates in the election.
The debate, which was organised jointly by a non-governmental organisation, Enough Is Enough, and Television Continental was attended by Mr Abiodun Aluko of the Accord Party, Mr Akinloye Ayegbusi of the Social Democratic and Mr Segun Adewale of the Action Democratic Party.
The moderator, Mrs Ngozi Alaegbu, said the candidates of the APC and the PDP were contacted to participate in the debate. However, neither of them showed up.
In the debate, which focused mainly on education, security, healthcare and job creation, Aluko said his plan was to bring sustainable development to the state, by developing human capital and creating employment opportunities for the people.
He said, "It is very true that Ekiti State has many professors but that has not translated into development for us, so when I become governor, we will encourage entrepreneurship. On the issue of health care, there will be free health care for persons from zero to six years and persons above 70. And for the persons between six and 70 years, health care will be heavily subsidised."
He also promised to focus on job creation, the increment in power supply and security of lives and property.
Ayegbusi said he decided to contest to eradicate poverty, which he described as devastating while noting that the educational system in the state was archaic and needed to move from theory-based to entrepreneurship-based.
He added,
"We urgently need to generate money for the state, especially through agriculture, so we can fix other sectors. On health care, there will be free medical care for persons aged 60 and above and pregnant women, from conception to delivery. We will also open up the state for tourism and we will see how to partner with Ondo State so we can have something like Ekiti-Ondo Airport."
On his part, Adewale said his emphasis, if elected, would be wealth creation, saying he had been an entrepreneur and had been an employer of labour for years. He said new candidates and parties should be given the opportunity.
He added,
"There must be a standard deviation from theory to actual wealth creation. Yes, we have many professors but we remain poor. Thus, our educational system needs a review. On health care, we would procure quality, basic equipment so our people won't lose their lives to treatable illnesses. Developing the state is not as difficult as they make it look. I'm for wealth creation because with that we can do more."
Video: Watch Seyi and Tacha's grand return to BBNaija house
It's been three days since Tacha and Seyi got evicted from the Big Brother Naija reality house, however, it was only a fake eviction as the pair were cooling their heels in the secret room oblivious to other housemates.
News of a possible celebrity guest in the House had #PepperDemGang filled with excitement as they prepared enthusiastically for the "celebrity."
But the guests turned out to be Seyi and Tacha. Although the housemates greeted the pair with hugs and back pats some could not hide their disappointment at their return.
After enjoying the reunion meal, Tacha and Seyi read a letter addressing each of the Housemates.
Seyi managed to deliver his with just enough diplomacy but Tacha did not hold back, she was frank, brief and even told Jackye "you are you."
See video of their grand entry:
Police in Adamawa arrest 'Boko Haram' vulture, feed it N5,000 meat daily
The police in Adamawa State arrested and detained a "suspicious" vulture after the residents alerted the police of its presence in the community.
The State Commissioner of Police, Adamu Audu Madaki, who confirmed the arrest on Monday, explained that some members of Maiha local government had reported that a woman was in custody of a certain vulture, adding that they claimed the last time three vultures appeared in the community, Boko Haram launched a vicious attack on the community.
It was gathered that residents insisted on the eviction of the vulture and the woman from their area and this prompted a police investigation and the subsequent arrest of the vulture and its owner.
Both have been transferred to Yola for investigation.
According to Daily Sun, the detained vulture is being fed with N5,000 worth of meat daily.
Meanwhile, Daily Post reported that a source with knowledge of happenings around the controversial vulture on Tuesday afternoon indicated that the police command was convinced that the vulture is harmless and the command is merely holding it to calm the anxiety in Maiha.
The source said,
"One of the media stories claims that someone who was being sought by the police turned into the vulture to evade arrest. This is very untrue because the said person is known to us to be in prison custody as we speak. This angle of the story is clearly false, just as the angle about Boko Haram is most unlikely."

"The vulture will remain with the police probably up till the weekend when the dust raised by it in Maiha would have subsided."
EKITI ELECTION! Apostle Suleman denies predicting winner, says Lauretta Onochie is a hater
Founder of the Omega Fire Ministries, Apostle Johnson Suleman, has said that he did not predict the winner of the 2018 Ekiti governorship election, contrary to viral reports.
Suleman also criticized President Buhari's media aide, Lauretta Onochie, for attacking him over comments he reportedly made concerning the #EkitiElections.
In a statement, Suleman said Onochie threw all pretences to the wind to rubbish a man of God with her unguarded vituperations and outright spewing of hate.
The statement also stated that "after careful examination, we think that Lauretta Onochie is burdened by the challenges of life and is gradually going off her rocker".
Onochie on her Twitter handle had called Suleman a "gambling prophet" who is not in talking terms with God but continues to lie with God's name.
See the statement  and Onochie's tweets below:
"It is common knowledge that the quality of media management in the nation's presidency has taken a nosedive since President Muhammadu Buhari took office, but the presidency hit a new low on Sunday when Onochie threw all pretences to the wind to rubbish a man of God with her unguarded vituperations and outright spewing of hate.

"Even if a primary school pupil had written that tweet, the lies told therein could not have been so recklessly blatant and so devoid of any shred of professionalism.

"Apostle never made the purported statement being credited to him at any fora and I challenge her to provide a contrary source to the one I just mentioned or produce any shred of evidence to support her claim.

"But we hasten to say that we sympathize with Lauretta Onochie as we know that life itself has not been fair to her. Our appeal is that she should not vent her frustration with the church.

"The other day, it was the Christian Association of Nigeria (CAN) that she attacked, today, it is Omega Fire Ministries. Who knows which Church is next?

"After careful examination, we think that Lauretta Onochie is burdened by the challenges of life and is gradually going off her rocker.

"If not, why should anybody in his or her right frame of mind, not even a presidential aide, sit down in one corner of his or her room, pick up a fable on social media and then begin to broadcast it on social media?"
God told me expressly that APC is finished in Nigeria & you will see how God will disgrace them in Ekiti. They will lose heavily~Apostle Suleiman May 2018

A "Pastor" who is not in talking terms with God but who continues to lie with God's name.
God will continue to disgrace them pic.twitter.com/NSk8IiDtxv

— Lauretta Onochie (@Laurestar) July 15, 2018
Gambling Prophet Johnson Suleiman, you are the one discrediting Christianity upandan

You have no business coming close to a pulpit

You extort cash from your followers which you spend on Concubines

You churn out false prophecies

Your dad is ashamed of you.

You need salvation

— Lauretta Onochie (@Laurestar) July 18, 2018