Faithia Williams celebrates son as he clocks 18 (Photos)
Nollywood actress, Faithia Williams has taken to social media to celebrate her son, Khalid as he clocks 18.
Fathia Williams wrote,
"Happiest 18th Birthday My Joy, Mummy's baby boo, The entire love of my life, My dance tutor and My special adviser. I've got unending love, undivided attention, eternal pampering, everlasting affection, and endless care for you my son.

There's nothing more exciting and satisfying to have seen you grow and turn into such an amazing person. May God Keep you and your siblings safe for me and grant you all ur heart desires okomi. I will forever b there for you to make you smile everyday of ur life. Grow in more wisdom, knowledge and understanding my son. I Love You So Much Baby @thekhalid__."
Following the post, the actress surprised her son with a small birthday party in their home, they had so much fun that she even carried him while dancing.
Head of Royal Hugs surprises shared photos from it with the caption
"On my 18th birthday, I got nothing o…this new generation are realllllllllllly enjoying…So a call from @faithiawilliams to give her son a Royal Hug… she wanted a mini decoration and a Royal Hugs…Happy birthday, long life in good health, 18 looks good on you, enjoy your day, thank you so much @trendycakeaffairs for the cake"
See photos below;
Nollywood now a den of Yahoo boys, prostitutes – Yemi Solade
Nollywood actor, Yemi Solade has made a damming revelation about the Nigerian movie industry.
In a recent chat with NigerianTribune, the  60-year-old revealed that the gatekeepers of Nollywood have allowed non-professionals fill spaces meant for those who truly have the passion for the craft.
"The Nollywood is not there right now. The Nollywood you see now is all-encompassing. It's like an uncompleted building that is not guarded and what you meet there would amaze you.

"It has become an all comers affair, anybody can stroll in and act.

"All the Yahoo boys are now there, all the prostitutes that you can imagine are there.

"People cannot even differentiate between the core professionals and these class of clowns who have infiltrated the association, but they didn't just fly in, some people whom you refer to as core professionals brought them in.

"It's just so porous that anybody can become an actor, the entry point is so porous and annoying.

"It's a profession and it must be handled and treated as one. I am not really pleased with the state of the industry.

"It's a professional body and we must portray ourselves as one that has mastered the art and craft of the profession," he said.
BBNaija apologises for calling Kiddwaya serial flirt
Organisers of the Big Brother Naija have apologised for labelling season 5 housemate, Kiddwaya, a "serial flirt."
An article which was posted on the Africa Magic website on Sunday was tagged "offensive" by Big Brother Naija fans, saying it painted Kiddwaya, 27, in a bad light.
Following the post, the hashtag #JusticeForKiddwaya started trending on Twitter as Nigerians expressed their dissatisfaction with the post.
Few hours after, the show's organisers apologised on Twitter for the "embarrassing" post.
"Well that was embarrassing! We admit we got a little too carried away and we let our emotions get the best of us. Please remember that the power, as always, remains in your hands. #BBNaija," they said.
Kiddwaya had recently told Nengi that he was in the house to flirt and not get into a serious relationship after Erica broke up with him.
He later took Nengi on flirting class, advising her to flirt cautiously with her love interests in the house.
See tweet below:
Well that was embarrassing! We admit we got a little too carried away and we let our emotions get the best of us. Please remember that the power, as always, remains in your hands. #BBNaija

— Big Brother Naija (@BBNaija) August 9, 2020
Okiki Afolayan gifts wife, Bimbo, brand new Lexus SUV on her birthday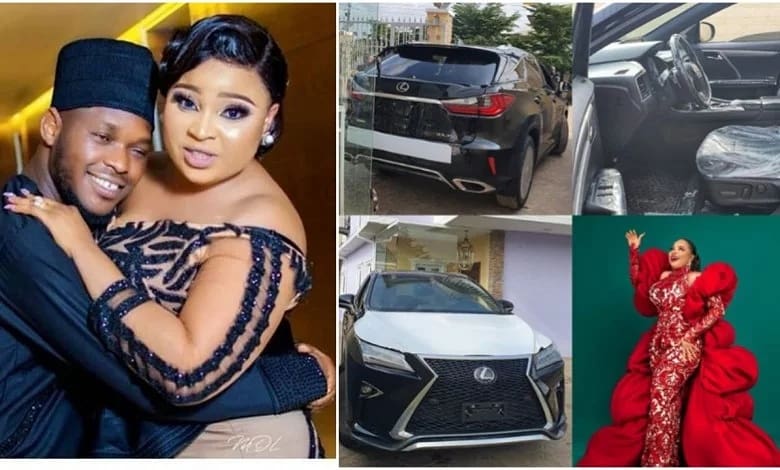 Movie producer, Okiki Afolayan, has gifted his actress wife a brand new SUV  as she marks her birthday today, 9th of August 2020.
Nollywood actress, Bimbo Afolayan who is celebrating her birthday today, 9th of August has received the most expensive birthday gift among all the gifts she has been getting these past few days.
Bimbo's husband, Okiki Afolayan, who is also a movie producer decided to surprise his wife with a brand new Lexus SUV on her birthday.
According to research, the brand new car is said to be worth almost 20 million naira.
Sharing pictures of the brand new Lexus SUV on his page, the filmmaker wrote;
"MY GIRL ON A BRAND NEW EVERYTHING! STILL YOUR DAY IFEMI @bimboafolayan Congratulations"