Funmike Lagoke wins 2019 Miss Nigeria USA [Photos]
Miss Funmike Lagoke, an educator with a passion for arts, has won the 2019 Miss Nigeria USA pageant which held on Saturday in New York.
The excited beauty queen who represented Oyo State thanked her family and friends for their support and acknowledged other contestants for participating.
She wrote;" My beautiful family ❤️ I love my mother and brothers so much. Your support meant the world to me.
"RIP Daddy 👼🏾, I felt you there in spirit. Your legacy lives on and I will make you proud. I love and miss you 😌"
"This experience was everything and more, I am so grateful and honoured to wear the crown as your new Queen. 2019 Miss Nigeria USA – Funmike Lagoke ❤️"
Lagoke was crowned Miss Nigeria USA after a fierce competition with fifteen other beauty contestants.
See photos:
Afrikaners are embracing and building what you are ashamed of — Brymo tells those fleeing from Africa
Nigerian singer, Brymo has shared his thoughts on relocation from Africa which has been embraced by a large number of Africans.
The singer noted that traveling is heaven, but added that Africans who feel the urge to dump the continent should remember that the "only people on the African continent called 'Afrikaners' are largely non-black South Africans who were originally Dutch. "
Brymo added that these Afrikaners are embracing and building what other Africans are ashamed of.
He tweeted;
TRAVELLING IS HEAVEN, BUT IF YOU FEEL THE URGE TO DITCH THIS SHITHOLE REMEMBER THAT THE ONLY PEOPLE ON THE AFRICAN CONTINENT CALLED 'AFRIKANERS' ARE LARGELY NONE BLACK SOUTH AFRICANS WHO WERE ORIGINALLY DUTCH!!..SOMEONE ELSE IS EMBRACING AND BUILDING WHAT YOU ARE ASHAMED OF.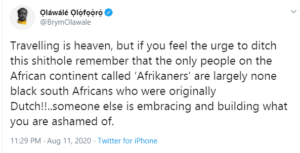 #BBNaija: Dorathy is a f*cking b**ch- Vee says
The tension in the house has heightened as Vee picked on Dorathy for disrespecting housemates including her.
According to Vee, Dorathy is a bit*h and is picking on Nengi, Brighto and her.
Vee, however, in a conversation with Neo added that she cannot be picked on because she is also a bi*ch and would show herself in the house.
Vee said:
" I think Dorathy is a bit*h. It's going to be somebody else soon.

"She wants to pick on Brighto for telling the truth on Sunday and for answering the question he was asked. She picked on Nengi and she's picking on me, but I can't be picked on, because I'm a f*king bit*h as well!"
Watch the video below:
Blackface blames past presidents for insurgency, praises Buhari
Nigerian singer, Blackface, has, in a two-in-one statement, praised President Muhammadu Buhari and once again called out Wizkid after the Ojuelegba star criticised Buhari and US President, Donald Trump.
According to Blackface, Wizkid was stupid for his statements against Buhari and that despite everybody having civil rights, nobody has the right to be stupid.
He said:
"Everybody has their civil rights but you don't have the right to be stupid. You don't have the right to be stupid and promote your stupidity to everybody because you have a platform."
Explaining further, Blackface wondered why a right-thinking person would describe Buhari as clueless.
Blackface who went further to list some qualities he believes makes Buhari a good leader, added that Nigeria's past leaders are the problem and not President Buhari.
The singer opened up in an interview with Legit.
Speaking on President Buhari's performance when compared to the tenure of past leaders, he replied that things are going to get better.
"Things are going to get better but you don't expect something that has been spoilt for so long to become good all of a sudden. It takes time."
Blackface also stated that Buhari has reduced the problem of insurgence in Nigeria.
"Remember when we were having the problem of insurgence in Nigeria, but the moment Buhari came, it started reducing abi? Didn't it reduce?" he said.