Gunshots fired as man breaks into Ooni's palace with Mercedes Benz car 
A man has been arrested after forcing his way into the palace of the Ooni of Ife, Oba Adeyeye Ogunwusi is located in his Ile Oodua's palace in Ile Ife.
WuzupNigeria reports that the alleged intruder broke two gates to enter into the compound where a house occupied by Ooni is.
Reports claimed gunshots were fired around the palace.
A source in Enuwa where the palace is located, who preferred anonymity, said a man driving a Mercedes Benz car with two passengers with him, had driven to the entrance of the palace some minutes to 7:00 pm.
The security men at the entrance, it was learnt, however, denied the vehicle entry and asked the driver to park.
"But before they could check the vehicle, two of the passengers had disembarked and ran away, while the driver forced his way in. He hit the first gate and drove straight towards where Ooni lives.
"He also succeeded in breaking the second gate and was already near Ooni's residence. He later disembarked. The man was dressed in a long robe and had a dog with him.
"The dog was later shot dead, while the man was apprehended. The man was later taken to Moore Police Station in Ile Ife," the source concluded.
Efforts to reach a spokesperson for Ooni, Moses Olafare, were unsuccessful as calls to his mobile line did not connect, while he had not responded to inquiries through text messages sent to him as of the time of filing this report.
However, a source in the palace, who preferred not to be named because he was not authorised to speak on the issue, told our correspondent that a man, who forced his way into the palace was arrested by security men.
He added,
"It was not an attack on the palace or Kabiesi as being insinuated. The gunshots people heard must have been when security men shot at the dog the suspect came with."
A spokesperson for Osun police command, Yemisi Opalola, could not also be reached through her mobile number, as calls to the line rang out.
Widow births twins for late husband three years after his death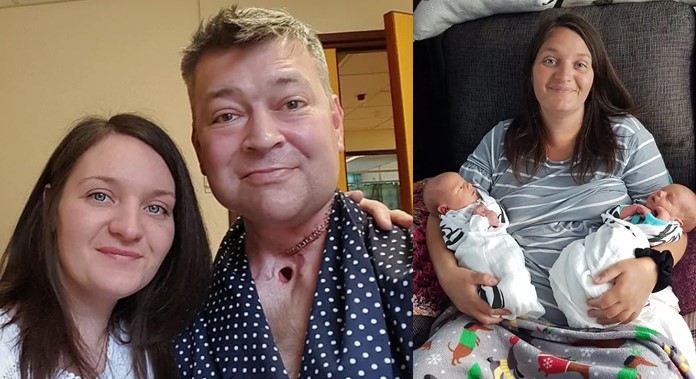 A woman, Lucy Kelsall whose husband died as a result of throat cancer, has given birth to twins three years after his death.
Lucy's husband, David reportedly froze his sperm before treatment made him infertile. His sperm was taken by the doctors and used in making Lucy pregnant via IVF.
The 37-year-old widow, who lost her husband in 2017, said she still can't wrap her head around the fact that she has a bit of David with her forever-in the form of her twins.
She gave birth to two healthy boys, named David and Samuel, after her second round of IVF.
Speaking on fond memories of her husband, Lucy said:
"A few days before he died I told him I was still going to have his baby and he was so surprised and happy.

"He looked so proud and he would have been an amazing father. "One of them has David's long legs and big feet because he had size 15 feet and one has his green eyes."
Daily Mail
Fiancé of lady crushed to death in Lagos breaks silence
The fiance of the Nigerian lady, Immaculate Okochu, who was crushed to death by a trailer a few weeks to her wedding has finally broken his silence.
The deceased's fiance in an Instagram post confirmed news of Okochu's death.
Immaculate lost her life after she was crushed to death by a truck while heading to work in lagos.
Taking to Instagram to share photos from their Introduction and a photo of his late fiancee, he wrote;
"Where do I even start from. Yesterday August 12th is a day I will never forget. The most precious woman in my life left me. A woman I cherish so much decide to leave me in this world. How can you leave when we have few weeks to our wedding ? How can you leave when your car will arrive next week? How can you leave mr Charles and I.

"I loved you with everything I have. I promise you everything you have ever wished for I will make sure you have it. Oh Emife you broke my heart into pieces. Wednesday morning when you were about to leave for work I said baby you look so beautiful are you sure you are going to work you laughed and I smiled as well. I decide to take you to bus stop as usual. You even buy me egg rolls for me and my friend. And told me you will come home by 5pm so you can cook Cos you haven't cook for a while Cos of work.

"I never knew you were saying goodbye to me I couldn't notice it Ahh .You are the only woman that has ever cook for me. You brought love and happiness into my life and replace it with this pain. How can you do this to someone you love. Oh Emife you are too good, everyone loved you they cared about you how could you? My mother hasn't been herself. Every one are going through pains Cos of you. I have been searching for you at home I check all the whole rooms I couldn't find you. I screamed your name, no answer.

"How can I survive this wicked world without you? I warned you about Cold stone, they are blood suckers they don't care about you . All the care is their money. I asked to resigned you said baby wait you will at the right time. Every day cold stone keep stressing your life. I keep telling you don't let cold stone kill you for me. Oh they finally kill you for me. They achieved their wishes. They made you go through pains until you die. They use you. They have your pictures of you on their Advert yet they won't pay you.

"They made you suffer until you die. You complained of mr Dapo every day problem.I hope he's happy now that you are no more . Baby guess what? Cold stone still continue with work. Someone has already replaced you. What I told you and warned you about has come to reality. Baby how can I recover from this? 💔💔💔💔😭😭😭😭"
My wife is a prostitute, her lover got her pregnant twice, man tells court
An artisan, Abdullateef Babatunde, on Thursday told an Ile-Tuntun Customary Court in Ibadan to dissolve his marriage of eight years to estranged wife, Omotayo because she forced an illegitimate child on him.
Abdullateef's claim was contained in his counter-argument before Chief Henry Agbaje, the court's President after his wife had complained that her husband was a wicked man.
"Omotayo continuously engaged in adulterous acts and I have caught her on many occasions.

"I reported her to her parents who assured me that they had spoken to her.

"Rather than change for the better, Omotayo's prostitution worsened and I had to abandon her for a while, believing that she might turn a new leaf.

"She has a son with one of her lovers. I caught her with a man in her shop.

"Her lover got her pregnant twice. My wife is disobedient and lazy," he said
Giving her account, Omotayo, a food vendor, lamented that her husband doesn't have sincere love for her and has given her money on different occasions to get rid of my pregnancy, claiming he was not ready for kids, NAN reports.
"When I eventually had a child with him, he abandoned us for two and a half years, only to resurface to plead with me.

"Again, he started complaining about the fact that I was selling foodstuff in the night," Omotayo added.
After the parents of the couple gave their consent to the divorce, Agbaje dissolved the union in the interest of peace.
He granted custody of the only child to the petitioner and ordered the defendant to pay N5,000 as the child's monthly feeding allowance.