I knew my husband had girlfriends – wife of Benin pastor accused of raping four minors
Mrs Elizabeth Otobong, the wife of the Zonal Pastor of Believers Ministry Church Incorporated (BMCI) in Benin City, Edo State, who stands accused of the rape of five minors, has said she knew her husband had girlfriends.
The husband, Emerson Otobong, 48, a father of five children with two of them were preparing to secure admission into the university, allegedly raped four minors between age six and 11 from December 2019 to February 2020. Three of the victims were said to be siblings kept in his care.
Elizabeth and Emerson had been married for 20 years. The woman, who sells pap, said in those years she had to cope with the Pastor's extramarital affairs which often caused her embarrassment.
She, however, described Emerson has a truthful man.
She said,
"I know him to be an honest person but when this incident happened, he did not want to open up to me. I don't even know how to describe him even though he is my husband of more than 20 years but he is a truthful man.
"Yes, I know he used to have girlfriends and in fact, it is one issue that used to cause quarrel between me and him. On many occasions, I have caught him. I tried to talk to him to stop the habit but he continued doing it so I got tired of talking.
"On many occasions, he promised to stop but then I would still catch him. I never knew he could go to the extent of sleeping with minors and that is why I am beginning to suspect that this thing is not ordinary.
"Most of the time after he has done the act, his eyes would become clear and he would then begin to ask questions and wondered why he did it. I feel there is something behind his actions. It's like something has spiritual or demonic influence on him."
WuzupNigeria reports that the rapist pastor first child, who is 18 years old, would rather keep mum over her father's travail.
But Pastor Remi Yesufu, who spoke on behalf of the church, described the incident as unfortunate.
He said Emerson has been relieved of his duty and de-ordained. He added that the pastor's original certificate of ordination was also withdrawn.
He said,
"We couldn't have instigated him to do that and so we cannot be liable and so the kind of crime that was committed is not a crime that can be committed by an inanimate object. A building cannot sleep with a human being. The person who committed the act is a human being because certain things must have occurred before this happened.
"When the matter came to the knowledge of the church, the church took an appropriate action. Immediately, the suspect was relieved of his duty and was de-ordained. His original certificate of ordination was withdrawn.
"Those were the things we needed to do legally and we did them. It would have been a different matter entirely if it was not a criminal matter. I am sure you read the charge sheet which says The State versus Emerson not any of the affected families. The crime was committed against the state and not against the families. That is why it is not a thing that can be settled out of court. It has to be determined by the court. The general overseer gave the instruction that he should be handed over to the police."
Punch
Siblings arrested for masterminding kidnap of their youngest brother so as to extort N7m from their grandfather (Photo)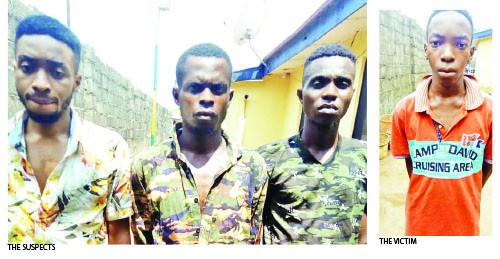 The police in Imo state have arrested two brothers for conniving with other members of a kidnap gang, to abduct their youngest brother, Confidence Osuji, 14, so as to extort N7 million from their grandfather.
The two brothers identified as Fortunate Osuji and Praise Osuji are 25 and 17 respectively.
The state Commissioner of Police, Isaac Akinmoyede, who disclosed this to newsmen, said the Osuji brothers lost their parents in 2009 and were taken in by their grandfather, Chief Chukwuma Osuji, who is said to be the traditional Prime Minister of his village, Emekuku in Owerri North local government area of the state.
The state Commissioner said on June 10, 2020, at 6:30 pm, the distraught grandfather visited the Anti-Kidnapping Squad in the state where he reported that one of his sons, Confidence Osuji, was kidnapped at Ezedibia Emekuku in Owerri North local government area of Imo State.
The police boss said the Squad's Commander, Linus Nwaiwu (Superintendent of Police) and his operatives, through technical intelligence device, was able to track the kidnappers to their location, Amaiyii-Amate Ikeduru L.G.A, Imo State, on June 11, 2020.
With the exception of their gang leader, Nelson Dike, from Obowo L.G.A but resident at St. Christiana Hospital Road, Egbu, Owerri North L.G.A and still at large, all the other gang members were arrested, besides Fortunate and his younger brother, Praise.
The members include: Bernard Ugo, native of Mbano L.G.A, Imo State but who is resident somewhere in Orji, Owerri North L.G.A. Bernard is said to be the one who threatened the grandfather to pay N7 million or else they would use Confidence for rituals.
In an interview with The Sun, the distraught grandfather expressed shock that his own grandchildren can hatch and execute such an evil plan.
"When I didn't see my grandson, Confidence, who was kidnapped I immediately reported the case to the Anti-Kidnapping Squad.

The kidnappers started calling me on my phone and demanding for N7 million. They threatened that if I refused to pay the ransom, they would use the victim for ritual. I quickly went and dropped N1 million without the consent of the police. I dropped the money at their camp at Upe in Ngor-Okpala local government area of Imo State.

I was surprised that immediately I paid the money, that evening my grandson was released. I was happy. But suddenly the police came and arrested the three children. I didn't understand until when they got into custody and Fortunate confessed that he masterminded the kidnapping with Praise. He confessed that they conspired to kidnap their younger brother with other five kidnappers. It came to me as a big shock. I didn't believe it myself." the distraight grandfather said.
When interrogated, the mastermind of the kidnap, Fortunate who is the eldest of the three brothers, said;
"I attended Foundation Nursery and Primary School, from where I proceeded to Domino International Secondary School. I studied Business Administration and Management at Abia State University and graduated on October 7, 2019. Right now, I am waiting for my NYSC posting.

My father, Elvis Osuji died in 2009 at Federal Medical Centre, Owerri, while my mother, Blessing Osuji died the same year in Abia State. We are three children – myself, Praise and Confidence. We have been living with our grandparents from 2009 till date. I was the one who masterminded the kidnapping of my younger brother. We started planning it in 2017 and I had to win the heart of my younger brother, Praise, to agree with me. I later contracted my five gang members of kidnappers to execute it on June 10, 2020. I gave Confidence N200 to wait for us at a particular junction leading to Nelson's house. I said we were going out for shopping. But it was a lie. Before that time, I had arranged with my friends. The moment he got to that junction they kidnapped him and kept him in their custody.

While my grandfather was looking for him, I feigned ignorance and played along and helped to look for him too.  Initially, the Anti-Kidnapping operatives suspected and arrested me but my grandfather vouched for me that I didn't know anything.  I was released that day. My gang members ordered my grandfather to pay N7 million. But he pleaded and later paid N1 million. Immediately, my younger brother was released. Our leader, Nelson, who is still at large transferred N450, 000, which is my share of the ransom to my bank account.

It was on June 18, 2020 that the operatives came to the house and arrested three of us and took us into their custody. I was interrogated and I confessed that I was the one who masterminded the kidnapping and that the N450,000 sent to my account as my share is still intact. My grandfather was good to us. But we needed money to set up a barber's  salon where we can make some personal money. I regret what I did and I want my grandfather to forgive us for what we have done."
Praise on his part, also said he regrets his actions and pleaded for forgiveness.
"I attended Foundation Primary School and went to Emekuku High School. I finished in 2019 and I am waiting for admission into the university. It was my senior brother Fortunate who masterminded the kidnapping of our younger brother, Confidence. He gave him N200 to take a transport and wait for him in one of the gang member's house, Nelson who he didn't know because he had not met him before. But as he was on his way, at the junction leading to the house, he was kidnapped. When police detectives arrested Fortunate, I was the one who quickly called Okechukwu on the phone to ask them to relocate to another place because the police detectives may soon catch them."Praise said
The victim, 14-year-old Confidence, described his abduction as a terrible thing to have been conspired by his own brothers.
"It was a terrible experience as my elder brother, Fortunate, deceived me that they want to take me out for shopping. He gave me N200 to go to his friend's house, Nelson, to wait for him. I didn't know him in person or what he looked like. But at a junction leading to his house I was kidnapped and kept in captivity for one week. They moved me from one primary school to a forest until I was later released. My elder brother, Fortunate, didn't tell me anything until the police came and arrested us. I attended Foundation Nursery and Primary School. I am a student of Emekuku High School. Right now, I am in SS1." Confidence said
Amotekun corps member, two others arrested over theft in Osun
A member of the Osun State Amotekun Corps identified as Lukas and two others have been arrested by men of the Nigeria Police, C Division, Aganhun over theft in Ife.
Newsmen learnt that suspected Lukas was arrested on Friday for allegedly stealing raw gold from Jioore mining site, Oke-Owenna, Ile-Ife, alongside one Sunday and a yet to be identified man from the northern part of the country.
Speaking on the incident, the district head in charge of the area, Chief Adebayo Akinola John revealed that he hired Sunday who used to work with Chinese miners to work on his cocoa farm before he (Sunday) began several suspicious moves.
"I have been noticing him especially his sudden keen friendship with Lukas and some other Amotekun guys.

"So one of my wives called me to inform me about Sunday's return from a mining site with the Amotekun guy, so I ordered them to search him before allowing him to enter the house which they did and did not find anything on him.

"In fact, they lured him into a room and lock him up, hoping to stop him from leaving the house till I return that day but he broke out. Shortly after my return, he walked in and I confronted him which he could not deny", the district head added.
Reacting to the development, the Investigative Police Officer (I.P.O) in charge of the case, Inspector Busola Joseph said that the suspects have been assisting with useful information, assuring that the law will take its place.
"Sunday, the prime suspect has helped with useful information which led to the arrest of the Amotekun guy and the Hausa man who has been buying the alleged stolen item from him." The Police officer noted.
Painter arrested for allegedly defiling 11-year-old girl in Ebonyi
Police in Ebonyi have arrested a man identified as Mr Anointing, (not real name) for allegedly defiling an 11-year-old girl from Ezza North local government area of the State.
Recounting her ordeal when she was interviewed by the Special Assistant to Ebonyi State Governor on Security and Utility (Capital City) Saint Nchekube Anakor, the Primary 5 pupil said the painter who resides in the same compound (close to the Federal High Court) with them, usually sends her on errands and also makes her bring it to his room.
She also disclosed that Mr Anointing has sexually abused several times before being nabbed.
The girl said;
"He will always sent me to buy something for him, and when I come back, he will tell me to bring it to his room.

"Each time l entered his room, he will be touching my breasts and be inserting his fingers into my vagina. I don't like what he does to me and I don't know how to tell my parents."
Narrating how the suspect was nabbed, Mr Anakor said he got a tip-off of the incident from one Tochuckwu and others from disco two at about 3:30 a.m on Wednesday, August 5.
Upon getting to the compound, he discovered that Mr Anointing had been caught red-handed in the act by his neighbours.
Anakor said;
"Thanks to Tochukwu Nwankwegu and others from Disco 12. It was like a joke at exactly 3:30a.m. last night.

"The little girl, aged 11 years, who lives near Federal High Court, Abakaliki, opened up on how one Mr Anointing, a painter who also lives in the same building normally took her to his room and sexually abused her."
The suspect refused to say anything at the scene of the incident and was taken to Kprirkpiri Police Station in Abakaliki, where he was detained by the Police.