I remain a daughter of Iran wherever I am – Country's only female Olympic medalist says as she defects to Europe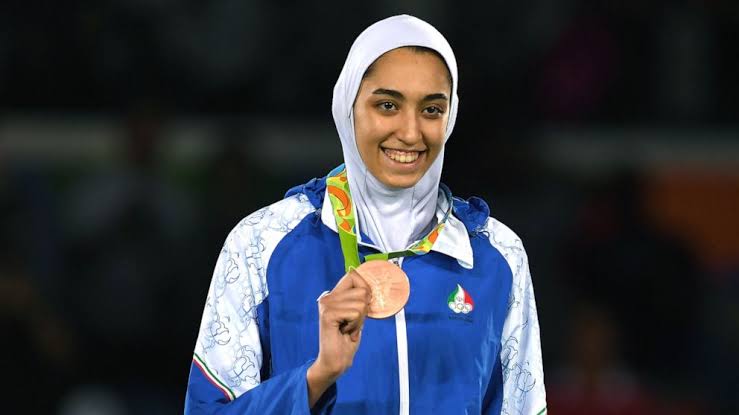 Amid the on-going international pressure and anti-governmental protests in cities across Iran after the country admitted it had accidentally shot down a Ukrainian flight, killing all 176 people aboard, Iran's only female Olympic medalist Kimia Alizadeh has announced that she has permanently left her country for Europe.
The twenty-one-year-old Olympic medallist is the first and only Iranian woman to win an Olympic medal after claiming taekwondo bronze in the -57kg category during the 2016 Rio Olympics.
According to Alizadeh, known in Iran as "The Tsunami", her decision to leave Iran was a very hard one, but she felt 'used' by the Iranian government, who have been playing with her and millions of Iranian women 'for years.'
"Let me start with a greeting, a farewell or condolences. I am one of the millions of oppressed women in Iran who they have been playing with for years. They took me wherever they wanted. I wore whatever they said. Every sentence they ordered me to say, I repeated. Whenever they saw fit, they exploited me, she wrote, adding that credit always went to those in charge. "I wasn't important to them. None of us mattered to them, we were tools, The virtue of a woman is not to stretch her legs!" Alizadeh wrote in an Instagram post on Saturday explaining why she was defecting.

Alizadeh said she "didn't want to sit at the table of hypocrisy, lies, injustice and flattery" and that she did not want to be complicit with the regime's "corruption and lies."

"My troubled spirit does not fit with your dirty economic ties and tight political lobbies. I wish for nothing else than for Taekwondo, safety and for a happy and healthy life," she said adding that she was not invited to go to Europe.
According to her, the decision was harder than winning Olympic gold.
"I remain a daughter of Iran wherever I am."
JUST IN: Man City thrash Real Madrid 4-2 aggregate to qualify for quarterfinals
Manchester City reached the Champions League quarter-finals after knocking out record 13-time winners Real Madrid.
Leading 2-1 from the first leg, City extended their aggregate lead through Raheem Sterling's close-range finish after Raphael Varane's mistake.
Karim Benzema equalised on the night with a header but Brazil forward Gabriel Jesus made it 4-2 on aggregate after another shocking error by Varane.
City will play Lyon in a one-off quarter-final tie on 15 August.
It is the third successive season Pep Guardiola's side, who finished second in the Premier League table, have reached the last eight in Europe's premier club knockout competition.
City, seeking to win the Champions League for the first time, have not reached the semi-finals since 2015-16, when they were knocked out by Real Madrid.
JUST IN: Lyon dump Juventus out of Champions League
Lyon on Friday dumped Juventus out of the Champions League despite losing 2-1 at the Old Lady.
CRISTIANO RONALDO has scored a double to give Juventus hope of an incredible comeback against Lyon after both teams were awarded very controversial penalties.
Memphis Depay put the French side in front with a panenka from the spot despite Rodrigo Bentancur appearing to tackle Houseem Aouar cleanly.
But Depay himself was a victim of a bizarre decision as the ball struck his arm while it was by his side from a free-kick.
And Ronaldo struck again on the hour mark to leave Juve needing just one more goal to progress.
Lyon, however, sailed to on away goals after a 2-2 aggregate play.
Nigerian basketball player, Michael Ojo is dead
Nigerian-American basketball player, Michael Ojo has passed away after suffering a heart attack during training in Belgrade, Serbia.
The 27-year-old who previously played for Red Star Belgrade was reportedly having an individual practice at Partizan's stadium when he collapsed on Friday, August 7.
Local media said he was rushed to the hospital from Partizan's stadium but showed no signs of life and was confirmed dead.
"We are deeply saddened by the news", Red Star's spokesperson Igor Vujicin told AFP.
The Lagos-born who was 7ft 1in tall and weighed 22st played for Florida State University in the United States, before starting his professional career in Belgrade, Serbia with FMP for a year after which he played two seasons for Crvena Zvezda.
He won the 2018 ABA SuperCup as well as the ABA League and the Serbian League in 2019. Ojo was a free agent this summer.
Ojo had been without a club since June 30 but was training with Red Star.
Red Star Belgrade released a statement mourning the shocking loss of their former star.
"The sudden and shocking death of Michael Ojo has deeply affected everyone — players, coaches and the management of a club that accepted him from the first day, and that he considered his own," Red Star said.

His former teammates and EuroLeague also extended condolences to Ojo's family, teammates, coaches, "and many fans who enjoyed his performances".