Izuchukwu Madubueze reads suicide note before shooting himself dead after being accused of rape (Video)
A video showing Izuchukwu Madubueze, 23, reading a suicide note before shooting himself dead has surfaced online.
Recall that Izu, who hails from Anambra state, committed suicide in the US on Thursday, July 16, after a Twitter user accused him of harassing a lady.
According to the Pinellas County Sheriff's Office in Florida, United States, the Nigerian entrepreneur died by self-inflicted gunshot wound.
"Izuchukwu Madubueze was the victim of what appears to be a self-inflicted gunshot wound on July 16, 2020. The case is open and active and no further information will be provided at this time," said Deputy Travis Sibley, a spokesman for the office.
Before taking his life, Izu recorded himself reading his suicide note. The video has now been shared online.
In the video, he addressed the harassment allegation, declared his love for his family, and said some words to his accuser.
"I feel like it'll be awesome to say some last words before I leave," Izu began in the video.
He added:
"In the last couple of weeks, I have seen the tweets. I have heard from several people, I've also seen some people who I expected a lot more from subtweeting me and I wasn't ever given a fair chance to clear my name or explain my side of the story or verify whether any of the allegations against me were true or not.

"To my family, first of all, I apologize for bringing disgrace to your name. I love you all unconditionally from the bottom of my heart."

"To my mum, I pray you stay strong, " he said with a shaky voice.

"To my dad, you always said God will never give me a load that's too heavy to carry but last two years have been the heaviest moments of my life… actually last three years have been the heaviest moments of my life.

"To my little bro, Ekene, I love you man. I wish we hadn't grown super distant.

"To my sister, I love you so much sis. You have great things in store for you. You're gonna be a very very great person."
He then addressed his accusers, saying:
"To Ify and Duby I wronged and who I… who said I groped them, which hurts a lot.

"To girls who posted the list, thank you for posting the list."
Izu was referring to the list posted on Twitter where a number of men were named as people accused of sexual assault, harassment, or rape. Izu's name was listed and he was accused of harassment.
The list was posted by a user named Nani.
Izu continued:
"I mean, like I told you Nani, I can't shoot the messenger. but your attitude not to work towards clearing up accusations was piss-poor. You denied me the opportunity to clear my name and you refused to tell me what exactly I did that was harassment, even after I provided proof that I didn't harass this person…."
After recording the suicide note, Izu also scheduled a short note that was posted on Twitter on July 17, one day after his death.
The tweet reads:
"Oh, and if you're reading this, I'm dead. Lol."
Nani, the lady who accused him of harassing a woman has been receiving heat on Twitter following Izu's death.
Watch the video below;
Police stop sale of day-old baby in Port Harcourt
The Rivers State Police Command says it aborted the sale of a day-old baby in Port Harcourt.
Police Public Relations Officer in the State, SP Nnamdi Omoni made the disclosure in a statement circulated in the media.
Omoni stated that the alleged sale of the day-old baby was aborted in an operation by the Special Anti Robbery Squad at Igwuruta, Ikwerre Local government area of the state.
"Operatives of the Special Anti Robbery Squad (SARS) in a covert operation at the early hours of today 11/8/2030 cracked a Child Trafficking Syndicate at Igwuruta, Ikwerre LGA, where one Florence Jonah, a 56-year-old woman was arrested.

"She is alleged to have conspired with the father of the child, one Izuchukwu Success to sell him to waiting buyers at a cost of Nine Hundred Thousand Naira (900,000).

"Upon his arrest, the father led the Police to Better life Clinic, Eneka, where the child who had been sold, was eventually recovered and handed over to his real mother, Rejoice Izuchukwu. Both mother and child are in stable condition.

"The suspects arrested are Florence Jonah 'f' 56yrs, Ogum Ifeoma 'f' 22yrs, Beauty Nnodim 'f' 25yrs, Isabella Chika 'f' 20yrs' and Blessing Udoh 'f' 20yrs," he disclosed.
The Police Spokesman said those arrested are helping the Command in investigation and will be charged to Court soon.
See Photos below;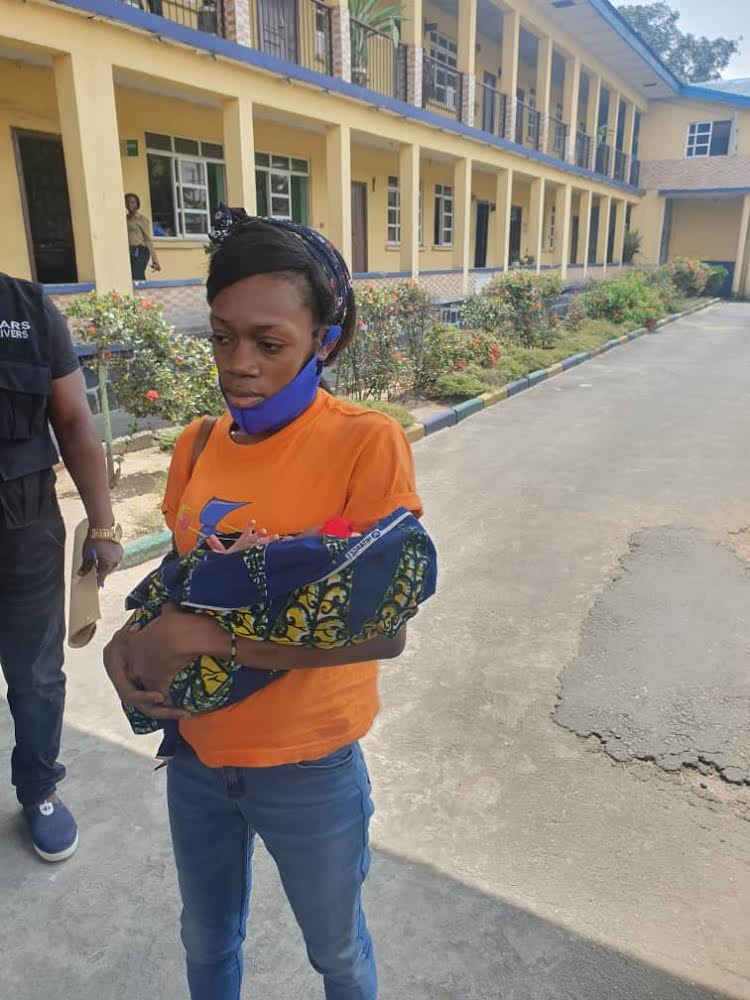 Video: I was raped by my stepdad, gang-raped by hoodlums, 11-year-old narrates shocking experience
A homeless orphan has accused her stepfather, identified simply as Okanla, and some hoodlums of raping her at different times in Ogun State.
WuzupNigeria gathered that while the stepdad, whom she lived with him in the Itori area of Abeokuta, the state capital, raped her at his home, the hoodlums in Kara, in the Obafemi Owode area of the state, took turns to gang-rape her.
The gory details came to light when the orphan on Monday boarded a bus and was on her way to the Itori area when she made the revelations to fellow passengers.
One of the passengers was said to have filmed the 11-year-old as she narrated her ordeal.
In the footage, which was posted by @StopRaping, the victim said she became homeless after the death of her parents.
She said,
"When I was in Kara, some boys had sex with me. They were like two or three in number. They all had sex with me and while they were having sex with me, I felt the urge to urinate and they gave me the chance. But when I returned, I was told that my private parts were wider than my age.

"My stepfather also used to have sex with me. My mum is dead and I don't know my dad. But when I asked my mum about him, she said he was dead and I was taken to the village to see where he was buried. My stepfather, who used to have sex with me, lives in Itori, Abeokuta. His name is Okanla.

"I am going to Itori and when I get to the market around the area, I will find a place to sleep till the following day and move on from there."
The victim's statements reportedly prompted some of the passengers to take her to the Sango Police Station for help and investigation into her allegations.
The situation, however, took another dimension when the poster of the footage accused a female officer of slapping and chasing the victim away from the police station after hearing her story, adding that they were threatened to delete the video.
"On getting to the police station, while explaining the situation to the officers, one of the female officers slapped the girl twice, then told her to go away. The police officers in Sango could not help this young orphan, even after hearing her story. This young girl, however, continued on her journey to God knows where.

"Please note that the police in Sango Police Station threatened us to delete the video and not post it, that they'd trace us. I had to create a burner so as to post this video. All of this happened yesterday, August 10, 2020…" he stated.
The state Police Public Relations Officer, Abimbola Oyeyemi, said,
"If they have gone to the Sango Police Station where we have ACP Sunday Agbonika as the Area Commander, there is no way they will make an official report on such that he will not take it upon himself because he is a professional that has been lecturing and training people on gender-based violence and violation of the girl child right.

"Whoever that can locate the girl should bring her forward. If those who brought her to the station have evidence, they should show us, if they know the policewoman they claimed to have met, they should come forward with their evidence so we can get the person and sanction her because that is not our character. It is the duty of the police to protect life and property."
My mother scarred my face because I broke a plate, then sent me out to beg on the street– Child beggar reveals (Video)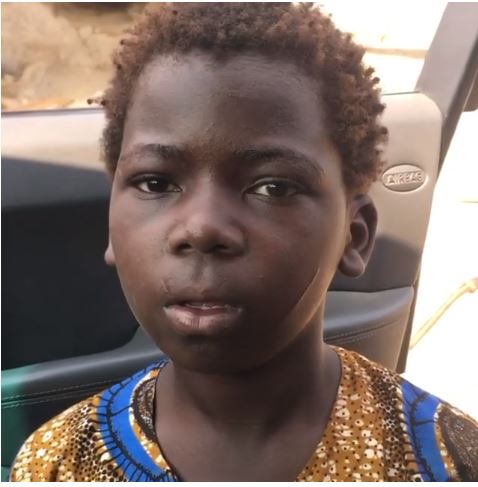 A boy was found looking unkempt while begging on the streets and when he was questioned, he opened up about being abused by his mother.
A good samaritan who sighted the boy asked why he was out in the street and he said that his mother sent him out to look for what they will eat.
The boy named Emma explained that the mark on his face was given to him by his mother because he broke a plate while washing it.
When asked if the woman was his mother or stepmother and he said it's his biological mother.
The boy, who looks no older than 12 years old, also revealed that he doesn't go to school but spends his time begging to provide for his family.
Watch the video below;