Lalong's Chief of Staff tests positive for COVID-19
The Chief of Staff to Plateau Governor Simon Lalong, Noel Donjur, has tested positive for COVID-19.
His status was discovered after test conducted for members of the State EXCO on July 1 on the order of the Governor.
Commissioner of information and communication, Mr Dan Manjang in a statement on Friday said:
"The outcome of the tests indicate that all other members of the State EXCO tested negative except the Chief of Staff who is asymptomatic and in good condition.

"Accordingly, health officials have commenced treatment for him at one of the isolation centres in the State capital Jos while members of his family and other contacts are being traced, tested and quarantined.

"The Chief of Staff who is in high spirits urged prayers from members of the public and also encourages people to submit to COVID-19 testing which is very important in unveiling cases and leading to treatment.

"However, other personal aides of the Governor, Permanent Secretaries, heads of parastatals as well as other senior civil servants conducted the test on Thursday 2nd July 2020 and are awaiting the results."
Governor Lalong also urged the citizens to continue to adhere strictly to the guidelines issued to stop the spread of the virus.
Recall that Lalong ordered members of the State Executive Council to undergo COVID-19 test after Commissioner for Commerce and Industry Abe Aku positive.
He stated that after submitting themselves for the test, they should immediately proceed on self-isolation.
I took black seed oil, herbal concoctions to beat COVID-19 – Oyo Commissioner
After 56 days in isolation, Oyo Commissioner for Information, Culture and Tourism, Dr Wasiu Olatunbosun, has revealed how he recovered.
He said he took not less than 25 bottles of black seed oil, a bowl of black seed, lots of alligator pepper, bitter cola as well as different brands of herbal concoctions to beat coronavirus.
On how he survived the virus and psychological effects of the 56- day isolation, the Commissioner said though he was asymptomatic, he endured six tests before being certified negative.
He said:
"I took 25 bottles of black seed oil, a bowl of black seed, a lot of alligator pepper and bitter-cola as well as different brands of herbal concoctions, which I drank at interval and used for steaming after my normal drugs, but the utmost is prayers to overcome the trauma."
Olatunbosun, while recounting his COVID-19 experience, said the government must seek ways to supplement orthodox and traditional medicine, especially the use of local herbs for patients.
Olatunbosun said
"You would not believe that while I was on self-isolation at home, some people still came to my house on Sallah day to celebrate with me.

"They did not fear at all. I had to send emissaries to them on phone with gifts and asked them to go home, it was that bad."
Olatubosun commended Governor Seyi Makinde for being;
"A worthy war commander that never abandoned his soldiers no matter their conditions."
He said the Governor called him in the morning and in the evening every day to know his conditions throughout isolation.
Nigeria records 453 new cases of Covid-19, toll now 47,743
Nigeria has recorded 453 new cases of COVID-19 with a total of 47,743 confirmed cases of Coronavirus.
This was revealed by the Nigeria Centre for Disease Control (NCDC) on its official Twitter handle yesternight.
According to the NCDC's report, Lagos recorded 113 of the 453 cases, followed by FCT with 72, Plateau with 59 and Enugu 55.
Breakdown of the new cases of COVID-19 per state:
Kaduna – 38
Ondo – 32
Osun – 26
Ebonyi – 20
Ogun – 9
Delta – 8
Borno – 7
Akwa Ibom – 6
Oyo – 5
Bauchi – 1
Kano – 1
Ekiti – 1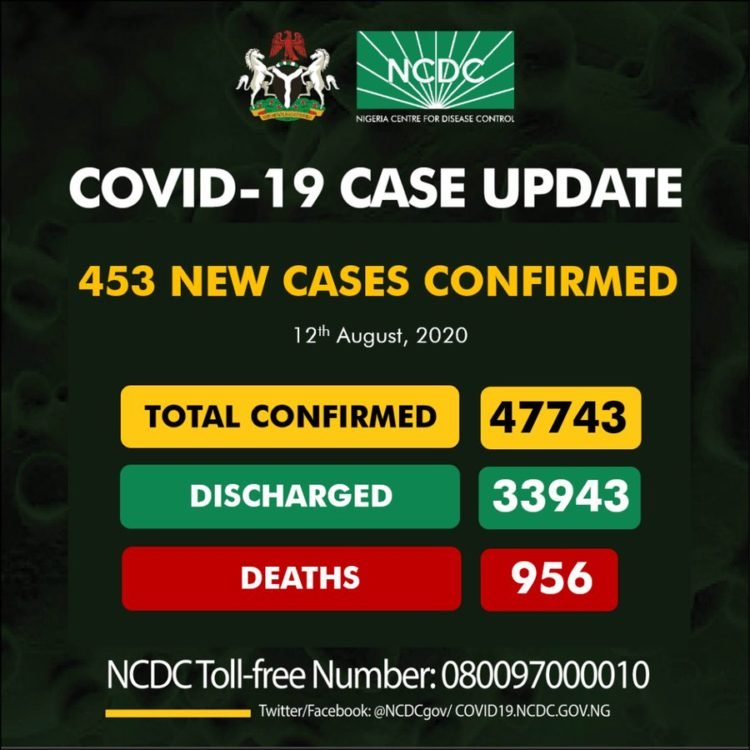 The total confirmed cases so far in Nigeria now stands at 47,743 of which 33,943 have been discharged.
However, the infection has claimed 956 lives.
Onigbongbo LCDA chair didn't die from COVID-19, says council secretary
Following the death of the Onigbongbo Local Council Development Area Chairman [LCDA] in Lagos State, Babatunde Oke, his Chief Press Secretary [CPS] has clarified the circumstances that led to his boss' demise.
WuzupNigeria reports that the state Governor, Babajide Sanwo-Olu, on Wednesday, in a statement by his Chief Press Secretary, Mr Gboyega Akosile, said Oke died from COVID-19 complications.
He condoled with the people of the LCDA and described Oke's death as a big loss to the state.
But in a press statement, the council CPS, Ishmaeel Akerele, said the council boss did not die from COVID-19.
In the statement titled, 'Hon Babatunde Oke's death was not related to COVID-19 complications', Akerele noted that his boss died "after a brief illness."
"While we reflect on the passing of a great leader and astute politician, rumour mongers must not use this medium to distract his immediate families and political associates from the peaceful mourning the late Hon. Babatunde Oke deserves," he added.