N8.1m debt: Court detains Emirates plane in Lagos
A Federal High Court sitting in Lagos has ordered the detention in Lagos of an Airbus aircraft belonging to Emirates Airline over N8.1 million ($22,103) judgment debt.
The order was a sequel to a motion filed by Dr Charles Mekwunye seeking for the enforcement of a Supreme Court judgment in a suit between Promise Mekwunye and the airline.
Justice Mohammed Liman granted the reliefs sought by Mekwunye.
The judge ruled:
"It is accordingly ordered that an attachment is hereby issued on the judgment debtor's aircraft registered as 'A6 Aircraft Type 77W EK: 783/784', or any other aircraft belonging to the judgment debtor which flies into Nigeria Territory, to be arrested and detained until the judgment debt is fully paid: in default after 30 days, the aircraft shall be auctioned to satisfy the judgment debt."
The judge also ordered that Emirates Airline shall bear the cost of maintenance and custody of the detained aircraft.
Vanguard
Kashamu's death: People can mourn me the way they like when I die- Obasanjo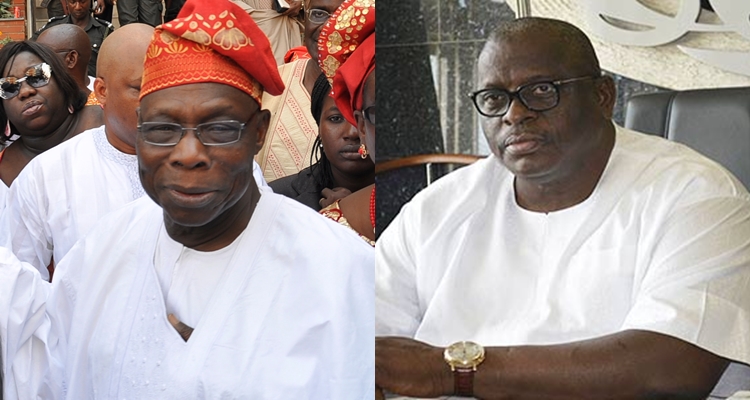 Former President, Chief Olusegun Obasanjo, yesterday, responded to the criticisms that trailed his controversial condolence message on the death of Senator Buruji Kashamu.
Obasanjo, in the condolence message, said the late Kashamu, who was wanted in the United States of America for alleged drug offences, was able to escape justice but could not evade death.
"Senator Esho Jinadu (Buruji Kashmu) in his lifetime used the manoeuvre of law and politics to escape from facing justice on the alleged criminal offence in Nigeria and outside Nigeria.

"But no legal, political, cultural, social, or even medical manoeuvre could stop the cold hands of death when the Creator of all of us decides that the time is up.

"May Allah forgive his sin and accept his soul into Aljanah, and may God grant his family and friends fortitude to bear the irreparable loss," Obasanjo had said.
Notable personalities including APC National Leader, Asiwaju Bola Tinubu; former governor of Ekiti State, Mr. Ayodele Fayose among others lambasted Obasanjo for his remarks which they said demonstrated disrespect for the dead.
But in his response to the criticism, the former President told PREMIUM TIMES, it was okay for people to mourn every death but that the living, including him, must draw the right lessons from the lives of those who have died.
Obasanjo said:
"When I was growing up, in our community, when anyone known with bad character died, we usually only mourn him and bury him. No eulogy. No praise-singing.

"There is an English saying that urges us never to talk ill of the dead. But in this case, we are not talking ill of the dead. We are only drawing lessons from the life and history of the dead. I am not gloating over his death. It is sad for anyone to die and we must mourn him.

"But we must learn from such a passage. There will be bad lessons. There will be good lessons. But we should not just be praise-singing or eulogising the dead, especially when there is no need to do so.

"We should not cover up bad histories and conducts so that the right lessons can be learned.

"But we must learn from such a passage. There will be bad lessons. There will be good lessons. But we should not just be praise-singing or eulogising the dead, especially when there is no need to do so.

"We should not cover up bad histories and conducts so that the right lessons can be learned."
Majek Fashek will be buried in the US – Son
Randy Fashek, the first child of legendary Nigerian reggae musician, Majek Fashek, has said his late dad would be privately buried in the United States.
Randy, who is the first of three children born to Majek and his wife, Rita, said the decision was taken in order "to ensure the safety of the fans, family and his friends".
He revealed this in a Youtube video on the 'Majek Fashek and Family' channel over the weekend.
Randy explained that the Covid-19 outbreak has made it impossible to bring his dad home while the burial date is yet to be fixed.
"The decision was based on us exhausting all resources trying to bring dad home. We went to a great length to solve all situations and problems but were forced with this decision based on the economic pandemic such as COVID-19…and many more," he revealed.
While acknowledging that the decision might not go down well with some people, he said the family is "making the appropriate decision".
In conclusion, Randy, who had raised an alarm about the activities of scam artists out to defraud innocent fans by using his late dad's name, said they have Majek's best interest at heart.
"You guys don't feed into the people that said we are doing this for money, which is really ridiculous. We are one unit as we build dad's estate.
"Meaning all Majek Fashek related items will go through me and the family and there are no exemptions to that. Our purpose is to build until we are in the position to help little children and this is what dad would have wanted," he said.
Fashek, whose legendary music career spanned over three decades, died on June 1. He was 57.
The singer died in his sleep in New York City after battling an unknown illness that stalled his career for months.
Majek attracted international attention in 1987, with his self-penned tune, 'Send down the Rain.'
He is survived by four children and his ex-wife, Rita.
Boy tied up for two years by father, stepmothers
A 10-year-old boy has been rescued by the National Human Rights Commission (NHRC) after being tied up and denied regular food for two years by his father and three stepmothers.
The boy, identified as Jibrin Aliyu, was rescued by the NHRC after neighbours tipped them off.
According to a situation report by the NHRC obtained by The newsmen, the culprits had been arrested while the boy was receiving treatment at Sir Yahaya Memorial Hospital, Birnin Kebbi.
The gaunt-looking boy could barely walk by himself when officials came to evacuate him.
The boy was termed as being mentally unstable. However, after a few days of treatment, he was already in high spirits and seemed normal, according to a government official.
The report read in part, "His name is Jibrin. He lives in Badariya area, Birnin Kebbi, kebbi State with his father and three stepmothers. The poor child lost his mother a few years ago. According to the information gathered, the child had been tied by his father within the father's premises like a goat, devoid of food and water on the ground that he is mentally retarded.
"Some of the neighbours observed this inhuman treatment and alerted the NHRC Kebbi. Presently the father and his three wives are in police custody at the Divisional Headquarters Birnin Kebbi and the innocent boy is receiving treatment at Sir Yahaya Memorial Hospital, Birnin Kebbi.
"The state coordinator, Hamza Wala, has discussed with the Divisional Police Officer handling the case about making arrangement for their arraignment before the Chief Magistrate Court Birnin Kebbi pending the completion of the police investigation.
"Furthermore, the boy will be transferred to the Rehabilitation Centre in Jega, Kebbi State for better treatment."
Meanwhile, Governor Atiku Bagudu of Kebbi State has ordered an investigation into the matter.
The governor's Coordinator/Senior Special Assistant (New Media), Aliyu Argungu, said this in a statement on Monday.
He said, "In a swift reaction to the discovery of a maltreated 10-year-old boy in Badariya area Birnin Kebbi Township, His Excellency Governor Abubakar Atiku Bagudu has ordered an immediate investigation into the whole matter (of inhuman treatment of the boy). This will excavate the causes and the failures of those whose duty is to protect both children and adults.
"Moreover, the social welfare officials of the entire Local Governments across the state will be quizzed and investigated. This will serve as a wake-up notice to other sectors (across the state).
"His Excellency expressed great sadness and worry that young Jibril was failed not only by his parents but by neighbours and the entire system."