Namibia closes schools for second time in four months as coronavirus cases surge
Namibian schools will be suspended for the second time in four months next week, while limits on public gatherings will be tightened further to 100 from 250 amid surging cases, President Hage Geingob said.
In a televised speech on Friday, Geingob said the decision to suspend schools from Aug. 4 for 28 days came after considering the risks associated with the spread of the virus.
The measure affects early childhood development, pre-primary, primary and the first two grades of high school.
Namibia has 2,129 confirmed cases and 10 deaths with the country's rate of daily new cases now the fourth highest on the continent following South Africa, Eswatini and Gabon, according to Geingob.
People will also not be allowed to consume alcohol at bars and taverns. They will only be permitted to drink it at home.
Geingob relaxed rules for international tourists, who will no longer be subjected to a mandatory 14-day quarantine on arrival but will be required to present a negative polymerase chain reaction (PCR) test conducted 72 hours before arrival.
They will, however, be required to remain at their initial destination in the country for seven days. A test will be conducted during this period and tourists can proceed with their holiday if the result is negative.
Geingob said the aim was to stimulate tourism while safeguarding public health.
"Our experience has taught us that a full lockdown of social and economic activities comes at an equally high premium and cannot be sustained over a prolonged period," he said.
Reuters
I took black seed oil, herbal concoctions to beat COVID-19 – Oyo Commissioner
After 56 days in isolation, Oyo Commissioner for Information, Culture and Tourism, Dr Wasiu Olatunbosun, has revealed how he recovered.
He said he took not less than 25 bottles of black seed oil, a bowl of black seed, lots of alligator pepper, bitter cola as well as different brands of herbal concoctions to beat coronavirus.
On how he survived the virus and psychological effects of the 56- day isolation, the Commissioner said though he was asymptomatic, he endured six tests before being certified negative.
He said:
"I took 25 bottles of black seed oil, a bowl of black seed, a lot of alligator pepper and bitter-cola as well as different brands of herbal concoctions, which I drank at interval and used for steaming after my normal drugs, but the utmost is prayers to overcome the trauma."
Olatunbosun, while recounting his COVID-19 experience, said the government must seek ways to supplement orthodox and traditional medicine, especially the use of local herbs for patients.
Olatunbosun said
"You would not believe that while I was on self-isolation at home, some people still came to my house on Sallah day to celebrate with me.

"They did not fear at all. I had to send emissaries to them on phone with gifts and asked them to go home, it was that bad."
Olatubosun commended Governor Seyi Makinde for being;
"A worthy war commander that never abandoned his soldiers no matter their conditions."
He said the Governor called him in the morning and in the evening every day to know his conditions throughout isolation.
Nigeria records 453 new cases of Covid-19, toll now 47,743
Nigeria has recorded 453 new cases of COVID-19 with a total of 47,743 confirmed cases of Coronavirus.
This was revealed by the Nigeria Centre for Disease Control (NCDC) on its official Twitter handle yesternight.
According to the NCDC's report, Lagos recorded 113 of the 453 cases, followed by FCT with 72, Plateau with 59 and Enugu 55.
Breakdown of the new cases of COVID-19 per state:
Kaduna – 38
Ondo – 32
Osun – 26
Ebonyi – 20
Ogun – 9
Delta – 8
Borno – 7
Akwa Ibom – 6
Oyo – 5
Bauchi – 1
Kano – 1
Ekiti – 1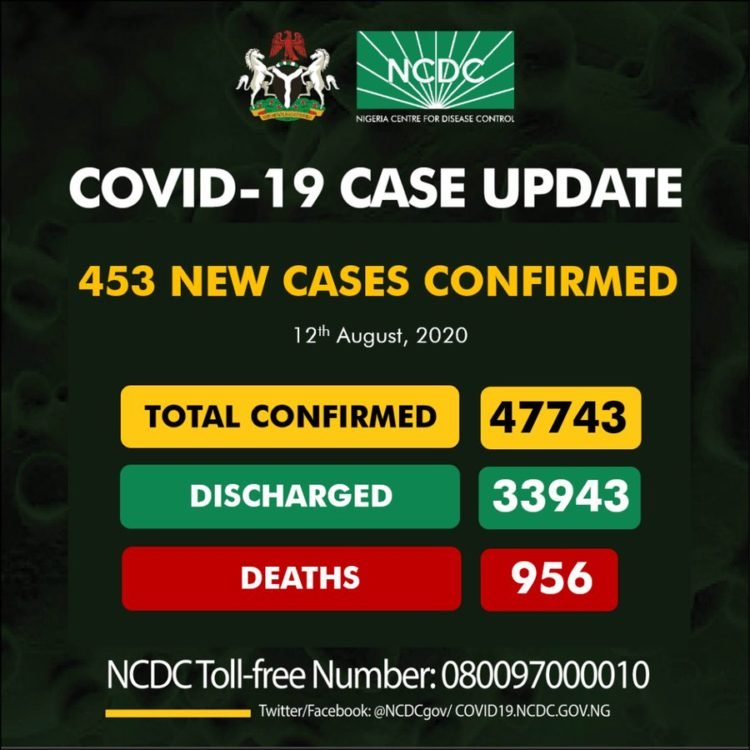 The total confirmed cases so far in Nigeria now stands at 47,743 of which 33,943 have been discharged.
However, the infection has claimed 956 lives.
Recovered COVID-19 patient tests positive again
A woman in central China's Hubei Province has again tested positive for COVID-19, months after her recovery from the disease, local authorities said on Wednesday.
The Jingzhou COVID-19 epidemic control and prevention headquarters said the 68-year-old retiree in the city of Jingzhou was admitted to hospital after falling ill on August 9 and following COVID-19 nucleic acid test, showed a positive result.
She was confirmed to be infected with COVID-19 on Feb. 8, but recovered for months, said the headquarters, adding that "this is not a new COVID-19 case, but a reinfection."
The woman is again being treated in isolation, but all her contacts tested negative for COVID-19.
Her home and areas of activities have been thoroughly disinfected.