#NassElection: Ekweremadu accepts nomination, tells colleagues not to vote mace snatchers
A three-time Deputy Senate President, Ike Ekweremadu, has accepted his nomination for deputy senate presidency.
Ekweremadu who represents Enugu-West senatorial district was deputy senate president from 2007-2011, 2011-2015 and 2015-2019.
Addressing his colleagues after he was nominated by Enugu-North lawmaker-elect, Ekweremadu, who is a member of the Peoples Democratic Party, asked his colleagues not to vote for mace snatchers.
Making a veiled reference to Senator Ovie Omo-Agege, his main challenger, Ekweremadu recalled that on a particular day, when he was presiding over the Senate, one of their colleagues led people to snatch the mace, the symbol of authority of the National Assembly.
He was nominated by Enugu-North lawmaker-elect, Senator Chukwuka Utazi, and supported by Rose Okoh of Cross-River North.
He asked his colleagues not to encourage injustice and illegality and vote their conscience.
Those stealing COVID-19 funds are cursed – Abiara
A former General Evangelist of the Christ Apostolic Church, Prophet Samuel Abiara, has said politicians and government workers who steal from COVID-19 funds are cursed.
In a statement released on Monday, Abiara commended the Lagos State Government for reopening worship centres and pledged the commitment of his congregation to keeping regulations on COVID-19.
He, however, called on religious leaders in the country to intensify prayers for the end of the virus, saying only God could deliver the world from the pandemic.
"For those who are in charge of the donation of money, food items, etc, God said you must not steal anything from the money, food and all items donated for COVID-19 for yourself. If you do that, curses of the pandemic will be in the family of those who do this," he added.
Abiara also asked Nigerians to go into agriculture, urging those with land, irrespective of the size, to cultivate them.
He appealed to the government to support agriculture, diversify the economy and reduce reliance on oil and gas.
Shocking! Cameroonian man marries two women on the same day (Photos)
A Cameroonian man has caused a stir on social media over his marriage to two women on the same day.
The man was spotted smiling from cheek to cheek in wedding photos that surfaced online as he tied the know with his two wives at the same time.
The two wives were also tremendously happy in that memorable moment of life.
See the photos below;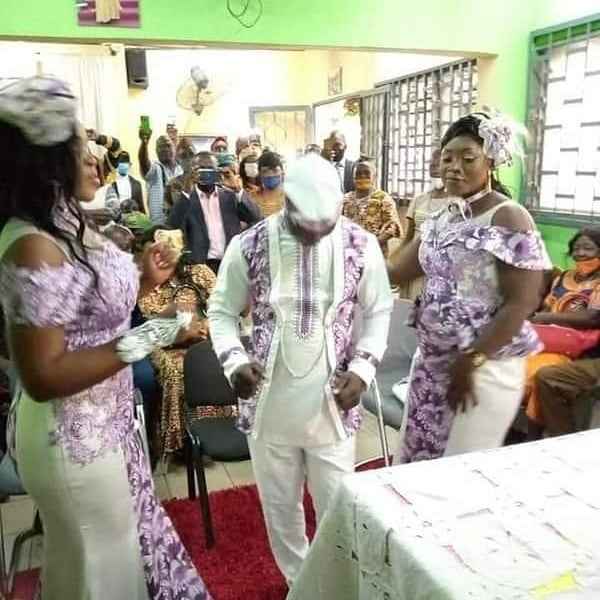 If you have no stable income, don't leave your parent's house– Lady advises
A Nigerian lady has advised people who stay with their parents to think before making rash decisions as regards being independent.
According to the lady identified as Sandra, people who do not have stable means of income have no reason to leave their parent's house as the challenges would be easier to surmount while under their roof.
According to the lady, bills will always come but it will be easier to handle them while staying with parents as one's mother would never allow her child to go hungry.
She wrote;
"If you have no stable income, you have no reason to leave your parent's house, bills won't stop coming, sometimes you won't have a dime, but if you are at home, your mum would not watch you go hungry, so if you are planning to leave your parent's house better rethink, e no easy,".
See Tweet below;
If you have no stable income, you have no reason to leave your parent's house, bills won't stop coming, sometimes you won't have a dime, but if you are at home, your mum would not watch you go hungry, so if you are planning to leave your parent's house better rethink, e no easy.

— TheHarbie❤️skincareplug (@_harbie_) August 7, 2020