Nigerian lady's romantic photo-shoot with hubby breaks internet (Photos)
A plus-size Nigerian woman identified as Eniola has shut the internet down with the sultry and semi-nude photo-shoot she and her hubby did.
The woman shared a few photos and insisted that they deserve a million likes as she looked dashingly stunning with the man in her life staring at her in a love-struck manner.
They changed positions in the pictures, to give it a more model-like appearance and it got social media users trooping in their droves to like them just as many complimented her.
Eniola simply captioned them;
"These pictures deserve a million likes ❤"
See photos below:
Video: I was raped by my stepdad, gang-raped by hoodlums, 11-year-old narrates shocking experience
A homeless orphan has accused her stepfather, identified simply as Okanla, and some hoodlums of raping her at different times in Ogun State.
WuzupNigeria gathered that while the stepdad, whom she lived with him in the Itori area of Abeokuta, the state capital, raped her at his home, the hoodlums in Kara, in the Obafemi Owode area of the state, took turns to gang-rape her.
The gory details came to light when the orphan on Monday boarded a bus and was on her way to the Itori area when she made the revelations to fellow passengers.
One of the passengers was said to have filmed the 11-year-old as she narrated her ordeal.
In the footage, which was posted by @StopRaping, the victim said she became homeless after the death of her parents.
She said,
"When I was in Kara, some boys had sex with me. They were like two or three in number. They all had sex with me and while they were having sex with me, I felt the urge to urinate and they gave me the chance. But when I returned, I was told that my private parts were wider than my age.

"My stepfather also used to have sex with me. My mum is dead and I don't know my dad. But when I asked my mum about him, she said he was dead and I was taken to the village to see where he was buried. My stepfather, who used to have sex with me, lives in Itori, Abeokuta. His name is Okanla.

"I am going to Itori and when I get to the market around the area, I will find a place to sleep till the following day and move on from there."
The victim's statements reportedly prompted some of the passengers to take her to the Sango Police Station for help and investigation into her allegations.
The situation, however, took another dimension when the poster of the footage accused a female officer of slapping and chasing the victim away from the police station after hearing her story, adding that they were threatened to delete the video.
"On getting to the police station, while explaining the situation to the officers, one of the female officers slapped the girl twice, then told her to go away. The police officers in Sango could not help this young orphan, even after hearing her story. This young girl, however, continued on her journey to God knows where.

"Please note that the police in Sango Police Station threatened us to delete the video and not post it, that they'd trace us. I had to create a burner so as to post this video. All of this happened yesterday, August 10, 2020…" he stated.
The state Police Public Relations Officer, Abimbola Oyeyemi, said,
"If they have gone to the Sango Police Station where we have ACP Sunday Agbonika as the Area Commander, there is no way they will make an official report on such that he will not take it upon himself because he is a professional that has been lecturing and training people on gender-based violence and violation of the girl child right.

"Whoever that can locate the girl should bring her forward. If those who brought her to the station have evidence, they should show us, if they know the policewoman they claimed to have met, they should come forward with their evidence so we can get the person and sanction her because that is not our character. It is the duty of the police to protect life and property."
My mother scarred my face because I broke a plate, then sent me out to beg on the street– Child beggar reveals (Video)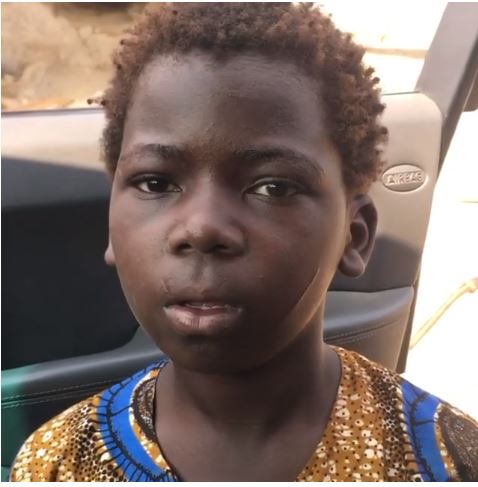 A boy was found looking unkempt while begging on the streets and when he was questioned, he opened up about being abused by his mother.
A good samaritan who sighted the boy asked why he was out in the street and he said that his mother sent him out to look for what they will eat.
The boy named Emma explained that the mark on his face was given to him by his mother because he broke a plate while washing it.
When asked if the woman was his mother or stepmother and he said it's his biological mother.
The boy, who looks no older than 12 years old, also revealed that he doesn't go to school but spends his time begging to provide for his family.
Watch the video below;
LASWA arrests six crew members over safety violations
The Lagos State Waterways Authority [LASWA] has arrested six crew members on three different vessels within Lagos State inland waterways over violation of safety protocols.
The six were arrested at CMS, Elegbeta and Iddo waters respectively.
The LASWA Monitoring and Enforcement Team said those arrested were not putting on their life jackets thereby violating the extant laws and safety regulations of the Lagos waterways.
It also stated that two of the arrested persons are dredgers while others are barge operators.
"The Monitoring and Enforcement Team of the Lagos State Waterways Authority (LASWA) while on patrol today the 11th August 2020 apprehended a total number of six (6) crew members on three (3) different vessels which include Two dredgers and a barge in Elegbeta, Iddo and CMS areas of Lagos for not complying with waterways safety regulations," the statement read.

"All those arrested were caught not putting on their life jackets thereby violating the extant laws and safety regulations of the Lagos waterways.
There have been reports of accidents on waterways in Lagos in recent times, the latest being July 29, which claimed more than 10 lives.