Nigeria's revenue problem BY Rosemary Enemuo
Nigeria generated revenues of ₦938.72 billion in the last quarter of 2019, a figure down from ₦1738.8 billion in the third quarter of the same year; contracting by 46.01%, and 17.97% in the same period the previous year.  The statistics on debt are weaker when compared to the revenue statistics.  Data from the Debt Management Office shows that the Nigeria External Debt stock has increased to $27,665.66 million as of March 31, 2020, a number up from $25,609.63 million when compared to this same period the previous year.
A basic rule of economics is that a nation does not earn more than it has produced.  Nigeria is evidence of this.  As more debt is incurred, so is the increasing need to borrow more, debt in itself is not avoidable as the end goal is to create more channels for revenue.   In Nigeria, Debt is used to write off recurrent expenditure, fund 'socialist' projects, and feed an oversized government.
The current debt to revenue service ratio is 99% which simply means that for every Naira Nigeria earns, 99 kobos are used to pay debts. That is a sinking economy by any definition. The revised 2020 budget has a ₦5.3 trillion deficit to be funded by international financial institutions; bad habits die hard. Budget value, a term referred to as fiscal deficit has continued to rise with this seemingly addiction of borrowing funds to score political points.  In Q4, 2019 Nigeria budget value stood at -₦1135.74 billion, up from -₦675.21 billion in the previous quarter, and -₦873.16 at the same period in the last year.
This affects the micro economy. As the oil sector revenue trends down, the government will begin to look for fast ways to generate revenue, causing panic and sharp inflation thereby increasing hardship due to a non-organized revenue creation mechanism and process.  Not only does it affect the micro economy but it also affects the country's credit rating; a way to measure economic sovereignty, which can only be in good when we adequately service borrowed debt in a good time.
Monetary and fiscal policies are critical to achieving economic stability, what is central to this decision making will reveal how quickly we begin to see results and how fast we come out of our revenue and debt crisis. Nigeria is currently ranked 131 out of 190 countries in ease of doing business, and what is central to this analysis is how government policies have affected productivity and growth in the private sector.
Numerous policies frustrate revenue generation which affects employment. As more companies cut down on jobs, the corresponding increase in the unemployment rate, reduced pension RSA payments, corruption, cyber-theft, terrorism and other social vices will increase.  The private sector is currently the biggest employer of labor in the formal sector, while trade is, in the informal sector;  The Government is expected to create incentive policies that will enable growth in these areas.
Productivity should be Nigeria's goal, which means that our attention should be focused on helping industries with the potential for revenue growth.  The manufacturing and exportation of non-oil commodities should be given positive policies that will ensure stability, meaning that the government has to pay attention to the issues deterring the full privatization of the power sector, and also letting go of disincentive policies that hunt small and medium business in Nigeria.
Governors and the security threats in Northern Nigeria BY Ghazali Al-Mustapha
It is now a common sight for governors to sprint to Abuja to seek respite each time there's perceived security breach in their respective states. They do so at a lightning pace. Usain Bolt will feel like a proud father.
In their customary pattern, the governors are billed to meet with President Muhammadu Buhari again later this week after Tuesday's National Security Council meeting. The planned gathering has drawn concern from across the board, especially after the purported attack on the convoy of Governor Babagana Zulum of Borno State, said to be on his way back after distributing relief materials to Internally Displaced Persons, IDPs.
There were also claims of an attempt by insurgents to take over the state capital, Maiduguri in addition to the security challenges in Katsina, Zamfara, Sokoto, Kaduna, Niger, Plateau and Benue states where banditry, abductions and cattle rustling have become rife.
As the governors prepare to embark on another athletic exercise, however, the focus has once again shifted from the main issues resulting in the security threats in the north to politics. Once more, certain forces have tried to paint a gory image, depicting that the insecurity has to do with the Service Chiefs.
The President, though, by involving relevant stakeholders like the governors and other political appointees for the next meeting has shown that he understands the issues beyond a single narrative and is willing to interrogate the situation at the appropriate quarters. On their part, meanwhile, the governors exhibited despondency and utter cluelessness whenever security issues arise.
The governors hide under the ridiculous fabric that since they do not control any of the security agencies, the mandate falls on the Federal Government to address such problems. Doing so, they completely ignore the fact that as chief executives of specific spaces, they constitute the first line of defence with their constitutionally assigned roles of ensuring the security and well being of citizens in their respective states.
Recall that at the end of a meeting with the President on security matters in 2017, the state governors were made to realise their greater roles in providing adequate security for citizens even more than Abuja. The same year, the Northern Governors' Forum met and decided to collectively tackle the issue of insecurity bedevilling the region as one entity instead of leaving it to the individual states affected to do so.
In a communiqué read by the chairman of the forum, then Governor of Borno State, Kashim Shettima, the governors took other measures like resolving to accept the recommendations of the Body of the Attorneys General of the 19 Northern States to domesticate the model Penal and  Fiscal Responsibility Law and the model Administration of Criminal Justice Law through the necessary legislative actions by subjecting them to the individual peculiarities of the states.
They also identified some of the factors that make the security situation in the region intractable to the porous borders which they say allows criminal elements to move freely within the West African sub-region; access to arms through the black-market and the lack of strong legal framework.
The governors went further admitting that the huge forests in the north allow bandits to easily move from a place, making it difficult to engage them in combat.
But they unanimously agreed that the military has been overtasked with the task of ensuring adequate security as they were in operation in almost all parts of the country.
This underscores the fact that the issues are beyond what combat operations alone can handle. Additional proactive measures must be taken to avoid deterioration to the point where military engagement would be required like putting in place a comprehensive business plan as well as opening discussions to boost power supply and offer financial assistance to citizens. They acknowledged that the military has done much to reduce the magnitude of violence in the region.
For instance from 2009 when violence broke out in the Northeast till now, the military has done a lot to bring the situation under control. These are obvious in the fact that the military had recaptured an area spanning 20 local councils with a population of about two million inhabitants in Borno, Yobe and Adamawa States once taken over and declared a caliphate by the insurgents.
Admittedly, so much was lost due to the activities of the insurgents; the destruction of infrastructure and large-scale humanitarian crisis owing to the sacking of many communities. But the military was able to reverse all that, making it difficult for the terrorists to continue such attacks while opening markets and roads hitherto closed.
Governors and politicians in states like Adamawa, Bauchi and Gombe which were initially ravaged by Boko Haram have taken the initiative to cooperate fully with the military in terms of logistical support, frequent consultations and provision of relevant actionable intelligence.
They have also made steps to disabuse the minds of their youths against violence, engaging them in productive economic activities and involving communities in early detection. However, their counterpart in Borno and to some extent, Yobe, have fallen short in that regard.
This perhaps explains why insurgency has almost been obliterated in the aforementioned states yet continued to escalate in Borno and Yobe as the governors and elders abandoned their own duties to the military.
The current governor of Borno, unfortunately, unlike his colleagues, seems not to have grasped the enormity of the task on his shoulders, instead of jumping at the slightest instance to blame the military. He isn't alone, though.
The politicals elites in Borno have remained on the sidelines, doing almost nothing to support the military. There are reports that they chose to act that way as they were profiting from the smuggling businesses and the take over of the multi-million naira fishing business in Baga.
There's is also the report of the lack of conscious efforts to reduce the level of poverty in Borno which is making insurgency to thrive in the state.
One, however, expects that since the stakeholders and political class have realized that the military cannot do all, they should have stepped up efforts, embarking on alternative dispute resolution mechanism, ensuring fairness and justice in the conflict between communities and providing the enabling environment for all citizens to cohabit with one another without any fear of molestation.
To tackle insecurity squarely, Zulum and other governors obviously need to do more than embark on their usual trip to Abuja. They have to provide leadership at the various levels including the local government and communities.
They need to ensure that political thugs who were armed during the last elections are disarmed and deradicalized as quickly as possible. The governor also needs to be in constant consultation with citizens of their respective states. Only then can they dash to the nation's capital and no one would bother. Absolutely none.
Al-Mustapha is a security expert and wrote from Kaduna.
Corona party and a foolish, restless generation BY Fola Ojo
My wife and I are very fond of this young white boy in our neighbourhood. He was born about two years after we moved to the city 20 years ago. We have been neighbours for that long. I love the boy. His biological father, whom I learnt was a member of a street gang and shuttling in-and-out-of-jail, has been out of his life since he was born. His step-father is not forthcoming raising his stepson; and I still wonder why. With no father-figure in his life, the young man's struggles seem to have doubled. For the purpose of this write-up, I'll call the boy Isaac, and his mum, Sandra. These are not their real names.
Sandra had several times suggested that Isaac is free to go anywhere my family goes, even if we intend to move out of state. She has spoken loftily how much she loves my boys; and wanted Isaac modelled after them. Isaac, now 18, graduated from High School about two weeks ago in the same class with one of my sons. But during the graduation ceremony, Isaac was conspicuously absent. That was when I sent a text to Sandra why her son was not at the event. My heart dropped when she messaged me back about this boy whom I love. Before I relay the contents of the message from Sandra, let me give you a backdrop to the story. My intention sharing this is that some young people out there reading this may learn a lesson from it.
In April, I took Isaac along with my boys for my birthday celebration in our home in Texas. We stayed together for over two months and I got to know him better. He is a very intelligent boy; and just like a typical young man with some peculiar surmountable behavioural challenges. Isaac loves partying, drinking, and 'chasing' girls. How many of us in our younger days successfully dealt with this youthful lifestyle? Isaac takes a few wrong steps; but he sincerely doesn't see them as wrong because he has no guide or guardian. But he will respond to help and guide, especially from a father-figure. I have promised myself to be there for him as he grows. After my birthday celebration in Texas, we returned to Wisconsin in June and I asked Isaac on the airplane if he would stay in my house for the rest of the summer. He agreed. Barely two hours after we got home, he took off. He said he wanted to go pick up his pay-cheque at work. That was around 7.30pm. I waited for him till around 1am to return home. Isaac did not show up. My boys and I had not seen or heard from him since then until about 30 days after when I asked after him from his mother. She sent me this text message in reply: "Thank you for thinking of him. He had got sick with COVID-19…". Coronavirus? Oh my God! How and where did Isaac get it? What I heard was an earful.
In this pandemic, young people in America organise parties they call "Corona Party". They'll invite two or three people who have tested positive for COVID-19 and shut themselves for hours in a rambunctious house party, dancing, singing, and drinking alcohol with COVID-19 carriers. Their actions are deliberate. The foolish thought behind this is that "Corona Party" is a test of their manliness. It makes them feel like 'real men'; whatever that is. They believe they are too strong and immune to COVID-19. That was exactly what happened to Isaac. He does not drive, but his friends drove him 40 miles from home to attend a Corona Party in another town. There, he caught the virus! His parents decided to quarantine him in the basement of their house for 10 days after he had tested positive. But on the fourth day, he got sicker and was having problem breathing. He was then taken to the Emergency room.
Younger people are making up a growing percentage of new coronavirus cases in many cities and states around the world where the virus is surging and not abating. For example, in Arizona, United States, people ages 20 to 44 account for nearly half of all cases. In Florida, which breaks records for new cases nearly every day, the median age is 35. In Texas, young people now account for the majority of new cases in several urban centres. People in their 20s and 30s are also more likely to go out socialising, raising concerns that asymptomatic young people are helping to spread the virus. They restlessly flood bars, beaches and restaurants as if the coronavirus has decided to take a vacation.
"What is clear is that the proportion of people who are younger appears to have dramatically changed," said Joseph McCormick, a professor of epidemiology at UTHealth School of Public Health in Brownsville. Now that the US and many nations are contemplating reopening schools in the Fall, the behaviours (or misbehaviours) of young people could easily complicate plans to return to normal classroom settings come next calendar year which begins later this month. Dr. Robert Redfield, the director of the Centres for Disease Control and Prevention, recently concluded that younger people have helped fuel the increase in known coronavirus infections.
Now, permit me to return to the story of my young man neighbour. What later happened to Isaac? I didn't get to ask anyone how many young people who participated in the foolish Corona Party had gone for a COVID-19 test. Is it possible that it was only Isaac who fell prey to the ravages of the virus at the party? I doubt it. And those ones who caught the virus would have definitely spread it somewhere especially to their loved ones. My heart goes out to Isaac daily in prayer. So, what happened to the young man who missed his own graduation because of his foolishness? Sandra, Isaac's mum sent me this text message on Wednesday. "We were worried for him to be around too many people yet and taking the chance of getting sick again. He has fully recovered. He moved up north to his grandparents where there are better job opportunities. He hopes to get back to work soon. Thanks for your prayers and concerns".
– Follow me on Twitter @Folaojotweet
Why we need to calm down BY Femi Adesina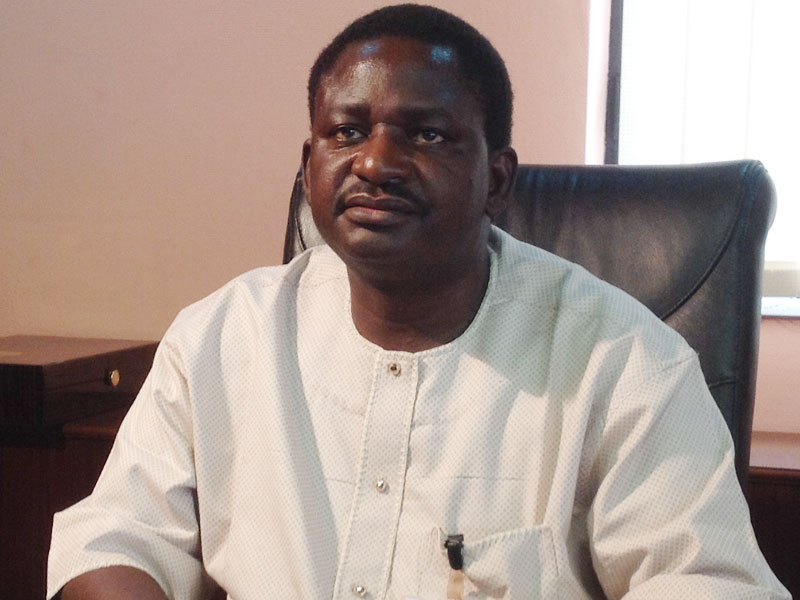 There's this hilarious video that went viral recently. A boy had offended his mother and was about to get a beating. Tearfully, even before he got whipped, the boy tried to plead his way out.
As the mother told him to stretch forth his palm to be caned, he entreated: "Mummy, it must not be hard beating o…This is my last chance. Last chance in the world."
Amidst tears, he said he had a question for the mother:
"Will you be going out today? You must rest a little…Mummy, calm down. Don't be angry. I'm just telling you to be 'calming' down. You must rest a little."
The boy then reclined on a couch, to show how the mother must calm down, and rest.
The boy and his mother became some sort of celebrity. Governor Babajide Sanwo-Olu of Lagos State asked to meet with him, and said there were fundamental lessons to learn from his tearful admonition to his mum.
Calm down. I'm just telling you to be 'calming' down. Hahahahahaaaaaaa.
But if the truth the told, that message from the boy is for the entire country. We need to calm down. We are too uptight, nervy, edgy. We grumble, murmur too much, call the government a lot of names, try to demonize those serving the nation, when it could be "our last chance. Last chance in the world" to really fix things.
If you listen to some people; angry youths, religious leaders, political analysts, newspaper columnists, news reviewers, so-called activists, then nothing positive is happening in the country. It is all about insurgency, banditry, killings, joblessness, corruption, lack and deprivation. True? False!
Those things are there, as they are also in many countries of the world. But they are not the only things happening in Nigeria. Only that we would not see the positive things, except we calmed down. We would never enjoy the rainfall, if we expect rainstorm to carry away our rooftop at any moment. Calm down. "I'm just telling you to be 'calming' down."
One of my favourite boyhood songs is the one by Jimmy Cliff. 'Keep Your Eyes on the Sparrow.'
Here I stand with my head down in my hand
Wondering what on earth I have done wrong
There's a cloud that has overshadowed me
Blocks the light from my eyes, I cannot see
But I know where I wanta be
Right or wrong, I've got to face my destiny
Somebody tell me to
Keep your eyes on the sparrow
Keep your eyes on the sparrow
Keep it on, keep it on now
Keep your eyes on the sparrow.
That is a song of hope. It's a song of encouragement. The Good Book says God keeps His eyes on the sparrow, and none can fall down without His permission. If He watches over a bird, how much more we human beings, created in His image? But man has walked away from that original estate. We sit on the complaint counter. We murmur, curse, cavil. We rail against God, against man, against the government, even against our own selves. We indulge in hate speech, concoct and spread fake news. And it blinds our eyes. It blocks the light from our eyes, and we cannot see. We never see good, even when it surrounds us. We focus only on negative narratives.
Let me give a practical example. Last Sunday, one of the guests on Sunday Politics, hosted by Seun Okinbaloye of Channels Television, was one Group Captain Sadeeq Garba (Retd). He was also deputy head of safety and security at the African Union Commission, and now a private security consultant.
The retired Air Force Officer was asked to talk about the worrisome trend of killings in the country. The man said the killings were sad and regrettable, but things were not as completely negative as some people and interest groups would want to make them seem.
Quoting what he called reliable statistics from the Centre for Research in the United States, he gave these figures of the evil development from 2011, in the number of total killings:
2011-1096
2012-3761
2013-7167
2014-15,600
2015- Not available
2016-4618
2017-5763
2018-6565
2019-8350
2020-6195, as of June.
Now, one life lost is already too many. One single life should not be taken wantonly, not to talk of in hundreds and thousands. It is bestial, inhuman. But why do some people want to make it appear as if we hadn't passed through worse times in this country? Forget about who was in power as President. It is not about individuals now, it is about the descent of a country into the Hobbesian state of nature, where life is nasty, brutish and short. For President Muhammadu Buhari, it's a solemn pledge that lives and property would be secured. And a lot is being done in that direction, though we are not there yet. Unkind, negative comments can only demoralize those fighting to secure the country.
When the President said recently that things were better in the area of security than what he met in 2015, some people wailed endlessly, as is their wont to. But when the Group Captain came with facts and figures on national television last Sunday, not one word was heard. Not even a whimper! Why do people like to spread negative, rather than positive developments? Killings dropped from 15,600 in 2014 to 4,618 in 2016. But not one positive word. Simply because their eyes are blinded by negative thoughts and sentiments. And they now need to calm down. Rather than upbraid, our security agencies should be challenged and encouraged to rediscover what they did in 2016.
During the week, the Ministry of Power said electricity generation had returned to over 5,000 megawatts. Not a word from professional complainers. If it had dropped to below 1,000 megawatts, we would not have heard anything else. Calm down. "I'm just telling you to be 'calming' down."
If we calm down, what would we see? Massive infrastructural developments. Roads, rail, airports, bridges, efforts to reverse power deficit of many decades, newly approved Youth Bank to empower the younger generation, strident efforts to secure the country, N2.3 trillion stimulus package to combat the negative effect of COVID-19, and many other positive developments. There are many and many more.
Jesus looked at Jerusalem, and wept over it, saying: "if thou hadst known in this day, even thou, the things which belong unto thy peace. But now, they are hid from thine eyes." (Luke 19:42).
We will see the things that pertain to the peace of our country, if we would just calm down. As the young boy said, "this is my last chance. Last chance in the world."
It could well be.
*Adesina is Special Adviser to President Buhari on Media and Publicity