PHOTOS: Floating School falls
The Floating school in Makoko, Yaba area of Lagos, collapsed on Tuesday after a heavy rain storm.
The structure which has played host to several international tourists had survived several storms before finally collapsing yesterday.
There were no casualties as the students had reportedly been relocated to a main school building before this incident.
Workers day: Mission extols conduct of Nigerians living in South Africa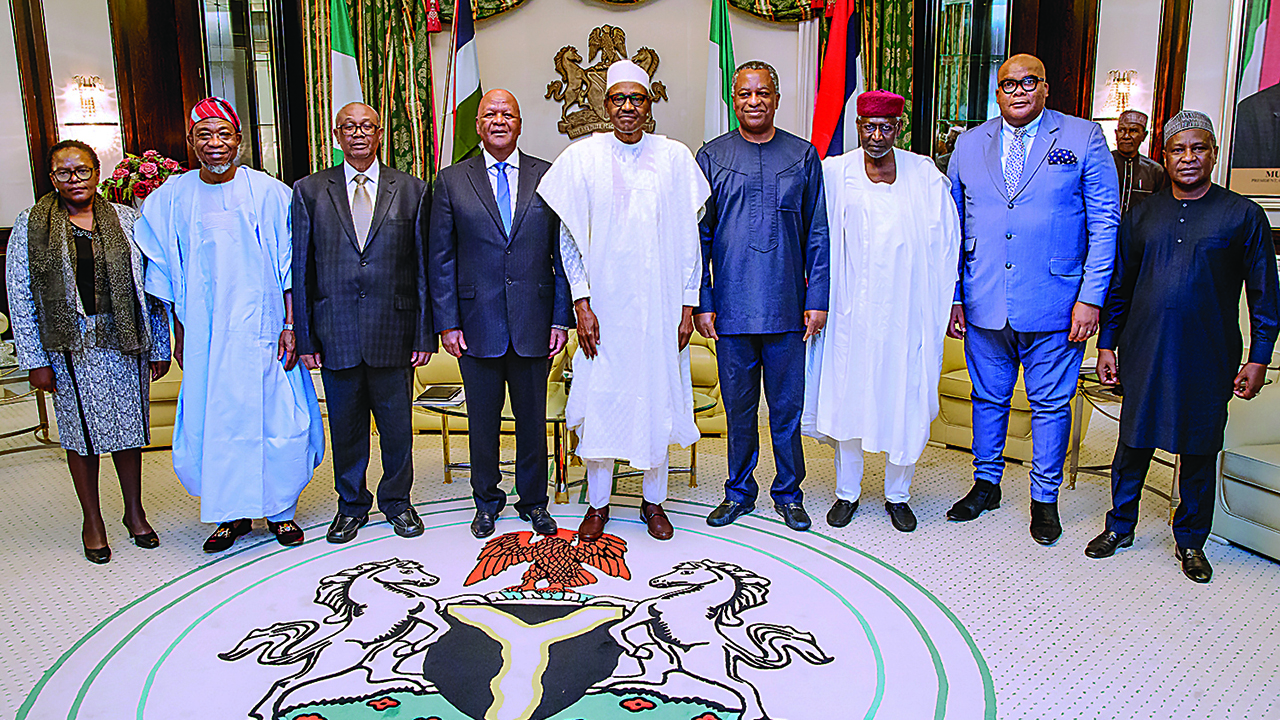 The Nigeria Consul-General in Johannesburg, Godwin Adama, has extolled Nigerians living in South Africa over their excellent conduct under lockdown, which portrayed the good image of their fatherland.
Adama made this known in a telephone interview with the News Agency of Nigeria against the backdrop of Nigerian's abroad commemorating the International Workers Day under global lockdown.
The day, also known as Labour Day in some countries, is a celebration of labourers and the working class often promoted by the International Labour movement on May 1, every year.
"Nigerians in South Africa have conducted themselves in a most respected manner.
"We have not received any reports from any authority on the misconduct of any Nigerian in South Africa.
"The lockdown created a lot of challenges for Nigerians, but the Nigerian Citizens Association in South Africa (NICASA) went into raising funds to donate relief foods for the needy.
"Aside from NICASA, other Nigerian corporate groups and individuals also assisted their brothers and sisters in need in South Africa, in the spirit of brotherhood.
"Resources are limited under the lockdown, particularly for Nigerians who depend solely on daily wages for livelihood.
"All we have been doing for now is encouraging people to be patient,'' Adama said.
He decried the intimidation of NICASA team by South African security operatives while distributing food at Durban in Kwazulu Natal Province.
The consul-general, however, said that the embassy had intervened.
He said that there was relative calm at the moment, adding that no Nigerian had a problem as they complied with all laid down COVID-19 pandemic protocols.
Adama added that no Nigerian had so far tested positive of COVID-19 in South Africa as they conduct themselves impressively.
"No Nigerian, to our knowledge, has tested positive to COVID-19.

"Over 200,000 screening and testing have been carried out so far in South Africa.

"There are approximately between 600,000 and 800,000 Nigerians living in South Africa.

"Some have left to other countries and some are yet to be documented,'' he said.
NAN
Covid-19: Why vaccines are the only real solution to pandemics BY Ngozi Okonjo-Iweala
On April 12th the DRC will mark 42 days – or two incubation periods – since the last Ebola patient was discharged from hospital.
Ngozi Okonjo-Iweala, Chair of Gavi, The Vaccine Alliance, says it's important to use the lessons leant fighting Ebola to overcome COVID-19.
She stresses that this time must be used to bolster and prepare weaker health systems and that the development and global distribution of a vaccine should be our highest priority.
The Democratic Republic of Congo will soon pass a milestone marking its success in the fight against Ebola. As Africa braces for COVID-19, one lesson from the DRC is that the best hope for defeating the coronavirus is not social distancing, but a vaccine that is distributed equitably.
On April 12, the Democratic Republic of the Congo will mark 42 days since the last person who tested positive for Ebola was discharged from the hospital.
The date is a significant milestone. It refers to twice the maximum incubation period – 21 days – of the virus, which is how the World Health Organization stipulates when an outbreak is over. If all goes well, it will be a remarkable turnaround for the DRC and a testament to the bravery and dedication of health workers, some of whom lost their lives treating the sick.
The DRC's success in combating Ebola was overshadowed by the fact that, during that fight, approximately twice as many people died from a preventable measles outbreak. One essential lesson for policymakers grappling with the greatest global health crisis in a century is that they must do everything in their power to prevent overstretched health systems from battling two epidemics simultaneously.
Bloodshed and fighting during a brutal civil war exacerbated the challenge facing the DRC as it fought the Ebola and measles outbreaks. The country experienced profound difficulties immunizing its population against entirely preventable diseases. It found itself fighting a multi-front health battle when it desperately needed to marshal its available resources against a major threat.
The trajectory of COVID-19 may be less advanced in many of the world's poorest countries, but we must not fool ourselves that a warmer climate, or a younger demographic profile, will blunt its impact. The potential for death and disruption is even more pronounced than in the richer countries where the virus has hit hardest.
And yet weathering two significant health threats simultaneously has shown us how to prevent this nightmare scenario.
Our first priority is to maintain existing immunization programs. For measles, polio, or any other disease for which a low-cost vaccine is routinely available, it is critical that herd immunity is maintained in order to prevent any unnecessary drain on scarce health-care resources.
Next, we must bolster preparedness. A number of organizations, including Gavi, the Vaccine Alliance (of which I am Chair), have made funds available – $200-$300 million in Gavi's case – to help the world's poorest health systems step up surveillance activities, invest in testing, procure protective equipment, and train health workers. Technology is playing a part, too: Despite valid privacy concerns, some countries are rolling out tracing apps – a relatively low cost, effective way to mitigate the virus' spread. Africa is also using drones to distribute vaccines, protective equipment, and other vital supplies to remote areas.
Social distancing will slow the spread of COVID-19, but it will not win the war. Our best hope lies in finding a vaccine. While there may be 41 candidates of varying promise in the pipeline, we must learn from past mistakes. Too often, governments have sequestered vaccines in the countries where they were manufactured. We must ensure that when an effective vaccine becomes available, it is accessible to anyone who needs it, not just the rich, fortunate few.
There are ways to avoid the inequitable distribution of vaccines. Gavi, which procures and distributes vaccines to 60% of the world's children at affordable prices, regularly employs innovative mechanisms such as the International Finance Facility for Immunization, Advanced Market Commitment, and Advanced Purchase Commitment to encourage vaccine production and delivery. In the case of Ebola, Gavi created incentivizes for Merck to stockpile an experimental Ebola vaccine that was then made available to the WHO, which deployed it in the DRC. It can incentivize the production, scale, and equitable global distribution of a vaccine for COVID-19 as well.
Poorer countries in Africa and elsewhere may be unable to deal with both the health and economic fallout of this pandemic on their own. The global effort that is already underway is essential, because COVID-19 knows no borders. No country is safe until every country is safe.
We are not yet near the end of the beginning of the COVID-19 crisis. We must use what precious time we have to bolster our weakest health systems and economies. But shoring up our defenses is not enough. We must go on the offensive by making the development and global distribution of a vaccine our highest priority.
Coronavirus is from God BY Greg Odogwu
First of all, let me say that those who are waiting for COVID-19 cases in Africa to start counting like stadium gate tally will be disappointed. There is something unmistakably mystical about the pandemic, that only the wilfully blind cannot see. It has defied science in the same way it defies common sense. A European friend of mine told me it has something to do with DNA and climate, but there is no proof of this. Nobody is sure of anything, yet.
But this piece was inspired by a short article (that went viral) written by Femi Fani-Kayode last weekend. Had it come from another individual, the said comment, entitled, "The Frightening Conspiracy," would not have caught my attention. There are a lot of conspiracy theories bandied around the Internet, and one can easily see that most of them enjoy attention and readership because people are bored out of their mind, and would do anything to keep busy.
Fani-Kayode's first paragraph summarised his thesis, "If people knew what was really unfolding and what Satan, the Illuminati, the champions of globalisation and a New World Order like Bill Gates, Elon Musk, Jeff Bezos, George Soros, Warren Buffet, Barack Obama, Jacob Rothschild, Bill and Hilary Clinton, Tony Blair and others are actually doing and hoping to achieve with 5G, the coronavirus chaos and pandemic, the yet-to-be released anti-coronavirus vaccine and Artificial Intelligence, every true Christian and Muslim would join forces, resist it and PRAY (his emphasis) against them!"
From the above, we can deduce that the writer attributes every evil on Earth to the machinations of a few individuals or cabal or Satan, lurking in the dark. It then follows that the Christian and Muslim forces are representative of God, or the good forces. These good forces, or God, is not capable of perpetrating evil.
But the illogicality in this assumption is that the Biblical book of Revelation, where Fani-Kayode's article ascribes its authority and reference, is a visionary exposition of the war between God's forces and the evil forces of the so-called Anti-Christ. And in any war, there is no good or bad, everything is about winning.
According to Revelation and mainstream eschatology, God goes down to the gutter and plays dirty at the same level with the Devil himself. They literally haul grenades at each other; they brag and banter in typical military braggadocio; they kill each other's human agents. They spill human blood. Indeed, both of them lose men, women, and children. Comets hit the earth, earthquakes swallow whole cities, viral diseases eat up the flesh of innocent people, climatic aberrations become fast-tracked and the weather goes on a tailspin. Angels laugh in glee; demons swear in pain. Nobody surrenders. God and Satan are too proud to bow. So, they meet at the final standoff: Armageddon.
Going by the fact that the Biblical version is, obviously, biased against the Anti-Christ, we should not be in a hurry to accept the war report therein. According to Christian eschatology, God wins. But could it be that the prophetic report is rigged against the other side in order to gain a psychological victory even before the war started? What if there is an alternative eschatological report that is being hidden from Earth people, simply because the present controllers of the religious narrative are pro-God?
Is it not baffling that whenever "evil of the end-time" is mentioned, the Satan is pointed at as the culprit; whereas the real story of the end-time is about an all-out war between God and the Devil. Well, armchair eschatologists like Fani-Kayode could argue that his own version mentioned "the Rapture", whereby the faithful must have left the Earth before the actual kill-or-be-killed confrontation would commence.
To be fair to him, he wrote the following: "The good news is that their coming master, the Anti-Christ, will NOT rise to power on earth until AFTER what is known as the "rapture" in Christian circles takes place. This means that no matter what happens, ultimately, every true believer shall be "raptured" and escape the evil that is coming and leave the rest of the world to face it. It is at that time that pure and unadulterated evil shall take over the entire world and there will be no force left on earth to counter or restrain it until the return of the Messiah at the battle of Armageddon."
But the problem with the above eschatological doctrine is that it is not universal. To be sure, Christian eschatology has several interpretations in as many schools of thoughts. The Pentecostal/Evangelical class, from where Fani-Kayode finds his authority, has what is known as the Dispensationalist Theology. According to this narrative, Jesus Christ and His Angels would come "in the clouds" and take the "true" believers, just before evil is unleashed on Earth in a seven-year period known as Jacob's Trouble.
However, many other Christian eschatologists disagree with this storyline. Mainstream denominations like Roman Catholic, Presbyterian, Anglican, Baptist, Methodist, African Episcopal, among many others, are not on the same page with the Rapture-believers. This goes to show that when the "true believers" among the Pentecostals are zapped off the Earth and whisked to the sky-bound vehicle (a UFO?) of the Christ, there would still be many other Christians here, waiting for the ultimate clash between God and the Devil.
Yet, there is no consensus among Christians regarding the number of years the war would last. This is important, because there is a universal agreement that the Battle of Armageddon would only come as a grand finale to the bloody good-versus-evil Apocalyptic chain of events.
Now, this is where coronavirus comes in. Excluding the Pentecostal doctrine which claims that the battle has not already begun, I daresay that the Apocalypse is here. It is only for the hubris of humans – who want to think for God – that we would hear so-called men of God declare that COVID19 did not emanate from the Almighty. The other day, one of such popular Nigerian pastors was on Channels TV saying that it can only be the Devil who had cast such a fearful plague on humans. Another popular, but comic, man of God even declared that he would teach "coro" that it was a nonentity. Both of them forgot that the word plague originates from the Bible, when God himself boastfully threw it up like a magician from His arsenal of "woes" against the then Empire of Egypt.
I know that some Christians would say that it was only in the Old Testament; but I am sure the eschatological book of Revelation is in the New Testament. It is only a defeated mind that would plan on leaving Earth when the resources are available to make it a paradise. Africans are presently at the bottom of the pyramid of global development because we cannot think for ourselves – our saints and sinners are given to us by religion-inspired conspiracies and superstitions.
Indeed, the battle between good and evil has started. Satan had already thrown some punches – think HIV/AIDS, Ebola, maternal mortality, malaria, polio, Lassa fever – and God is now retaliating with his own jabs. The Bible tells us that when these supernatural forces are fighting, it is the people on Earth that would be suffering the pain; the same way grass suffers when two elephants fight. That is exactly what is happening today. We are the grass; COVID-19 is the heavy, choking thump from the air. I hope we shall be alive to praise the winner!