[Photos] Ubi Franklin gushes about his son @ age three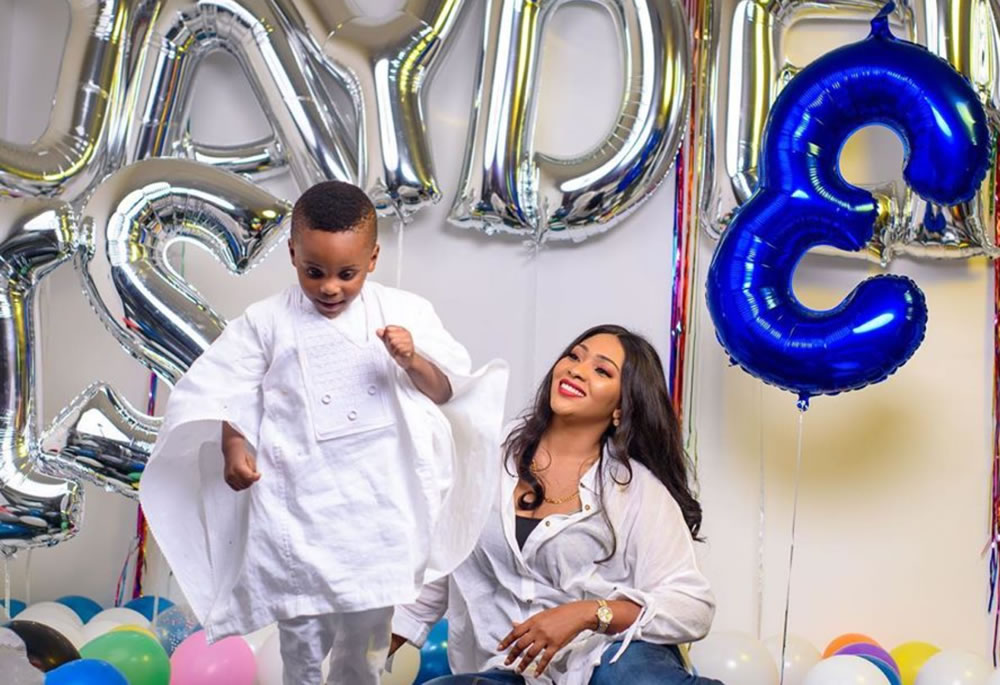 Businessman and Made Men Music Group CEO, Ubi Franklin, penned a lengthy lovely message to his son, Jayden as he turned three today.
The proud father said his son reminds him of his estranged wife, Lilian Esoro when she sings their favourite songs.
He also said their separation is one of the hardest things life has thrown his path.
Sharing his photos on Instagram, Ubi wrote;
"Today you are three-years-old and your adorable self doesn't understand what a big deal this is for your mama and I, but my boy, it is.

I know that it sounds cliche to say it feels like only yesterday I And your Mum, Aunty and her Family Visited Northern Arizona The Grand Canyon is one of the Seven Wonders of the Natural World…

After that walk we got back to our hotel tired and the sleep came knocking, at about 12:30 am I heard your mums voice "Ubi wake up my water just broke" it sounded like what I have been expecting to hear and then we drove 4 hours to get to hospital, your mum showed a lot of strength…

You came out about 4pm on the 17th day of July 2016 Glory Be to God…

I just love when you sing. You remind me of your mum when you sing. Neither of you really know all of the lyrics, but you both sing with such sincerity and joy that it doesn't matter…
Read more below:
See photos of Jayden:
#BBNaija: Erica is the kind of girl that if I pressure, 'e go enter' – Laycon (Video)
BBNaija housemate, Laycon, has drawn the wrath of some fans after making a controversial statement about Erica last night.
Laycon who has been in the mix of Erica and Kiddwaya's romance for some time now stated that if he puts more pressure on her, 'e go enter.'
As we all know, Laycon has previously declared that he has feelings for Erica, although she has stated multiple times that she is not emotionally attached to him.
Erica emerged as this week's Head of House, following a keenly contested Head of House challenge and she picked Kiddwaya as her deputy.
She, however, chose Laycon as her second choice should Kiddwaya refuse to accept the position of the Deputy Head of House.
Speaking last night in the house, he told co-housemates that though he can't reveal some of their private conversations, he is sure if he puts pressure on her, she would succumb.
Though his statement wasn't clear as to if he meant, she would agree to date him, or sleep with him.
Many have reacted to his statement that him saying 'e go enter' was about sex, and the whole statement was wrong.
Watch him speak below;
Laycon: Erica is the kind of girl that if I pressure, e go enter#BBNaija #BBNaija2020Lockdown #BBNaijaLockdown #BBNaijaLockdown2020 pic.twitter.com/JaBm6HNAQF

— Zode™ ⭐ (@ProfZode) August 10, 2020
Stephanie Busari emerges only Nigerian selected as Yale's 2020 World Fellow
Renowned journalist, Stephanie Busari, has beaten thousands of applicants from around the world to secure one of the few spots on the annual Yale's World Fellow Program.
Stephanie Busari has been selected as the only Nigerian in the Class of 2020 for the annual Yale's World Fellow Program.
The multi-award-winning journalist and editor at CNN Worldwide, Stephanie Busari, is widely known for exclusively obtaining the 'proof of life' video on the missing Chibok schoolgirls in the wake of the Bring Back Our Girls campaign.
The video exposition eventually led to talks with the insurgency group, Boko Haram, which resulted in the release of over 100 kidnapped schoolgirls.
She started off as a freelance journalist at BBC News before she moved to CNN in 2008; where she pioneered CNN's first digital and multi-platform bureau.
Stephanie has since then amassed several awards including the Peabody Award and the Hollywood Gracie Award.
This is why it was only fitting that she was chosen alongside 13 other women and men as part of the elite set in Yale's 2020 World Fellows program; a global leadership development program at the university.
Congratulations to @StephanieBusari, multi-award-winning journalist and editor at @CNN, for being admitted into the @Yale @WorldFellows Class of 2020.
More Info: https://t.co/kDG5m1Utdo #YaleWorldFellows #YaleAfrica #Nigeria @CNNAfrica pic.twitter.com/BF00uWxjvm

— Yale Africa (@yaleafrica) August 10, 2020
Popular Actor, Antonio Banderas, tests positive for Covid-19
Spanish actor, Antonio Banderas, has tested positive for coronavirus in Malaga, Spain, on his 60th birthday, the Daily Mail reported on Monday.
Antonio Banderas, who is best known for his roles in Desperado and The Mask of Zorro, announced his diagnosis on social media.
The actor revealed he was spending the day in quarantine and said that he was experiencing symptoms of fatigue.
Antonio Banderas reassured fans that he expected to make a full recovery in the near future.
It is not clear where the Madrid-born actor contracted coronavirus, but, translated from Spanish, his post read: "I feel relatively well, just a little more tired than usual."
He said he was "confident that I will recover as soon as possible" from the "infectious process that I suffer and that is affecting so many people around the planet."
The actor added that he would be spending his time in isolation focusing on reading, writing and resting
He said he would "continue making plans to begin to give meaning to my newly released 60 years to which I arrive loaded with desire and enthusiasm."
Banderas has homes in Spain, the US, and near Surrey in England.
The actor's work with Pedro Almodovar made him a star in Spain, before pop star Madonna introduced then to Hollywood.
Antonio Banderas carved an illustrious career spanning more than 100 movies, with huge blockbuster success including Philadelphia, Puss in Boots, and Pain and Glory.
Antonio Banderas previously suffered a heart attack in January 2017 and he later underwent surgery to insert three stents in his arteries.
Antonio Banderas is the latest in a string of high-profile figures to test positive for the illness, including Tom Hanks, Idris Elba, Bryan Cranston and the singer Pink.