South Africa's corfirmed COVID-19 cases now 503,290
South Africa's confirmed cases of COVID-19 have crossed half a million, its health ministry said on Saturday, while cases in Africa as a whole approached a million.
Africa's most industrialised nation recorded 10,107 new confirmed cases of COVID-19, the respiratory illness caused by the novel coronavirus, pushing the total to 503,290, the ministry said.
Just over 3 million people have so far been tested for the virus in South Africa, which confirmed its first case five months ago, and 8,153 deaths have been recorded. Africa has recorded 934,558 cases, 19,752 deaths and 585,567 recoveries, according to a Reuters tally.
South Africa imposed a nationwide lockdown at the end of March to curb the spread of the virus, but it has now eased many restrictions to boost economic activity – as have other countries across the continent, a large chunk of whose populations are poor and face hunger.
"The lockdown succeeded in delaying the spread of the virus by more than two months, preventing a sudden and uncontrolled increase in infections in late March," South African President Cyril Ramaphosa said in a separate statement.
As restrictions have eased, infections have spiked over the last two months.
However, the daily increase in infections appears to be stabilising, particularly in the worst-hit Western Cape, Gauteng and Eastern Cape provinces, Ramaphosa added.
The World Health Organisation's top emergencies expert Mike Ryan last week warned that South Africa's experience was a precursor for what was likely to happen across the continent.
The difficulty – if not outright impossibility – of socially distancing in Africa's poor, tightly packed urban areas, has also been an enabler for the spread of the virus.
Cases in South Africa, which has the fifth-highest total in the world, have overwhelmed an already stretched healthcare system.
That presents a cautionary tale to the other African countries, whose health services are for the most part even more stretched.
During August, the National Ventilator Project will deliver 20,000 locally-produced, non-invasive ventilators to where they are most needed, Ramaphosa said, as the government continues to mobilise additional facilities, equipment and personnel in provinces still experiencing an increase in infections.
Reuters
Note: Figures valid as of 7am 8 August 2020
I took black seed oil, herbal concoctions to beat COVID-19 – Oyo Commissioner
After 56 days in isolation, Oyo Commissioner for Information, Culture and Tourism, Dr Wasiu Olatunbosun, has revealed how he recovered.
He said he took not less than 25 bottles of black seed oil, a bowl of black seed, lots of alligator pepper, bitter cola as well as different brands of herbal concoctions to beat coronavirus.
On how he survived the virus and psychological effects of the 56- day isolation, the Commissioner said though he was asymptomatic, he endured six tests before being certified negative.
He said:
"I took 25 bottles of black seed oil, a bowl of black seed, a lot of alligator pepper and bitter-cola as well as different brands of herbal concoctions, which I drank at interval and used for steaming after my normal drugs, but the utmost is prayers to overcome the trauma."
Olatunbosun, while recounting his COVID-19 experience, said the government must seek ways to supplement orthodox and traditional medicine, especially the use of local herbs for patients.
Olatunbosun said
"You would not believe that while I was on self-isolation at home, some people still came to my house on Sallah day to celebrate with me.

"They did not fear at all. I had to send emissaries to them on phone with gifts and asked them to go home, it was that bad."
Olatubosun commended Governor Seyi Makinde for being;
"A worthy war commander that never abandoned his soldiers no matter their conditions."
He said the Governor called him in the morning and in the evening every day to know his conditions throughout isolation.
Nigeria records 453 new cases of Covid-19, toll now 47,743
Nigeria has recorded 453 new cases of COVID-19 with a total of 47,743 confirmed cases of Coronavirus.
This was revealed by the Nigeria Centre for Disease Control (NCDC) on its official Twitter handle yesternight.
According to the NCDC's report, Lagos recorded 113 of the 453 cases, followed by FCT with 72, Plateau with 59 and Enugu 55.
Breakdown of the new cases of COVID-19 per state:
Kaduna – 38
Ondo – 32
Osun – 26
Ebonyi – 20
Ogun – 9
Delta – 8
Borno – 7
Akwa Ibom – 6
Oyo – 5
Bauchi – 1
Kano – 1
Ekiti – 1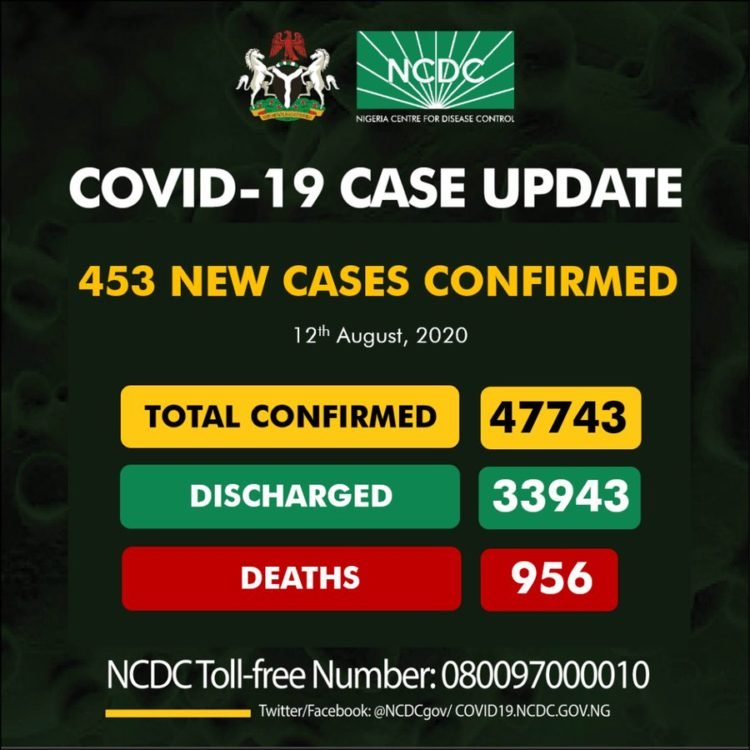 The total confirmed cases so far in Nigeria now stands at 47,743 of which 33,943 have been discharged.
However, the infection has claimed 956 lives.
Recovered COVID-19 patient tests positive again
A woman in central China's Hubei Province has again tested positive for COVID-19, months after her recovery from the disease, local authorities said on Wednesday.
The Jingzhou COVID-19 epidemic control and prevention headquarters said the 68-year-old retiree in the city of Jingzhou was admitted to hospital after falling ill on August 9 and following COVID-19 nucleic acid test, showed a positive result.
She was confirmed to be infected with COVID-19 on Feb. 8, but recovered for months, said the headquarters, adding that "this is not a new COVID-19 case, but a reinfection."
The woman is again being treated in isolation, but all her contacts tested negative for COVID-19.
Her home and areas of activities have been thoroughly disinfected.