Suicide bomber attacks hospital kills 8, injures 22
Twin attacks claimed by the Taliban hit a police checkpoint and hospital in north-western Pakistan on Sunday, killing eight people, including four policemen.
Militants first opened fire at a checkpoint in the city of Dera Ismail Khan.
A suicide bomber then detonated their explosive device outside a hospital gate upon the arrival of an ambulance carrying two police officers wounded in the first attack.
City police spokesman, Arshad Ali, said at least six people were killed in the suicide blast, including two policemen. The two officers shot during the checkpoint assault also died.
In total, 22 people were wounded.
A spokesman for the outlawed Tehreek-e-Taliban Pakistan (TTP), Muhammad Khurasani, in a statement, said the group carried out the attacks.
He said that a male suicide bomber struck outside the hospital, contradicting information from police who said a woman strapped with explosives blew herself up.
"Apparently the suicide bomber was a young female," Salim Riaz, district police chief told Dunya TV.
Riaz said that the bomber was wearing a burqa, a garment worn by women that covers the whole body.
According to him, long  hair consistent with a woman's was also found at the scene and has been sent away for laboratory examination.
"At least 7 kilograms of explosive has been used in the attack," he added.
The Pakistani military has pushed Islamist militants back from their mountainous hideouts in north-western Pakistan near the Afghan border in a series of offensives launched from mid-2014.
However, their capability to launch attacks on soft targets or the civilian population remains intact, posing a security challenge.
Last month, the army said that terrorist activity had jumped in the tribal region bordering Afghanistan and at least 10 members of the security forces had been killed and 35 injured over the past months.
NAN
Painter arrested for allegedly defiling 11-year-old girl in Ebonyi
Police in Ebonyi have arrested a man identified as Mr Anointing, (not real name) for allegedly defiling an 11-year-old girl from Ezza North local government area of the State.
Recounting her ordeal when she was interviewed by the Special Assistant to Ebonyi State Governor on Security and Utility (Capital City) Saint Nchekube Anakor, the Primary 5 pupil said the painter who resides in the same compound (close to the Federal High Court) with them, usually sends her on errands and also makes her bring it to his room.
She also disclosed that Mr Anointing has sexually abused several times before being nabbed.
The girl said;
"He will always sent me to buy something for him, and when I come back, he will tell me to bring it to his room.

"Each time l entered his room, he will be touching my breasts and be inserting his fingers into my vagina. I don't like what he does to me and I don't know how to tell my parents."
Narrating how the suspect was nabbed, Mr Anakor said he got a tip-off of the incident from one Tochuckwu and others from disco two at about 3:30 a.m on Wednesday, August 5.
Upon getting to the compound, he discovered that Mr Anointing had been caught red-handed in the act by his neighbours.
Anakor said;
"Thanks to Tochukwu Nwankwegu and others from Disco 12. It was like a joke at exactly 3:30a.m. last night.

"The little girl, aged 11 years, who lives near Federal High Court, Abakaliki, opened up on how one Mr Anointing, a painter who also lives in the same building normally took her to his room and sexually abused her."
The suspect refused to say anything at the scene of the incident and was taken to Kprirkpiri Police Station in Abakaliki, where he was detained by the Police.
Fake Army Major arrested with 420 packs of Indian hemp in Delta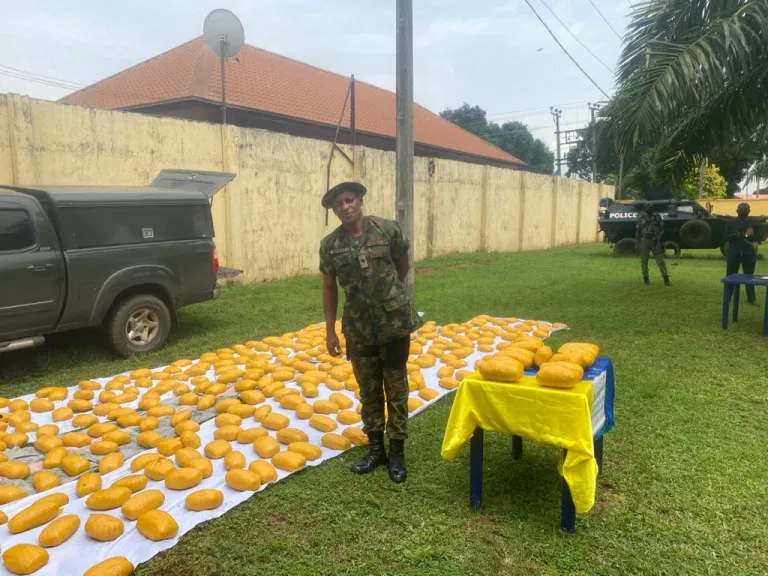 Fabian E. Ojumah, a 44-year-old man posing as a Major in the Nigerian Army, has been arrested by the Delta State Police Command with substance suspected to be Indian Hemp.
WuzupNigeria gathered that the fake major was arrested by the operatives of the Safer Highways patrol team of the command on the 31 July 2020 along Sapele-Benin Road.
Fabian, who hails from Abbi in Ndokwa-West Local Government Area of Delta, was nabbed with a fake military van with plate number NA142- B01 conveying 420 packs of compressed weeds suspected to be Indian Hemp, the police said in a social media post on Friday.
According to the post, Fabian told the police that he has been involved in the business of Indian Hemp sale since 2014.
He reportedly admitted that the van belongs to him and that he bought the Army plate number from a serving army personnel.
He was said to have revealed that the Army uniform he wore was bought at Mammy market within the barracks.
This, it was gathered, was possible because he grew up in the barracks and thus has a military background, though not a soldier.
Police intercept container filled with tramadol, codeine in Lagos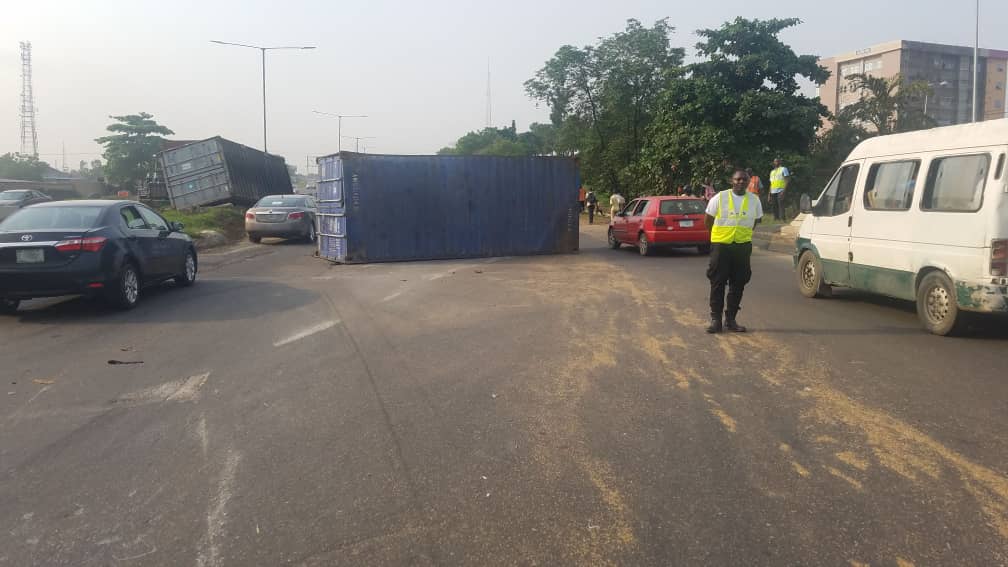 The police in Apapa Area Command of Lagos State have intercepted a 40-foot container laden with drugs suspected to be Tramadol and codeine.
The container was intercepted on water and taken to a bonded terminal in Apapa.
A team of officers from Customs and the National Drug Law Enforcement Agency (NDLEA) joined the Area B Commander, Olasoji Akinbayo, on Thursday for inspection.
The Area B Commander has recently intercepted similar imports and has transferred the case and two suspects to government prosecutors.
Details later…