Tolulope Arotile: Curtains drawn on an inspiring Nigerian BY Yushau Shuiab
That was the message in an email received from Janice Hill, the Member Services Manager of the International Public Relations Association (IPRA), notifying the Nigerian Air Force (NAF) of its campaign on gender balancing in the Nigerian military.
Earlier, the crusade won the Public Sector/Government Category of African PR awards for Superior Achievement in Branding, Reputation and Engagement (SABRE).
The first female combat helicopter pilot in Nigeria, Flying Officer Tolulope Arotile, who died in an unfortunate freak auto-accident on July 14 at the age of 24, was one of the prominent faces of the programme. Before her untimely death, Arotile's outstanding profile and that of Kafayat Sanni, Nigeria's first female fighter jet pilot, formed part of NAF campaign on 'Women of War'.
NAF sought to eliminate the stereotypical notion that the military is dominated by men; and that more so women have no place in the combat operations of the armed forces.
Through a video presentation and other types of narrative, the 'Women of War' campaign proves that "what a man can do, a woman can do better". It depicts how female inclusion in the military is paying off.
The documentary spotlighted other top female officers. It proffers answers to questions pertaining to the roles of women in the NAF – unfairly underrated and unnecessarily burdened by distorted cultural expectations – and shows how women of war have persistently showcased fearlessness and courage as pilots, combatants, armament specialists, among other significant roles.
There is increased participation of female personnel in combat and war support functions, especially in the battle against banditry and insurgency.
This has portrayed the NAF as a gender-sensitive and balanced military institution which boasts of female role models like Flying Officer Arotile.
Their achievements are greatly admired by Nigerians.
The campaign boosts the morale of the female troops, valiantly fighting bandits and terrorists in Nigeria's North-West and North-East geopolitical zones.
It has also further gingered the enlistment of female citizens into the NAF. During the unveiling of the newly acquired Augusta 109 Power Attack Helicopters in Abuja, it was Arotile who introduced the features and operation of the aircraft to President Muhammadu Buhari.
As such, it was not surprising that her death witnessed unprecedented outpouring of emotion, grief and disbelief. Arotile was laid to rest on July 23 with full military honours.
Air Chief, Sadique Abubakar, said the NAF was still in shock and anguish over the loss. He described Arotile as a dedicated and goal-oriented young woman who carried out her assignments, both on the ground and in the air, with a high level of professionalism and commitment.
Born on December 13, 1995, Tolulope Arotile attended Air Force Primary School and Air Force Secondary School, both in Kaduna, from 2000 to 2011. She gained admission into the Nigerian Defence Academy (NDA) as a member of the 64 Regular Course on September 22, 2012, and was commissioned into the NAF as a Pilot Officer on September 16, 2017.
Arotile was winged as the country's first-ever female combat helicopter pilot on October 15, 2019, after completing her flight training in South Africa.
She equally held a commercial pilot licence and underwent tactical flying training on the Agusta 109 Power Attack Helicopter in Italy. Within a short period, she attained over 400 flying hours in the service to the nation.
Truly, Arotile has left her mark in the sands of time, proving that to attain excellence and add value to the society, age or gender are poor rating indices that should not be barriers. While we thank her for fighting to protect Nigeria's sovereign integrity, I pray that other women of war would keep the flag of excellence flying and never allow their gender to constitute a hindrance to their remarkable capabilities.
Adieu patriot.
Daily Post
Corona party and a foolish, restless generation BY Fola Ojo
My wife and I are very fond of this young white boy in our neighbourhood. He was born about two years after we moved to the city 20 years ago. We have been neighbours for that long. I love the boy. His biological father, whom I learnt was a member of a street gang and shuttling in-and-out-of-jail, has been out of his life since he was born. His step-father is not forthcoming raising his stepson; and I still wonder why. With no father-figure in his life, the young man's struggles seem to have doubled. For the purpose of this write-up, I'll call the boy Isaac, and his mum, Sandra. These are not their real names.
Sandra had several times suggested that Isaac is free to go anywhere my family goes, even if we intend to move out of state. She has spoken loftily how much she loves my boys; and wanted Isaac modelled after them. Isaac, now 18, graduated from High School about two weeks ago in the same class with one of my sons. But during the graduation ceremony, Isaac was conspicuously absent. That was when I sent a text to Sandra why her son was not at the event. My heart dropped when she messaged me back about this boy whom I love. Before I relay the contents of the message from Sandra, let me give you a backdrop to the story. My intention sharing this is that some young people out there reading this may learn a lesson from it.
In April, I took Isaac along with my boys for my birthday celebration in our home in Texas. We stayed together for over two months and I got to know him better. He is a very intelligent boy; and just like a typical young man with some peculiar surmountable behavioural challenges. Isaac loves partying, drinking, and 'chasing' girls. How many of us in our younger days successfully dealt with this youthful lifestyle? Isaac takes a few wrong steps; but he sincerely doesn't see them as wrong because he has no guide or guardian. But he will respond to help and guide, especially from a father-figure. I have promised myself to be there for him as he grows. After my birthday celebration in Texas, we returned to Wisconsin in June and I asked Isaac on the airplane if he would stay in my house for the rest of the summer. He agreed. Barely two hours after we got home, he took off. He said he wanted to go pick up his pay-cheque at work. That was around 7.30pm. I waited for him till around 1am to return home. Isaac did not show up. My boys and I had not seen or heard from him since then until about 30 days after when I asked after him from his mother. She sent me this text message in reply: "Thank you for thinking of him. He had got sick with COVID-19…". Coronavirus? Oh my God! How and where did Isaac get it? What I heard was an earful.
In this pandemic, young people in America organise parties they call "Corona Party". They'll invite two or three people who have tested positive for COVID-19 and shut themselves for hours in a rambunctious house party, dancing, singing, and drinking alcohol with COVID-19 carriers. Their actions are deliberate. The foolish thought behind this is that "Corona Party" is a test of their manliness. It makes them feel like 'real men'; whatever that is. They believe they are too strong and immune to COVID-19. That was exactly what happened to Isaac. He does not drive, but his friends drove him 40 miles from home to attend a Corona Party in another town. There, he caught the virus! His parents decided to quarantine him in the basement of their house for 10 days after he had tested positive. But on the fourth day, he got sicker and was having problem breathing. He was then taken to the Emergency room.
Younger people are making up a growing percentage of new coronavirus cases in many cities and states around the world where the virus is surging and not abating. For example, in Arizona, United States, people ages 20 to 44 account for nearly half of all cases. In Florida, which breaks records for new cases nearly every day, the median age is 35. In Texas, young people now account for the majority of new cases in several urban centres. People in their 20s and 30s are also more likely to go out socialising, raising concerns that asymptomatic young people are helping to spread the virus. They restlessly flood bars, beaches and restaurants as if the coronavirus has decided to take a vacation.
"What is clear is that the proportion of people who are younger appears to have dramatically changed," said Joseph McCormick, a professor of epidemiology at UTHealth School of Public Health in Brownsville. Now that the US and many nations are contemplating reopening schools in the Fall, the behaviours (or misbehaviours) of young people could easily complicate plans to return to normal classroom settings come next calendar year which begins later this month. Dr. Robert Redfield, the director of the Centres for Disease Control and Prevention, recently concluded that younger people have helped fuel the increase in known coronavirus infections.
Now, permit me to return to the story of my young man neighbour. What later happened to Isaac? I didn't get to ask anyone how many young people who participated in the foolish Corona Party had gone for a COVID-19 test. Is it possible that it was only Isaac who fell prey to the ravages of the virus at the party? I doubt it. And those ones who caught the virus would have definitely spread it somewhere especially to their loved ones. My heart goes out to Isaac daily in prayer. So, what happened to the young man who missed his own graduation because of his foolishness? Sandra, Isaac's mum sent me this text message on Wednesday. "We were worried for him to be around too many people yet and taking the chance of getting sick again. He has fully recovered. He moved up north to his grandparents where there are better job opportunities. He hopes to get back to work soon. Thanks for your prayers and concerns".
– Follow me on Twitter @Folaojotweet
Why we need to calm down BY Femi Adesina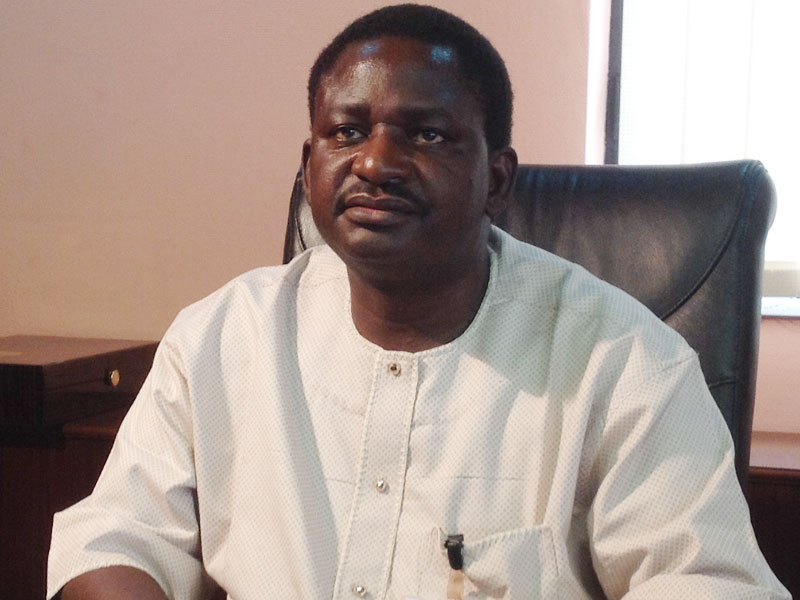 There's this hilarious video that went viral recently. A boy had offended his mother and was about to get a beating. Tearfully, even before he got whipped, the boy tried to plead his way out.
As the mother told him to stretch forth his palm to be caned, he entreated: "Mummy, it must not be hard beating o…This is my last chance. Last chance in the world."
Amidst tears, he said he had a question for the mother:
"Will you be going out today? You must rest a little…Mummy, calm down. Don't be angry. I'm just telling you to be 'calming' down. You must rest a little."
The boy then reclined on a couch, to show how the mother must calm down, and rest.
The boy and his mother became some sort of celebrity. Governor Babajide Sanwo-Olu of Lagos State asked to meet with him, and said there were fundamental lessons to learn from his tearful admonition to his mum.
Calm down. I'm just telling you to be 'calming' down. Hahahahahaaaaaaa.
But if the truth the told, that message from the boy is for the entire country. We need to calm down. We are too uptight, nervy, edgy. We grumble, murmur too much, call the government a lot of names, try to demonize those serving the nation, when it could be "our last chance. Last chance in the world" to really fix things.
If you listen to some people; angry youths, religious leaders, political analysts, newspaper columnists, news reviewers, so-called activists, then nothing positive is happening in the country. It is all about insurgency, banditry, killings, joblessness, corruption, lack and deprivation. True? False!
Those things are there, as they are also in many countries of the world. But they are not the only things happening in Nigeria. Only that we would not see the positive things, except we calmed down. We would never enjoy the rainfall, if we expect rainstorm to carry away our rooftop at any moment. Calm down. "I'm just telling you to be 'calming' down."
One of my favourite boyhood songs is the one by Jimmy Cliff. 'Keep Your Eyes on the Sparrow.'
Here I stand with my head down in my hand
Wondering what on earth I have done wrong
There's a cloud that has overshadowed me
Blocks the light from my eyes, I cannot see
But I know where I wanta be
Right or wrong, I've got to face my destiny
Somebody tell me to
Keep your eyes on the sparrow
Keep your eyes on the sparrow
Keep it on, keep it on now
Keep your eyes on the sparrow.
That is a song of hope. It's a song of encouragement. The Good Book says God keeps His eyes on the sparrow, and none can fall down without His permission. If He watches over a bird, how much more we human beings, created in His image? But man has walked away from that original estate. We sit on the complaint counter. We murmur, curse, cavil. We rail against God, against man, against the government, even against our own selves. We indulge in hate speech, concoct and spread fake news. And it blinds our eyes. It blocks the light from our eyes, and we cannot see. We never see good, even when it surrounds us. We focus only on negative narratives.
Let me give a practical example. Last Sunday, one of the guests on Sunday Politics, hosted by Seun Okinbaloye of Channels Television, was one Group Captain Sadeeq Garba (Retd). He was also deputy head of safety and security at the African Union Commission, and now a private security consultant.
The retired Air Force Officer was asked to talk about the worrisome trend of killings in the country. The man said the killings were sad and regrettable, but things were not as completely negative as some people and interest groups would want to make them seem.
Quoting what he called reliable statistics from the Centre for Research in the United States, he gave these figures of the evil development from 2011, in the number of total killings:
2011-1096
2012-3761
2013-7167
2014-15,600
2015- Not available
2016-4618
2017-5763
2018-6565
2019-8350
2020-6195, as of June.
Now, one life lost is already too many. One single life should not be taken wantonly, not to talk of in hundreds and thousands. It is bestial, inhuman. But why do some people want to make it appear as if we hadn't passed through worse times in this country? Forget about who was in power as President. It is not about individuals now, it is about the descent of a country into the Hobbesian state of nature, where life is nasty, brutish and short. For President Muhammadu Buhari, it's a solemn pledge that lives and property would be secured. And a lot is being done in that direction, though we are not there yet. Unkind, negative comments can only demoralize those fighting to secure the country.
When the President said recently that things were better in the area of security than what he met in 2015, some people wailed endlessly, as is their wont to. But when the Group Captain came with facts and figures on national television last Sunday, not one word was heard. Not even a whimper! Why do people like to spread negative, rather than positive developments? Killings dropped from 15,600 in 2014 to 4,618 in 2016. But not one positive word. Simply because their eyes are blinded by negative thoughts and sentiments. And they now need to calm down. Rather than upbraid, our security agencies should be challenged and encouraged to rediscover what they did in 2016.
During the week, the Ministry of Power said electricity generation had returned to over 5,000 megawatts. Not a word from professional complainers. If it had dropped to below 1,000 megawatts, we would not have heard anything else. Calm down. "I'm just telling you to be 'calming' down."
If we calm down, what would we see? Massive infrastructural developments. Roads, rail, airports, bridges, efforts to reverse power deficit of many decades, newly approved Youth Bank to empower the younger generation, strident efforts to secure the country, N2.3 trillion stimulus package to combat the negative effect of COVID-19, and many other positive developments. There are many and many more.
Jesus looked at Jerusalem, and wept over it, saying: "if thou hadst known in this day, even thou, the things which belong unto thy peace. But now, they are hid from thine eyes." (Luke 19:42).
We will see the things that pertain to the peace of our country, if we would just calm down. As the young boy said, "this is my last chance. Last chance in the world."
It could well be.
*Adesina is Special Adviser to President Buhari on Media and Publicity
Investing in Nigeria BY Rosemary O. Enemuo
Nigeria Foreign Direct Investment in the first quarter of 2020 declined 427.76 USD million from 1,266.824 USD billion in the same quarter the previous year representing a -66.2% change. A 5 year (2015-2019) analysis of Nigeria's Gross National Income (GNI) shows that the GNI continuously declined from 522.52 USD billion in 2015 to 385.05 USD billion in 2018, but picked up a bit in 2019 at 407.93 USD billion.
Recent events such as the reduction in the value of FDIs in Nigeria and the looming exit of big markets such as ShopRite and Mr Price, alongside previously exited players like Truworths, Woolworths, and Opera subsidiaries; Opay and Oride have contributed to an increase in unemployment, decline in national revenue generation, increased inflation on locally produced goods, loss of revenue from unexplored and undeveloped sectors, and a regression to the informal economy.
This economic downturn emerged from poor economic policies of the government; the land border closure, a badly designed import-substitution program, poor accessibility of loans by SMEs, an outdated land use act, high-interest rates amid global meltdown due to the coronavirus pandemic, low interests on savings, the CBN's CRR liquidity control, as well as subsidies and the control of foreign exchange (FX) amongst others.
Nigeria's difficult business environment is the main reason for the exit of these foreign investors: an unfriendly tax system, the prohibitive cost and processes of importation, poor transport links, pervasive corruption, social unrest, terrorism and kidnap as well as bureaucracy and sudden changes in government policies without an adjustment window.
Although part of the reality for the ShopRite's Group exit from the Nigeria market is the increased competition in the Nigeria supermarket space, local investors and SMEs have also suffered stifling regulatory policies that hindered innovation, investment plans and affected business growth.
Measuring investment with the Nigeria stock market as an index, all shares in NSE have reduced by 1984 points or 7.38% since the beginning of 2020; additionally, it is worthy to note that no state in Nigeria attracted any foreign direct investment all year. For a country that intends to diversify away from oil, a harsh economic environment will only take the country further away from growth and economic development, and on this long antiquated roller coaster of oil dependence.
Therefore to increase revenue generation and participatory economic development of all sectors, the government will have to relax dis-incentive policies that hinder investments in Nigeria.