Tolulope Arotile: Death, A Necessary End BY Lawal Sodiq Adewale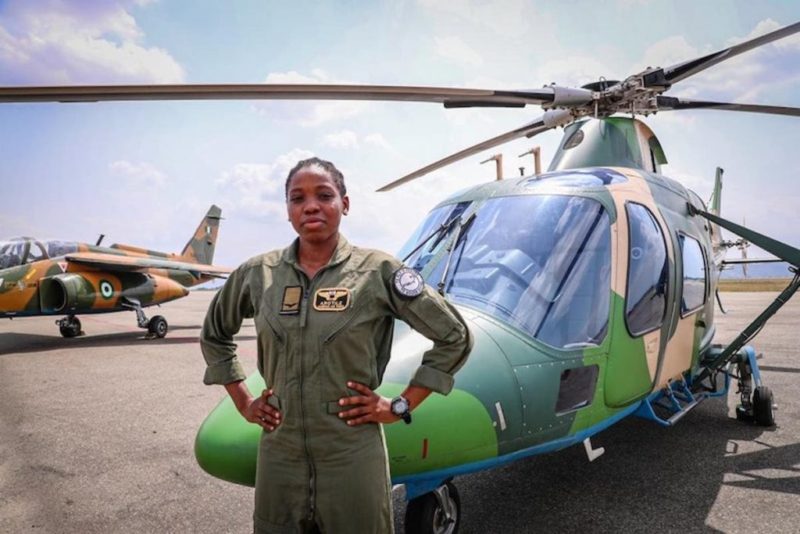 Dear folks,
"Cowards die many times before their deaths;
The valiant never taste of death but once.
Of all the wonders that I yet have heard.
It seems to me most strange that men should fear;
Seeing that death, a necessary end,
Will come when it will come."
Death is a mystery. 24-year-old Air Force pilot, Tolulope Arotile is dead. It's a very sad, bitter and gnashing moment of loss for her family, friends and nation at large. Being a lady pilot, one would have thought that she would die in service or suffer grave and life-threatening injuries if at all she's destined to die prematurely but we were all dribbled by death. She survived all the dangerous traps involved in training, occupational hazards and even flew military jets to the 'dens of bandits and Boko Haram insurgents' and made life miserable for them. She escaped all these traps, rigorous and life-threatening trainings only to be killed by an excited but careless old friend as revealed by the Nigeria Airforce.
Death is a necessary end, it will always come at the appropriate time. She did not die prematurely because she was an Air Force pilot. She died because her time has elapsed. As painful as Tolulope's death was, she died honourably. At 24, a lot of Nigerian youths within her age bracket are either struggling illegally through internet fraud or circumnavigating their vagrant thoughts of extravagant lifestyles but her case was different. Tolulope dedicated her life to service and protection of the country at a time the fears of bandits, insurgents and militants have made people to forcefully become aliens of the military.
Tolulope had many choices. There are many ladies in her age who hustle with their bodies, making a living out of immoralities and indulging in social practices that are clearly against African moral values. We also have ladies in her age who stay at home washing plates, looking for white collar jobs or selling clothes and shoes like an average Nigerian girl while some are probably experiencing tough times in their respective tertiary institutions. If Tolulope decided to fit in any of these choices, nobody would have questioned her choice but her love for service and country was greater.
Despite the alarming rate of banditry and incessant attacks owing to terrorism, Tolulope gave her life to service. She went through all the stress men sometimes run away from, passed out with flying colors and she was celebrated. God did not only promise his chosen ones long life but he also promised that he will always take them away to his blessed side before their days of everlasting evils.
Like Kolade Johnson, son of a lone mother who was shot dead by a police officer and the young skillful football player who was murdered by a careless SARS officer, Tolulope Arotile has joined the host of resourceful and purposeful youths of this country in heaven. The only difference between the trio is two were killed by security operatives while the other was killed on the soil of one of our security agencies.
As we mourn our heroine, Tolulope Arotile and other victims of assault and intimidation, we owe our dear nation a duty of constant agitation for the protection of rights and introduction of meaningful policies that would tackle unemployment and strengthen institutions to be more responsible.
May God in his infinite majesty gives the families and friends of the deceased the fortitude to bear the loss and may the gentle but brave soul of our heroine, Tolulope Arotile, the first female Air Force pilot rest in perfect peace.
Death, a necessary end,
Will come when it will come. If death comes today, where will you be?
Shifting consumer habits demand fresh focus to fight fraud BY Aribidesi Lawal 
Nearly every part of daily life has changed as the world continues to fight back against COVID-19. Most observers agree that the increased focus on digital commerce by consumers and merchants will likely remain even after a vaccine is found and the economy rebounds.
As the pandemic and its economic impact extend into 2021 and beyond, these new habits will likely crystalize. It is important for merchants and financial institutions to adapt now to support consumer behavior through safe, reliable digital commerce.
A shift to online channels by consumers and fraudsters
Globally, consumers are shopping more online. Just look at the numbers.
In Nigeria, more consumers turned to online shopping for the first time with 42% of shoppers starting to purchase food via eCommerce platforms.
In South Africa, in-store physical activity greatly dwindled, with 63% consumers visiting physical grocery stores less often.
In Kenya, consumers' preference for digital solutions is fast increasing as customers turned online for shopping. 43% of consumers started purchasing from pharmacies online
In the U.S., Visa credentials active in spending on eCommerce channels, excluding travel, were over 12% higher in June than in January. Moreover, when you examine the active credentials who tend to be more significantly engaged in eCommerce, the spend per active credential increased by over 25%.
In the U.K., active eCommerce credentials increased 16% while spend per active credential increased 3%.
Where consumers go, fraudsters follow and Visa's Payment Fraud Disruption (PFD) team has seen a similar shift in fraudulent activities/fraud attempts from in-store to online.
Between March and April 2020, there was a rise in fraudsters establishing short-term "COVID"-named merchants and using these fraudulent merchants to perform account testing and enumeration. This is where fraudsters use merchants or financial institutions to guess account numbers, expiration dates and CVV2/security codes through automated testing. This activity is often marked by high volumes of low-dollar declines.
Our Visa team also saw an increase in ecommerce skimming attacks, where fraudsters inject malicious JavaScript code into the websites of merchants and service providers to digitally harvest payment information such as billing address, account number, expiration date, and CVV2 from the checkout forms on ecommerce pages. In April 2020 alone, PFD identified 90 merchant websites compromised by multiple variants of ecommerce skimmers.
Fortunately, fraud prevention capabilities such as Visa Account Attack Intelligence, which prevents account testing, and Visa eCommerce Threat Disruption, which prevents online skimming, are free of charge and are among the many fraud prevention layers and security benefits available to Visa clients.
Visa, financial institutions, and payment providers work hard to keep consumers' payments safe – using multiple layers of security to prevent fraud, protect data, and help them get their money back if someone uses their card without permission. Yet, fraudsters are counting on consumers to be distracted and let their guard down, so they can trick them into handing over their personal or financial information.
This is why we believe consumer education is key in the fight against fraud and we have been helping consumers understand how to spot fraudulent activity and how to protect their sensitive information, particularly now, when most of our payments have shifted to digital.
Here are three simple steps every consumer can follow to stay safe when shopping online:
Pay securely online – When paying online, use Visa Checkout that offers an extra layer of protection and always check the URL to ensure it begins with "https://". The "s" at the end confirms a secure connection.
Pay securely in-app – Update your passwords with a strong password unique to each account or better yet, switch to fingerprint or facial recognition for account login and/or payments if it's an option.
Beware of phishing scams – Be careful of unsolicited and suspicious emails, SMS or phone calls. They may try to steal personal information like your account number, username and password. If in doubt, do not click on any links or download files.
Additionally, we implement a rule-based  authentication service called Visa Cardholder Authentication Service (VCAS) that combines risk intelligence and targeted rules strategy to help reduce customer friction as well as provide seamless payment experiences.
The need for contactless payment acceptance in Nigeria
While online commerce has increased, in-store purchases have not gone away. Essential workers still have to go into the office and re-fuel for their commute and some goods simply cannot be purchased online and delivered to consumers. In these situations, embracing contactless card payments can offer peace of mind. Visa data shows that consumers are increasingly embracing contactless across the world, and as Main Streets and High Streets reopen, consumers are asking for more touchless options to pay.
Touchless, or contactless payments, where one can tap to pay with a card or smart phone, enables a safe and secure experience without the need for consumers to touch the checkout terminal and early indications show usage is high among grocery stores and pharmacies around the world. A few other trends include:
Nearly 50 countries improved tap to pay penetration by more than 5% and over 10 countries increase by 10% or more from fiscal year Q2 to Q3.
Visa helped more than 55 countries increase the tap to pay limits, reducing the share of transactions that require consumer contact by more than 40% in several of those countries.
In the U.S., more than 80M contactless Visa payment cards were added in the first 6 months of the calendar year as financial institutions accelerated their issuance schedules.
Despite the increase in penetration and card issuance, the fraud rate for contactless payments is significantly lower than the overall card present fraud rate, which illustrates the security of tapping to pay.
Although there may be some regression back to the norm after the pandemic, it is not a leap to think some habits will remain. The shift to buying online is here to stay. For merchants and financial institutions, adapting to new consumer habits not only means meeting customer preference, but it is also an investment into the future of digital payments. It is time for Nigeria to embrace the convenience and security of tapping to pay in-store.
Aribidesi Lawal is the Risk Manager, Visa West Africa
Quo vadis Nigeria? BY Cheta Nwanze
In a 1992 lecture, American political scientist Sam Huntington theorised a 'Clash of Civilisations' and argued that future wars would be fought not between countries, but between cultures.
He expanded this in a 1996 book and named Nigeria as one of the battleground countries
There was a lot of argument, as naturally happens in the (social) sciences, but three decades on, and it appears that Huntington was indeed on to something, and today's Sharia court ruling in Kano calls for a serious and unsentimental discussion.
Looking at the current state of play in global geopolitics, it appears that the man was correct, probably with the exception of #Poland which appears to be headed back into the orbit of #Russia (even if the Poles themselves will strongly disagree with that).
As per his prediction, #Sudan has broken up. #Turkey has abandoned its quest to be accepted into Europe and is beating a path back into the Islamic world.
The #US has ensured that Latin America is for generations to come seen as distinct.
It begs the question: what is #Nigeria's future?
One of our 'founding fathers' said, "Nigeria is a mere geographical expression."
Another referred to "the mistake of 1914."
If those men asked those questions, then who are we to avoid them?
We have knocked our heads together for so long, but it is clear that #Nigeria isn't working.
It is clear that the worldview of the man in Gusau is completely different from that of the man in Uyo.
Are we mature enough to have differing worldviews but make a country work?
Personally, I maintain the opinion that we can be much more than what we are. BUT, for that to happen, there must be honesty about who we are, where we are, and where we each want to go.
Again, just our geography and our geopolitical realities mean that a split will be awful.
Is it not much better for us to find a way out of this entanglement than to endure another century of mutual suspicion, distrust and bloodshed?
Note: Quo vadis means Whither goest thou
Obasanjo's queer truth to the dead BY Azuka Onwuka
Over the weekend, Senator Buruji Kashamu, a member of the 8th National Assembly (between 2015 and 2019), reportedly died of complications from COVID-19. As usual, condolence messages poured in. However, the condolence message from Chief Olusegun Obasanjo, former president of Nigeria, to Governor Dapo Abiodun of Ogun State over the death became the talking point because of its wording.
The condolence message of Obasanjo read as follows: "I received the sad news of the demise of Senator Esho Jinadu (Buruji Kashmu), a significant citizen of Ogun State. Please accept my condolence and that of my family on the irreparable loss.
"The life and history of the departed have lessons for those of us on this side of the veil. Senator Esho Jinadu (Buruji Kashmu) in his lifetime used the manoeuvre of law and politics to escape from facing justice on alleged criminal offence in Nigeria and outside Nigeria. But no legal, political, cultural, social or even medical manoeuvre could stop the cold hands of death when the Creator of all of us decides that the time is up.
"May Allah forgive his sin and accept his soul into Aljanah, and may God grant his family and friends fortitude to bear the irreparable loss."
Some have argued that Obasanjo, as an elder, chose to speak the truth in his condolence message rather than give the usual coated message said about the dead. But was Obasanjo's condolence message truly about the truth?
Given what is known by many about the former President as a man who rarely forgives nor forgets, it will be naive of anybody to assume that Obasanjo was motivated by the need to speak the truth about Kashamu. He was clearly settling political scores with Kashamu. The late former senator was a political associate of Obasanjo, who worked with the former President in the power tussle between Obasanjo and then incumbent Governor of Ogun State, Otunba Gbenga Daniel. Obasanjo and Kashamu ensured that the favoured candidate of Daniel (Prince Gboyega Isiaka) did not emerge the PDP's governorship candidate for Ogun State in 2011. Daniel's loyalists eventually left the PDP for the small Peoples Party of Nigeria (PPN). Obasanjo and Kashamu also worked together in Ogun State to make Goodluck Jonathan emerge president in 2011. But shortly afterwards, both fell apart over the control of the PDP in Ogun State, leading to the emergence of two PDP factions, each loyal to one of them.
The two PDP factions were engaged in a legal tussle. But the national body of the PDP leaned towards the Kashamu faction and he had the upper hand over Obasanjo. He even emerged a senator in the 2015 elections. Before then, Obasanjo had sent a three-paragraph letter of protest, dated January 7, 2014, to the then Chairman of the PDP, Alhaji Bamanga Tukur, threatening to withdraw from the PDP over the recognition the party was giving to Kashamu. Obasanjo had lamented the prominence Kashamu had in the politics of Ogun State and the South-West in the PDP thus: "Buruji Kashamu has been so extolled in the PDP in the South-West geopolitical zone which I personally find unsavoury… I cannot and I will not subscribe to a wanted habitual criminal being installed as my zonal leader in the party." That animosity continued until the death of Kashamu over the weekend.
Who determines what the truth is and who is a criminal? Is it the individual or the court? It is the court of course. So, if someone is even seen robbing a bank but is not found guilty by the court, it is not for an individual to call the person an armed robber in official communication. Obasanjo's government arrested Major Hamza al-Mustapha, Sergeant Barnabas Jabila Mshiela (popularly known as Sergeant Rogers), Lt Gen Ishaya Bamaiyi and others and charged them for extrajudicial executions during the regime of General Sani Abacha. They were detained about a decade but later released –al Mustapha was detained for 14 years. Even though most Nigerians believed and still believe that al-Mustapha and his boys, under the directive of Abacha, eliminated many of those opposed to Abacha's dictatorship, that remains a mere assumption that cannot be raised in official quarters.
During the administration of Obasanjo, the military invaded a community called Odi in Bayelsa State on November 20, 1999 and virtually wiped out every human being there. A similar massacre was carried out in October 2001 by the military in Zaki Biam, Benue State under Obasanjo's watch. In the eyes of the International Criminal Court at The Hague such is classified as genocide for which many leaders have been found guilty and sentenced. But because Obasanjo has not been tried and sentenced for such a crime, nobody can officially accuse him of genocide.
Similarly, Obasanjo's son, Mr Gbenga Obasanjo, had accused him of having carnal knowledge of his wife in an affidavit he filed in 2008 in his divorce case against wife, Ms. Mojisola Olayemisi Amope. The affidavit, signed on behalf of Gbenga Obasanjo by his counsel, Emankhu Addeh of Addeh & Associates, stated, inter alia:
"The petitioner further avers that he knows for a fact that the respondent committed adultery with and had an intimate, sexual relationship with his own father, General Olusegun Obasanjo, in order to get contracts from the government.
"The petitioner avers that the Respondent also got rewarded for her adulterous acts with several oil contracts with the NNPC from his father, General Olusegun Obasanjo, amongst which was the NNPC Consultancy training in supply chain management and project management awarded to her company Bowen and Brown."
However, this has remained an allegation a son made against his father. No court has found Obasanjo guilty of such an act. So, it would be tactless and irresponsible for anyone to send Obasanjo a birthday message with such an accusation made categorically against him, in the name of speaking the truth. That can lead to a legal case of defamation and libel. An allegation remains an allegation. It can be raised in private discussions but not used in official communication. It is worse when used against a dead person who cannot respond. A former president should know this.
When the name of a dead person is dragged in the mud, there cannot be a successful legal case against the accuser, because it is believed that a dead person has no image that can be defamed or tarnished. Therefore, the reason people do not say unkind things against dead people is not because they hate the truth. It is because it is cowardly to accuse people who cannot respond or defend themselves. It is like beating and kicking an unconscious person or a corpse. A brave warrior fights with the living, not with the dead. There is always enough time to accuse living people. Once they are dead, please sheathe your sword and try to mend your own ways before death comes knocking.
Moreover, in age and status, Obasanjo is far higher than Kashamu. Obasanjo is 83 years, while Kashamu died at 62. When Obasanjo was military head of state of Nigeria in 1976, Kashamu was 18 years – either in secondary school or just completing that stage. Obasanjo capped it up by becoming a twice-elected civilian president of Nigeria, the first Nigerian to ever lead Nigeria twice (as a soldier and a civilian) and the first civilian leader to complete two tenures in office. Therefore, it is petty that Obasanjo would be engaging Kashamu in life or in death.
Condolence messages are not compulsory. It is not everything that one has the capacity to do that one does. It is not everything that comes to one's mouth that one utters. That is why the Bible says: "All things are lawful for me, but all things are not helpful. All things are lawful for me, but I will not be brought under the power of any."
–Twitter @BrandAzuka