Wetland Preservation: Minister seeks stakeholders' action
Minister of State for Environment, Mrs Sharon Ikeazo, has called for stakeholders' action on the preservation of Nigeria's wetlands.
Ikeazo made the call on Monday in Bonny, Rivers State, during the celebration of the 2020 edition of the World Wetland Day.
Represented by Mr Tiamiyu Oladele, Director Forestry, the minister said that wetlands played host to plants and animals that relied on one another for sustenance within the ecosystem.
She said that companies, donor agencies and corporate individuals owed the country a duty to ensure the survival of Nigeria's wetlands.
"They are the most valuable and productive ecosystems, they provide food, shelter and water for different species of plants and animals.

"They are like nature's kidney; they act as the filters, they recycle nutrients and trap sediments. They can prevent the oceans from being polluted,'' she said.
Also speaking at the event, Dr Muhtari Aminu-Kano, Director-General, Nigeria Conservation Foundation, urged Nigerians to stop degrading wetlands to enable them perform their roles in the ecosystem.
Aminu-Kano noted it was an unfriendly environmental practice to reclaim wetlands for construction purposes, saying, "we must also stop using them as refuse dumps''
"Wetlands are not waste lands, they are important to the ecology, hydrology and the economy, we all must work together to preserve them,'' he said.
On her part, Enayo Fatayi-Williams, the General Manager, External Relations, Nigerian Liquefied Natural Gas Limited (NLNG), said the company was fully aware of the importance of wetlands to biodiversity.
Fatayi-Williams said that the Finima Nature Park, which was developed by the company was to boost biodiversity, climate regulation and ecotourism.
" We want to ensure that the environment is safe for both humans and other living organisms; we shall ensure the sustenance of the park.

"We are a strong stakeholder in the clean and green environment project, the nature park is also a way of offsetting carbon footprints,'' she said.
Newsmen report that Wetlands are distinct ecosystem that are seasonally or permanently flooded, and having prevailing oxygen-free processing.
The theme for the 2020 edition of the World Wetland Day is "Wetlands and Biodiversity''.
NAN
After eight years of waiting, Nigerian couple welcome first child (Photos)
A Nigerian lady identified as Okot Thomas Ekpang is currently in a celebratory mood as she recently welcomed her child with her husband after eight years of waiting.
After eight years of waiting, she can finally be called a 'mother' and she has taken to social media to share photos of her baby bump.
Sharing the amazing photos on her Instagram page, she wrote;
YES I am a Proof that God answers prayers🙏
….And He makes all things beautiful in his time 🤩
….After 8years of waiting,God blessed us with a cute SON on the 1st day of the 8month in our 9th year of marriage…💃
….Indeed what God can't do doesn't exist 🙅‍♀️
….It's only a fool that will say that GOD doesn't exist📣
….You are God all by yourself
The proud mother also shared photos of her bundle of joy and revealed his name ;
For this child, I prayed, and the Lord hath answered the petition of which I asked of him (1Sam 1:27)🙏
And he shall be called JAYDON (Jehovah has heard or Thankful or He will Judge) BUSA-OSOWO (God's Power) EDIK-ASI(God's Time) NKU-EKPANG🙌😘😍
Named on the 8th day of the 8month after 8years of waiting(8/8/8)💃
Wow so prophetic…Hallelujah 🙌
Welcome to the world Son😘…No harm shall come near thee…you are blessed of the Lord🙏
See more photos below;
Makinde begins reconstruction of Akesan market
Seven months after it was razed, Governor Seyi Makinde of Oyo State on Wednesday flagged off the reconstruction of an ultra-modern Akesan market complex, Oyo Town.
The over 400 years old ancient market was engulfed in a fire accident which led to the loss of goods and valuables to the tune of hundreds of millions on January 5.
The reconstruction of the market which is put at a total cost of N781.7million will have 520 lock-up shops, 168 open stalls, administrative block, warehouses, cold room storage facilities, clinic, police post, toilets and portable water among others.
Speaking at the ceremony which held on the market ground, Governor Makinde said the fund to complete the project is readily available and needs not be sourced from borrowings.
He assured that, when completed, the new structure will never be grounded by any fire incident again, and if fire breaks out at all, it will never be as devastating as the last one.
According to Makinde, many safety fire precautions and safety measures have been factored into the new structure, adding that new firefighting trucks have been procured to serve the market and the immediate community.
Makinde said:
"On January 8, 2020, when we visited Oja Akesan, Oyo Town to assess the damage caused by the shocking fire outbreak, I commiserated with traders who lost goods in the fire. I remember that I told them that I was taking full responsibility for the failure of the fire service to contain the fire. And that we would rebuild this market and compensate them for their loss.

"We were able to provide our widow's mite as a government to support the people who lost their livelihoods here and had to start again. We also replaced the fire truck at the Akesan Fire station. So, we can go to bed and sleep with our two eyes closed knowing that should there be a fire here or anywhere else around here, the fire service will have no excuse to prevent them from doing their job.

"And so, we are here today to fulfill the second part of that promise, to officially flag off the rebuilding of Ojoba. Our people say, "Ile oba t'o jo, ewa lo busi." In a literal way, Ojoba was razed but it will be raised to be of greater glory than it was before. That is why we have taken time to redesign the market.

"You must already know that this market had been in existence for 400 years and no one in recent history could have anticipated that something like this would happen. What that means is that no one even planned for a fire. So, one of the things we are doing now is to put things in place to make sure that should there be a fire in the future it will not be as devastating as this last one was.

"The reconstruction will cost N781, 761, 820. 15k and the stores will be allocated to the original owners. The first phase of reconstruction will take six months and the second phase will take two months. The contractor, who is from Oyo Town, has assured us that in less than one year the market will be complete and ready and we pray that we never experienced anything like the January 5th fire ever again."
In his royal remarks, the Alaafin of Oyo, Oba Lamidi Adeyemi thanked the Governor for the support to the people who lost their goods and valuables to the fire incident.
While urging the contractor handling the project to ensure that the quality of materials quoted in rebuilding the market is deployed for use, the first-class monarch urged the market and shop owners to ensure they are safety conscious in their trading activities when reallocated.
The Caretaker Chairman, Oyo East local government, Prince Arowasaye Adeyemi (Arosad) said fire resistant materials that will be used in its construction will have a fire pump and water hoses connected in all the building s with a dedicated underground fire hydrant tank.
He added that the reconstruction will take a high priority on the safety and protection of properties, an indication of the uttermost importance the Governor has placed on the project.
Oyo Deputy Governor, Mr Rauf Olaniyan, the Secretary to the State Government, Mrs Olubanwo Adeosun, Chief of Staff to Governor Makinde, Chief Bisi Ilaka, other top government functionaries, traders, traditional rulers, community leaders among others attended the event.
The Nation
Man pens emotional tribute to his deceased dog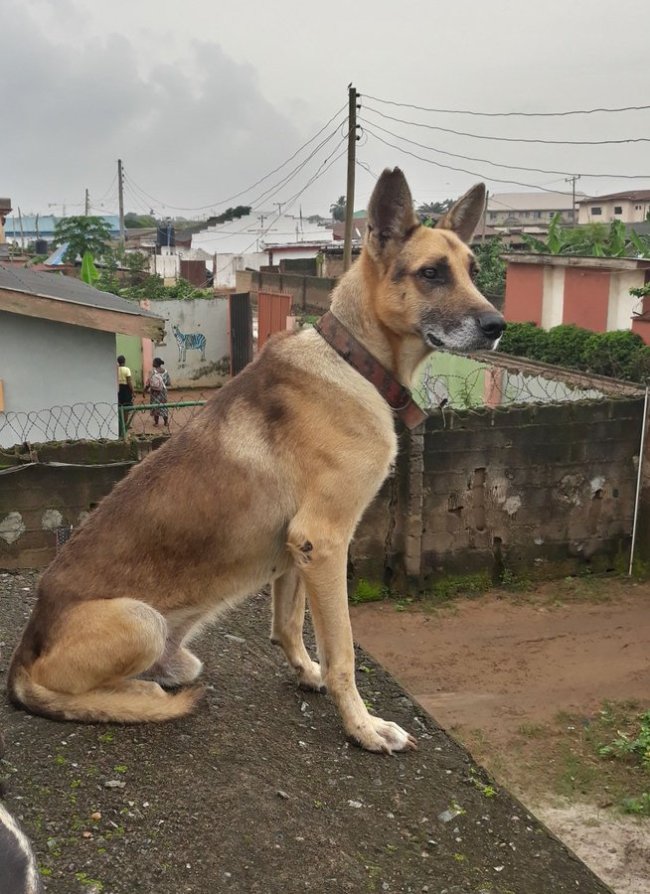 A Nigerian man identified as Andre Tha Mage on the micro-blogging platform, Twitter, has mourned his dog Douglas Brown in a heartwarming way.
This comes as little or no surprise as, a dog they say, is man's best friend.
When a close friend passes on, it is only right that last respects are paid in honour of the dead, which is what has been done in the case of Andre Tha Mage and his dog friend.
In a tweet he made on Saturday, August 1, Andre revealed that Brown had taken ill.
However, days later, he said that the dog finally passed away, adding that death brought an end to their "8 years of friendship and loyalty".
Andre thanked his late pet for being an excellent listener to issues he couldn't tell anyone else other than his furry friend. While penning an emotional tribute, the dog lover added that he would also not forget the bite scars Brown gave him as he said that his love for the dog is forever.
"Thank you for the 8 years of friendship and loyalty, thanks for listening to me when I couldn't express myself to anyone, I won't forget the scars from your bite as well, love you forever buddyPleading face❤

RIP Douglas Brown 2012 – 2020." he wrote.
Revert to his post below:
Thank you for the 8 years of friendship and loyalty, thanks for listening to me when I couldn't express myself to anyone, I won't forget the scars from your bite as well, love you forever buddy🥺❤
RIP Douglas Brown
2012 – 2020
🕊 https://t.co/xuH0H2ZDgh pic.twitter.com/HE4jyXALLH

— Andre Tha Mage 🤴🏽 (@andrethemage) August 7, 2020