Woman chained to pillar by husband rescued in Ebonyi
A woman who was chained to a pillar for 10 hours by her husband has been rescued in Ebonyi State.
The woman identified as Mrs Ngozi Chukwuani was chained by her husband Uche Chukwuani to a pillar inside their home at No 1 Ike street in Abakaliki.
Afterwards, Uche fled with the key to the padlock.
It was revealed that the couple's daughter attempted to save her mother from her father's beating but the father hit his daughter's head with the same chain he used to restrain his wife.
Mrs Chukwuani was later rescued by men of the Ekeaba Police division.
Breaking the woman free took great efforts because the key was not available. They had to employ a welder to cut through the chains to free her.
The incident happened on Monday, July 27.
Mr. Saint Nchekwube Anakor, Special Assistant (SA) to the State Governor on Security and Utility, Capital City, disclosed the incident to Journalists in Abakaliki. He said the victim was chained for 18 hours before she was rescued.
According to him, the couple is married with children. They are both from Enugu state.
Anakor said he brought a Welder who came and cut the chain before the woman could be freed, as the husband had fled with the key of the padlock.
He said policemen from Eke-aba division Abakaliki had visited the scene and were already investigating the matter.
He assured that the man must be apprehended and made to face the law.
Anakor said:
"This evening at no.1 Ike street, Mr Uche Chukwuani chained his wife to a pillar in their building and ran away with the key. Thanks to Ekeaba police whose timely response saved the situation.

"I had to send a welder who cut the chain. One question kept on coming to my mind, what did this woman do to warrant being chained like a dog by her own husband. Does whatever transpired warrant such dehumanization?

"Most people act in ignorance. Nobody has the right to chain or tie any human being, because it is against the law.

"Presently, he is on the run, but I wonder how long he could run because we must catch him. I thank the residents of that area for giving us timely information.

"I advise people to be wary of their actions; ignorance is not an excuse in law.

"I am always on patrol till daybreak, expecting to hear from you. The neighbourhood watch are stationed in every part of the town protecting ur areas. Reach out us for any challenges."
Mrs Chukwuani told Tribune that her husband had earlier threatened to deal with her because his mistress is suffering.
Police stop sale of day-old baby in Port Harcourt
The Rivers State Police Command says it aborted the sale of a day-old baby in Port Harcourt.
Police Public Relations Officer in the State, SP Nnamdi Omoni made the disclosure in a statement circulated in the media.
Omoni stated that the alleged sale of the day-old baby was aborted in an operation by the Special Anti Robbery Squad at Igwuruta, Ikwerre Local government area of the state.
"Operatives of the Special Anti Robbery Squad (SARS) in a covert operation at the early hours of today 11/8/2030 cracked a Child Trafficking Syndicate at Igwuruta, Ikwerre LGA, where one Florence Jonah, a 56-year-old woman was arrested.

"She is alleged to have conspired with the father of the child, one Izuchukwu Success to sell him to waiting buyers at a cost of Nine Hundred Thousand Naira (900,000).

"Upon his arrest, the father led the Police to Better life Clinic, Eneka, where the child who had been sold, was eventually recovered and handed over to his real mother, Rejoice Izuchukwu. Both mother and child are in stable condition.

"The suspects arrested are Florence Jonah 'f' 56yrs, Ogum Ifeoma 'f' 22yrs, Beauty Nnodim 'f' 25yrs, Isabella Chika 'f' 20yrs' and Blessing Udoh 'f' 20yrs," he disclosed.
The Police Spokesman said those arrested are helping the Command in investigation and will be charged to Court soon.
See Photos below;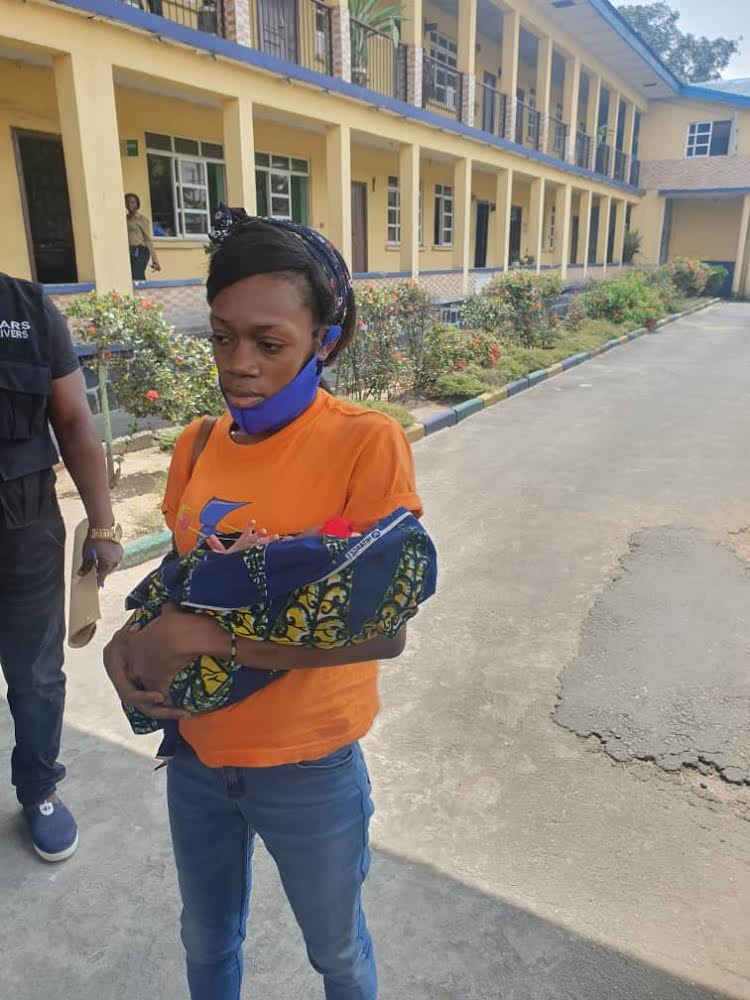 Video: I was raped by my stepdad, gang-raped by hoodlums, 11-year-old narrates shocking experience
A homeless orphan has accused her stepfather, identified simply as Okanla, and some hoodlums of raping her at different times in Ogun State.
WuzupNigeria gathered that while the stepdad, whom she lived with him in the Itori area of Abeokuta, the state capital, raped her at his home, the hoodlums in Kara, in the Obafemi Owode area of the state, took turns to gang-rape her.
The gory details came to light when the orphan on Monday boarded a bus and was on her way to the Itori area when she made the revelations to fellow passengers.
One of the passengers was said to have filmed the 11-year-old as she narrated her ordeal.
In the footage, which was posted by @StopRaping, the victim said she became homeless after the death of her parents.
She said,
"When I was in Kara, some boys had sex with me. They were like two or three in number. They all had sex with me and while they were having sex with me, I felt the urge to urinate and they gave me the chance. But when I returned, I was told that my private parts were wider than my age.

"My stepfather also used to have sex with me. My mum is dead and I don't know my dad. But when I asked my mum about him, she said he was dead and I was taken to the village to see where he was buried. My stepfather, who used to have sex with me, lives in Itori, Abeokuta. His name is Okanla.

"I am going to Itori and when I get to the market around the area, I will find a place to sleep till the following day and move on from there."
The victim's statements reportedly prompted some of the passengers to take her to the Sango Police Station for help and investigation into her allegations.
The situation, however, took another dimension when the poster of the footage accused a female officer of slapping and chasing the victim away from the police station after hearing her story, adding that they were threatened to delete the video.
"On getting to the police station, while explaining the situation to the officers, one of the female officers slapped the girl twice, then told her to go away. The police officers in Sango could not help this young orphan, even after hearing her story. This young girl, however, continued on her journey to God knows where.

"Please note that the police in Sango Police Station threatened us to delete the video and not post it, that they'd trace us. I had to create a burner so as to post this video. All of this happened yesterday, August 10, 2020…" he stated.
The state Police Public Relations Officer, Abimbola Oyeyemi, said,
"If they have gone to the Sango Police Station where we have ACP Sunday Agbonika as the Area Commander, there is no way they will make an official report on such that he will not take it upon himself because he is a professional that has been lecturing and training people on gender-based violence and violation of the girl child right.

"Whoever that can locate the girl should bring her forward. If those who brought her to the station have evidence, they should show us, if they know the policewoman they claimed to have met, they should come forward with their evidence so we can get the person and sanction her because that is not our character. It is the duty of the police to protect life and property."
My mother scarred my face because I broke a plate, then sent me out to beg on the street– Child beggar reveals (Video)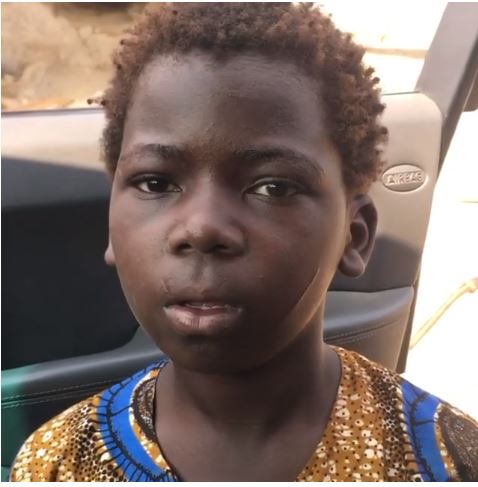 A boy was found looking unkempt while begging on the streets and when he was questioned, he opened up about being abused by his mother.
A good samaritan who sighted the boy asked why he was out in the street and he said that his mother sent him out to look for what they will eat.
The boy named Emma explained that the mark on his face was given to him by his mother because he broke a plate while washing it.
When asked if the woman was his mother or stepmother and he said it's his biological mother.
The boy, who looks no older than 12 years old, also revealed that he doesn't go to school but spends his time begging to provide for his family.
Watch the video below;